The Firebird/In the Night/Raymonda, Royal Ballet |

reviews, news & interviews
The Firebird/In the Night/Raymonda, Royal Ballet
The Firebird/In the Night/Raymonda, Royal Ballet
Cojocaru and Kobborg set the standard for the grand imperial style
The Royal Ballet in 'The Firebird'
It's hard to work out why the Royal Ballet has not indulged in more Jerome Robbins, so eminently suited does it seem for their taste for emotional understatement. In the Night had a few outings in the 1970s, and has only now been revived, possibly after seeing the audience response to the Mariinsky's immaculate performance of the same in London a year ago.
To Chopin Noctures, three couples play out their relationships. To paraphrase the famous description of Waiting for Godot, nothing happens three times. But in that "not happening" Robbins dissects the art of the pas de deux, constructing three variations on a suite of steps, their slight differences encompassing whole worlds.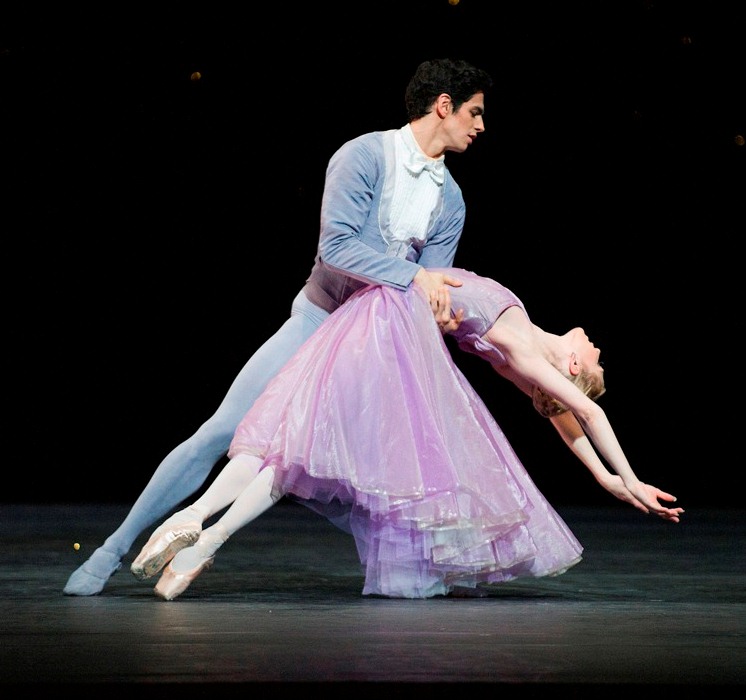 Sarah Lamb (pictured right, with Federico Bonelli) has always struck me as the Gwyneth Paltrow of the ballet world: blondley pretty, but also blondley bland: technically formidable, but rarely exciting. Here, however, with her partner Federico Bonelli, as dark as she is pale, she fully inhabited the world of gentle romantic love that Robbins lays out. Bonelli's line beautifully echoes Lamb's elongated extensions, and this was an effective performance by both.
Hikaru Kobayashi stepped in for an indisposed Marianela Nuñez, and was charmingly musically responsive, even partnered by Rupert Pennefather, with his permanent blank gaze. Robbins' fiendish lifts gave the couple some trouble, but Kobayashi's own neat, speedy footwork is a delight.
Robert Clark's efficiently rendered the Op. 55 No. 2 Nocturne for the stormy romance at the heart of the final pas de deux. With the quicksilver Alina Cojocaru and Johan Kobborg, Robbins' flurry of emotions – anger, delight, sensuous pleasure and sheer contentment – scurry past like clouds scudding across a sky. Their highs and lows, abasement and exaltation, unfold as they isolate the drama amid the melodrama. Cojocaru and Kobborg have been deepening their extraordinary artistic partnership for a decade now, and it is always a privilege to watch.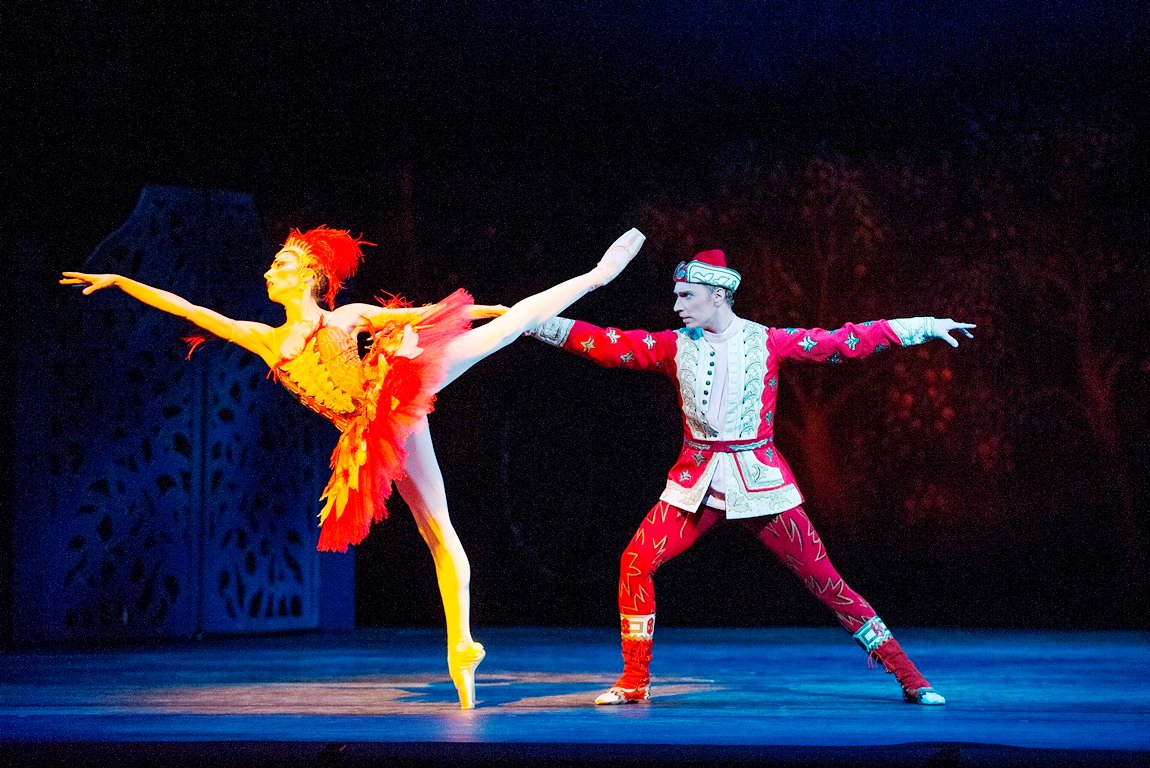 The Firebird produces different pleasures, with visual and audio as prominent as dramatic and dance. Barry Wordsworth and the Royal Opera House orchestra brought out the strangeness of Stravinsky's first ballet score, rather than its familiarity. Natalia Goncharova's revised 1926 designs glow in John B. Read's eloquent lighting. Bennet Gartside is now one of the Royal's most able and committed actor-dancers. (Even in his small solo role in Requiem last season, his seriousness of purpose shone out among more routine performances.) More commonly treated as a cardboard cutout, Gartside's Ivan Tsarevich matures from a boy on a frolic hunting in forbidden grounds, to an autocrat accepting his destiny as ruler of a people. Itziar Mendizabal (pictured above with Bennet Gartside) also made a first foray, producing a startlingly feral Firebird.
Nureyev's staging of Act III of Raymonda closes this nicely balanced programme in the silver-white splendour of Barry Kay's Austro-Hungaro-Byzantine sets (I know, but it works). The overall feeling was one of under-rehearsal, with the character and classical corps forming ragged lines, as did the pas de trois with its out of sync dancing, and the pas de quatre, which showcased unfinished fifths and poor landings in the tours en l'air. Claire Calvert and Claudia Dean were the only soloists to revel in their music, even as Cojocaru and her partner Steven McRae set the standard for the grand imperial style.
Nureyev's staging of Raymonda is a highlight with its silver-white splendour of Barry Kay's Austro-Hungaro-Byzantine sets (I know, but it works)
Explore topics
Share this article