Dance: The Best of 2012 |

Dance reviews, news & interviews
Dance: The Best of 2012
Much to gossip about, but there's less to see these days
Saturday, 29 December 2012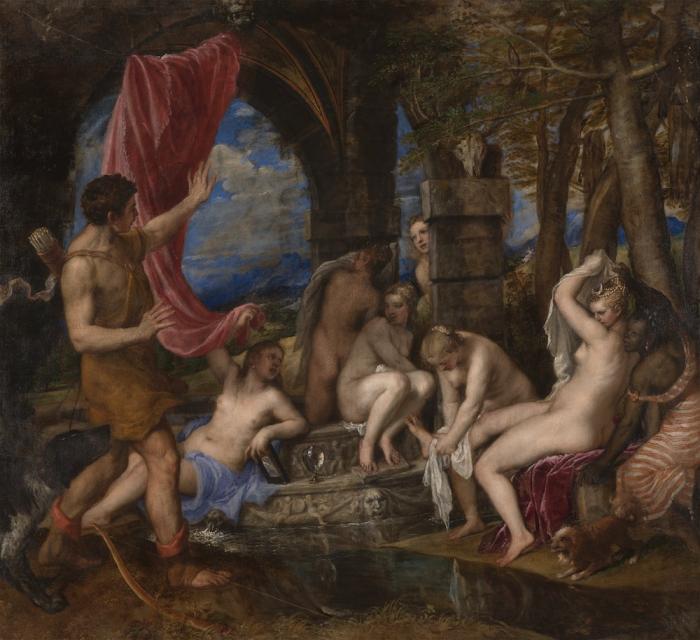 Titian's Diana and Actaeon inspired a terrific joint effort between the National Gallery and the Royal Ballet
Offstage dramas made more waves than onstage, where dance-followers have much less to see, and a prospect of still less in this arid immediate future. The on-dit revolved around the Olympics ceremonies, TV dance, Michael Clark and some spectacular door-slamming by a young ballet dancer who bolstered the myth that we would all be happier if we quit an arcanely dedicated, quietly hardworking world where we were notably appreciated by the team, in order to take quick riches, dubious star vehicles and avid media spotlights. Sergei Polunin's complicated departure from the Royal Ballet was one of many news stories about departures and arrivals.
Obituaries were written for the idiosyncratic dance-theatre performer Nigel Charnock, the composer of Frederick Ashton's magical Ondine Hans Werner Henze, Holland's influential choreographer-director Rudi Van Dantzig, Marcia Haydee's great dance partner in Stuttgart, Richard Cragun, and the long-time Times dance critic John Percival.
Every month brought something noteworthy to go to or to talk about. Just the one creation stood out for boldness and curiosity - a truly fresh creative collaboration between a gallery and a dance company.
January
26 January: Door left ajar for Royal Ballet star who quit

"The young Royal Ballet star Sergei Polunin, Covent Garden's most remarkable male discovery for years, has quit the company in a stunning shock that today sent consternation throughout the ballet world from the USA to Japan.
...Not many dancers in any era have possessed such a complete package of classical balletic refinement, glorious natural grace and potent dramatic talent that Polunin has become fêted for by Covent Garden balletomanes, for whom this is a huge and unwelcome shock. In the depth and breadth of the Royal Ballet's repertoire, from ballet-drama to the purest classical style, young Polunin has been a prospect for true greatness." ISMENE BROWN
Polunin, having issued several tension-ratcheting tweets (see above), celebrated freedom from Royal Ballet stardom by appearing in a couple of dubious male solos at Sadler's Wells, then joined the Stanislavsky Ballet in Moscow, and is due to reappear in Britain in spring in Peter Schaufuss's new ballet version of Midnight Express. In a remarkably handled interview with Julie Kavanagh, he declared himself happier in Russia, his personal circumstances improved, and his career well-mentored by Igor Zelensky. The events exposed not just the vulnerability of an emotionally stressed youth of massive talent, but the absolute necessity in a top-flight ballet life of mental as well as physical robustness.
February
2 February: The Dream/Song of the Earth, Royal Ballet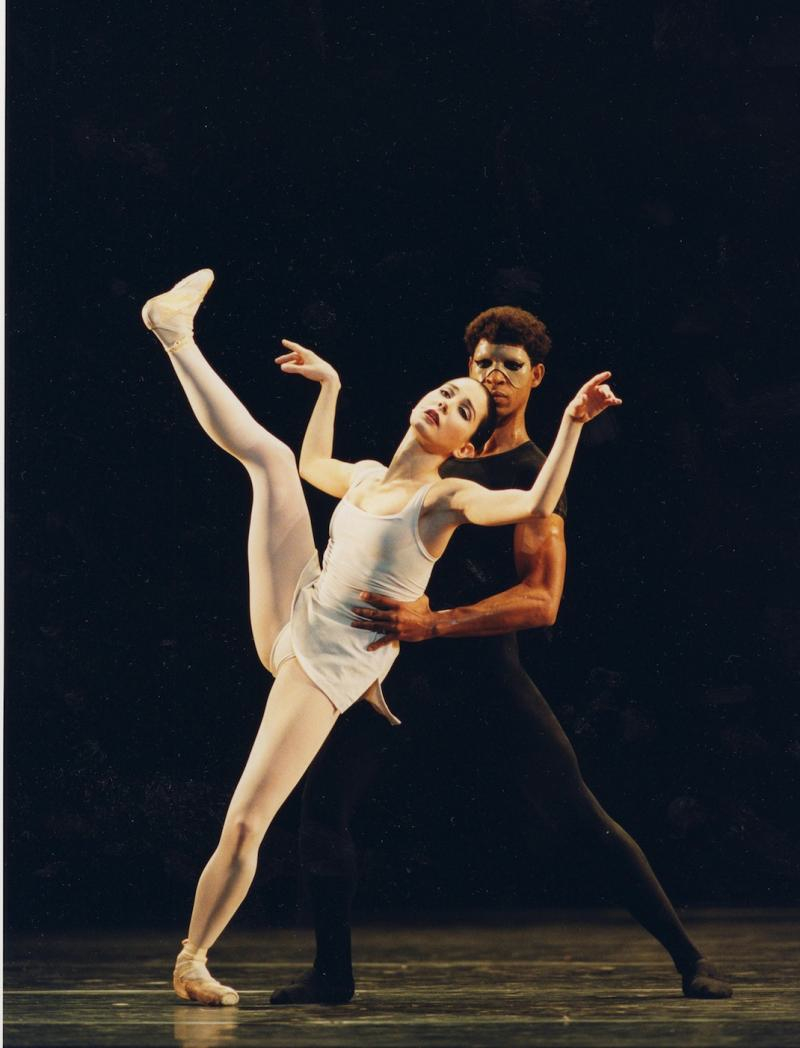 "…Despite [MacMillan's] varied and masterful plottings of many dancers it comes down to the lead ballerina to make the solemn journey from life to death. If there's ever been a more evocative interpreter than Tamara Rojo, I can't imagine it. Lightly tapered in detail here, intensely enriched with significance there, her presence is so piercingly judged between anonymous girl in the crowd and the figure who stands for all of us that she becomes a redeemer as much as a sufferer.
...Carlos Acosta, as the Messenger, grew in stature and expressiveness to fulfil the transfiguring end without grandstanding, simply making a statement of inevitability: that death must come." IB
Pictured right, Rojo and Acosta in Song of the Earth, © Bill Cooper/ROH

March
29 March: Apollo/Jeux/Suite en Blanc, English National Ballet, London Coliseum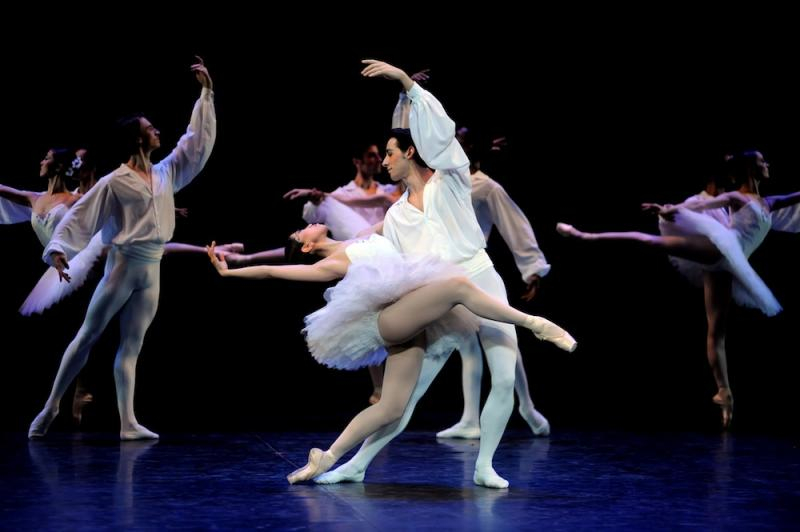 "Just a typical night at the ballet. The sun god rises with his goddesses, people play tennis and flirt in a garden, a handsome young chap struts his considerable stuff on a Twenties beach, and an array of white-tutu'd ballerinas perform deliciously difficult and exultantly accelerating steps. So many stories flit by in an evening of ballet, so many ideas and fancies, so many dancers skim through your vision. Debussy caresses your ear, majestic Stravinsky, teasing Milhaud, Lalo like a large stuffed brocade sofa. How is it that this kind of evening is not typical of the ballet?
... A wonderful final calling-card for the outgoing artistic director Wayne Eagling, a wonderful calling-card for ballet too." IB
Pictured above, ENB in Lifar's Suite en blanc, © Annabel Moeller

April
5 April: Sweet Violets/ Carbon Life, Royal Ballet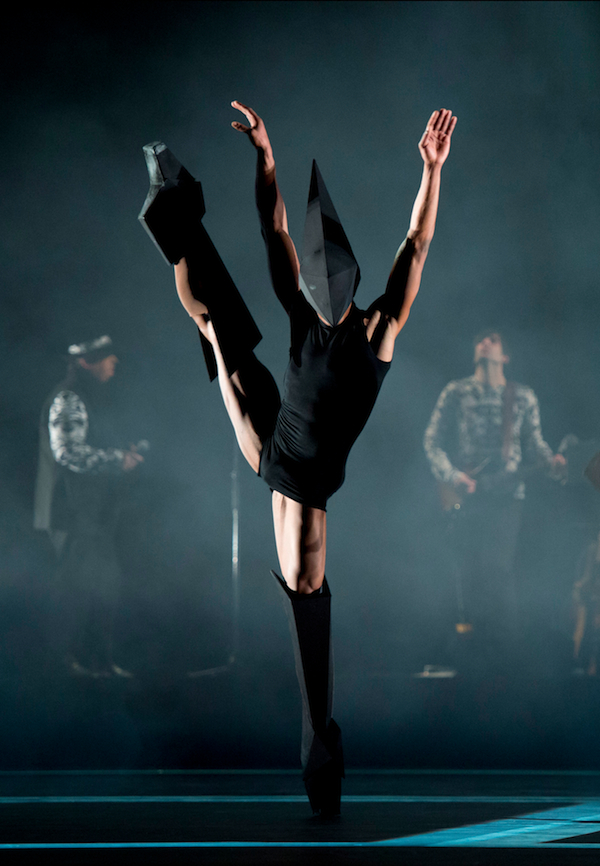 "All year we've had to wait for a world premiere, and two come along at once... Scarlett's Sweet Violets is an impenetrable jangle of narrative in the old style; McGregor's Carbon Life an unyielding jangle of amoeba-like dance in the new. Each is richly decorated, Scarlett's with fine theatrical sets for his psychodrama about Walter Sickert, a painter with a nasty turn of mind, and McGregor's with a grid that goes up and down and an array of today's popsters performing live on stage, Mark Ronson as composer and bass guitarist, Boy George, Hero Fisher, Alison Mosshart among the singers. Each sinks under the ponderous weight of its own image-making." IB
Pictured right, Eric Underwood in McGregor's Carbon Life, © Bill Cooper/ROH

12 April: Tamara Rojo, prima ballerina, becomes English National Ballet's director
"Royal Ballet prima ballerina Tamara Rojo has been appointed the new artistic director of English National Ballet... When two months ago the ENB Board made a sudden announcement that current director Wayne Eagling would leave this summer, Rojo's name was among the first names to be rumoured...Though such opportunities crop up extremely rarely, the ballerina's youth and inexperience will raise questions. At 37, she is at her peak as a dancer, and she is a major world ballerina with an undoubted box office appeal... Surefooted as she has proved in her dancing career, Rojo knows she follows in a line of unhappy tenures at English National Ballet, as one by one the artistic directors have fallen foul of the company's Board." IB

May
16 May: The Art of Touch, Rambert, Sadler's Wells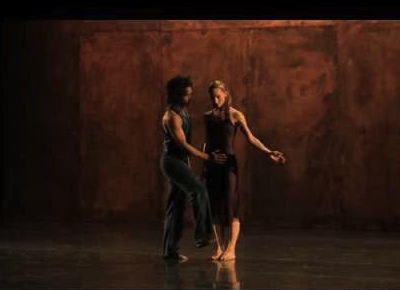 "Rambert's director for the past decade, Mark Baldwin, has always turned with love to past works, and he must know that it's Siobhan Davies's 1995 The Art of Touch on this 10th anniversary programme that is its star, and which shows just what richly refined and responsive individuals he now numbers in his elite band. This is, simply, a masterpiece of musical choreography, both a dance-poem to courtly love in a long-past era, and yet astoundingly and vividly expressive of the essence of the harpsichord, the instrument whose plucked and buzzing strings define it.
Set between shadowy, renaissance gold walls, the seven dancers in dark evening-wear might be the seven notes of the sol-fa scale, while the series of dances leap in and out of the textures of baroque Scarlatti sonatas and Matteo Fargion's taut modern variations on them." IB
Pictured above, Angela Towler and Miguel Altunaga in The Art of Touch, © Hugo Glendinning


22 May: La Sylphide, Royal Ballet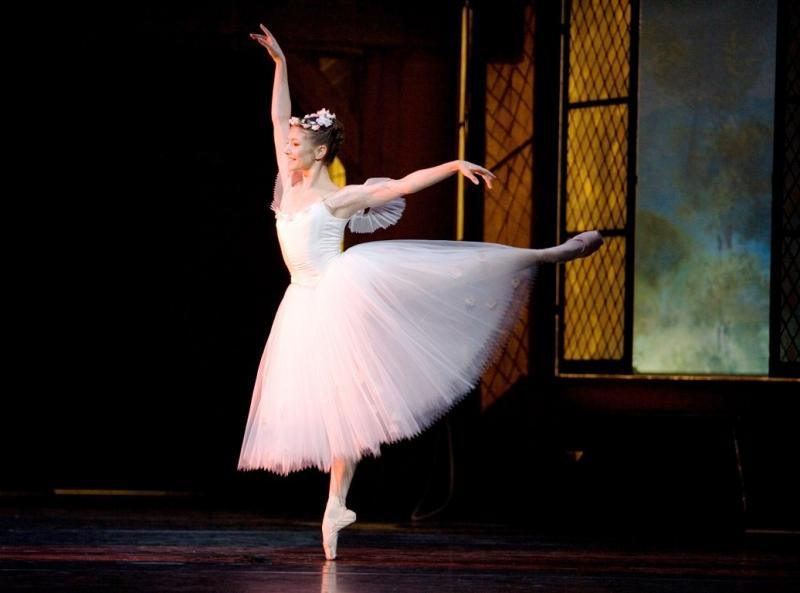 "[In] a revival of Johan Kobborg's staging of August Bournonville's early 19th-century classic of the Romantic repertoire Alina Cojocaru (pictured right, © Johan Persson) could not be more perfectly cast than the sylph that slides into a prosaic Scottish farmhouse and lures the soon-to-be-married James away from his fiancée Effie to the forest glen where, of course, he meets an unhappy end.
Cojocaru is a dancer of richness. Here her acting skills make the mysterious sylph live. Does she want James because she is in love with him? Or because she wants to torment him? To spite Effie? Is she driven to it by something greater than herself? With Cojocaru it is all of these things, and they change, from minute to minute. Now she is alluring, now she is a puppy begging her new-found friend to come and play, now she is a tantalising scent on the breeze, barely visible at all. In her dancing, the accents, speeding up, slowing down, never come where one expects. Yet they are not perversely chosen, but always driven by the music first, and then the drama." JUDITH FLANDERS

June
7 June-9 July: World Cities, Tanztheater Wuppertal Pina Bausch, Sadler's Wells & Barbican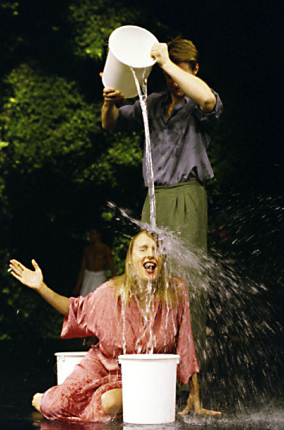 "Let us conclude, after London's season of World Cities - 10 dance shows - that Pina Bausch was not a choreographer. She began 50 years ago in Essen as a ballet dancer and like so many dancers in that field got bored with the rules. When she took over ballet in Wuppertal in 1973, she clearly had rule-breaking in mind but also had something inside her head very different from what one might identify as the geometry of dance.
She is undoubtedly a stage poet, in my view more Surrealist than Expressionist - striving in a genuinely theatrical way to fulfil Marianne Moore's advice that poets should attempt to build "imaginary gardens with real toads in them". Early Bausch works such as The Rite of Spring and Café Müller are fraught with conflict and melancholy, and in a more or less conventional sense choreographically designed, especially her Rite. Should arguments to support her later works collapse, that will remain her masterpiece. Doubts, alas, begin with Bausch's attempt to internationalise her shows...
As this bold, month-long piece of programming at Sadler's Wells and the Barbican shows, everything that's different is roughly the same. On stage people come and people go; there's lots of water, lots of smoking, lots of high heels, lots of things wished for and spoken out loud by adults with the insouciance of children, and lots of solos by lithe and beautiful performers which, however, say little. She borrows from foreign cultures but never explores them. She is unteleological... (Pictured above, Julie Shanahan takes the water in Wiesenland, © Bettina Stöss)
Bausch is a tease, a frustrator, an original artist for sure who distrusts art: less choreographer than, as her legions of fans and the standing ovations night after night in London have proven, popular entertainer." JAMES WOODALL

Four of us went to the 10 productions - James Woodall, Judith Flanders, Sarah Kent and I. Find the 10 reviews on this link.
28 June: Faster, Birmingham Royal Ballet, Birmingham Hippodrome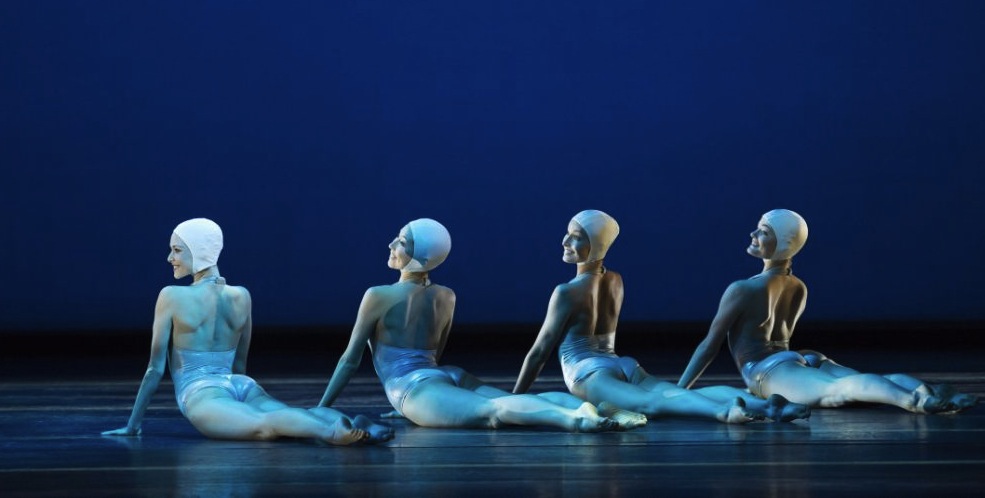 "[David Bintley's new ballet] is a very good piece of work, fast, strong, theatrically clever and musically powerful, a smart use of athletics motifs in a balletic aesthetic, making riches of slender resources and a credit to British endeavour. Faster fields dancers very fetchingly clothed in skin-tight sports outfits by the new young designer Becs Andrews, attractive takes on gymwear, swimwear, cycling bodysuits, basketball sweats and track athletes' two-pieces, with a lot of long beautiful legs and washboard stomachs on view... It has echoes of the multi-screen effects of American modern dance of Twyla Tharp and Merce Cunningham as your eye switches between groups of "athletes", but you keep spotting discreet motifs, the archer girls' lovely bow-drawn ports de bras, the tae-kwondo's kick becoming a swift ballet développé...
It's ballet, but it's athletics too, and what makes it good art is that it is musical expression too - this is another confident step in the new renaissance of music-driven ballet, spearheaded by Bintley at BRB and by Mark Baldwin at Rambert. Bintley seems finally to be coming into a rich maturity in his talent for sheer balletic movement, more confident in recent years, working not with narratives (at which he's iffy) but with really exciting new scores. This one is again by the hugely impressive Matthew Hindson, the Australian composer who composed the music for Bintley's 2010 ballet, e=mc2. What Hindson is doing with Bintley, as Julian Anderson and Gavin Higgins have done with Baldwin, is generating an exhilarating new revival of serious music in the dance theatre, fascinating for the audience and challenging to the dancers." IB
Pictured above, Bintley's Faster, © Bill Cooper/BRB

Next page, July-December
One creation stood out for boldness and curiosity - a truly fresh creative collaboration between a gallery and a dance company
Share this article
Subscribe to theartsdesk.com
Thank you for continuing to read our work on theartsdesk.com. For unlimited access to every article in its entirety, including our archive of more than 10,000 pieces, we're asking for £2.95 per month or £25 per year. We feel it's a very good deal, and hope you do too.
To take an annual subscription now simply click here.
And if you're looking for that extra gift for a friend or family member, why not treat them to a theartsdesk.com gift subscription?