Dance GB, ENB/ NDCWales/ Scottish Ballet, Royal Naval College |

reviews, news & interviews
Dance GB, ENB/ NDCWales/ Scottish Ballet, Royal Naval College
Dance GB, ENB/ NDCWales/ Scottish Ballet, Royal Naval College
GB's three countries get together balletically and surprise everybody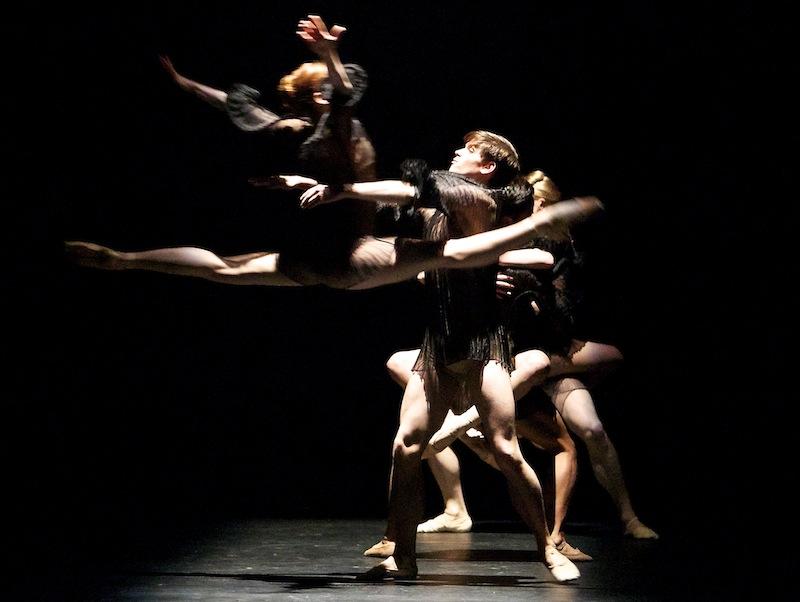 Lights, glamour, action: English National Ballet's spanking new Olympic creation
It was one of the better Olympic culture ideas that Wales, Scotland and England should combine in a Dance GB night, with the three "national" dance companies all creating something new. But a risk that had little Wales holding its breath in fear, up against the might of English National Ballet and Scottish Ballet. And who would have expected the 12-strong National Dance Company Wales to emerge as unexpected heroes?
Truly this wee troupe stepped up to the plate, nabbing the world-famous Christopher Bruce for their choreographer, and being rewarded with the audience hit of the night of a rather interesting bill to be found all this week in a tent in the verdant grounds of the Royal Naval College, Greenwich (with the Cutty Sark nearby as an interval attraction).
The intrigue is that all three companies cut against their usual grain. ENB and Scottish both went for contemporary choreographers better known with modern dance troupes - ENB for Itzik Galili, a Rambert regular, and Scotland invited Richard Alston's protegé Martin Lawrance to do theirs.
ENB's kicker is And the Earth Shall Bear Again, an eyecatcher from Galili, far more effective here in the vocabulary of pointe-work than he's been with Rambert. His balletic accent is school-of-Forsythe-and-McGregor, high, angular, with extreme stretches. Though it's more big gestures than actually daring, it makes the blood pump with its inspired fusion with Yaron Abulafia's lighting (so effective with Henri Oguike in the past). A great number of overhead and side lights are used in layers and banks, sideways, vertical, single, flood, beaming through a soft haze, constantly altering the sense of dimension of the dancers, shadowy in elegant sheer black short tunics.
Like athletes, they show a lot of their glutes - Galili is a bottom and leg man, as so often today - and their nighttime glamour gets an enjoyably sinister cast from the peculiar, lovable music for prepared pianos by John Cage. Cage emptied toolkits, old clothes, doorstops, almost anything into a piano to boobytrap it. Some of the results sound like woodpeckers hammering on an oil drum in which an outraged fly is trapped. I'm enchanted by these noises, and their irregular caprices kept the 18 ENB dancers on their toes at full stretch, with auburn Ksenia Ovsyanick standing out for sheer stroppy attack. This piece has legs, and needs insolence.
Another redhead stars in Bruce's piece for Wales, Dream, a delightful piece of balletic Alan Bennett-ese, with Fifties mums and dads doing the egg-and-spoon and sackrace on school sports day, but dreaming of being proper athletes in their imagination.
And so they gradually strip down to their calico austerity undies as they swim, skate, fence, and hurdle to glory. It crescendoes in comedy and deft dancing in Ravel's Bolero, full of Bruce's much-missed observational wit (which made several of his great pieces, such as Rooster, Moonshine, Sergeant Early's Dance, so sweet). The red-headed girl tries to get the attention of three boys, fails, and somersaults furiously in frustration - she's a bundle of fire, not precise at all, but irresistibly motivated.
The dance contrives in lovably earthy terms to comment on the licence for athletes to express themselves to their utmost while ordinary people could only dream, emerging from post-war austerity. It only lets itself down by a whimsical coda returning the mums and dads to earth which should be chopped off pronto - in dramatic terms, nothing can follow Bolero.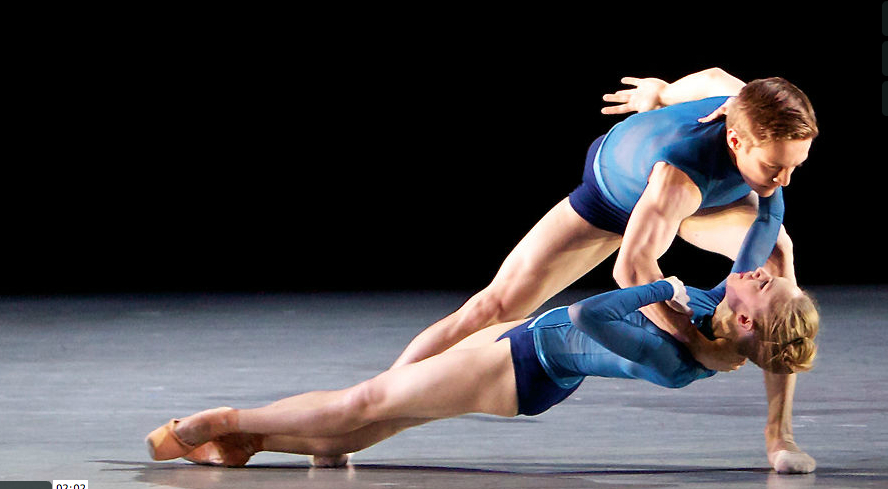 I had much less enthusiasm for the last two items: Dancing Parallel is a dismayingly bad film of dozens of teenagers in all three countries ponderously drilled in a few moves amid a trendy blizzard of chairs, created in today's penitential community spirit of involving everybody in dancing, no matter how bad, and forcing the rest of the public to watch them.
Although Lawrance's work for Scottish, Run For It, is at the opposite end of expertise, it's not much more entertaining an experience - a glacial piece of rapid, contemporary exertion to the sub-jazzy squawking, squeaking, scraping Son of Chamber Symphony by minimalist John Adams. Aesthetically it's unsatisfactory, as Lawrance's choreography is the equivalent of distance-running in its pace, and the music's outer movements are constantly exploding in awkward little sonic accidents and spurts.
It is, in the immortal words of Pina Bausch in Viktor, as interesting as a stick
Like Galili, Lawrance likes showing the dancers' derrière view more than I enjoy looking at it, and the chopped-off leotards direct all attention to bare, complicatedly angled, highly muscled legs and make little differentiation between the sexes. A few self-possessed individuals, such as Sophie Martin, Daniel Davidson and Diana Loosmore, try to unearth something for themselves from this BMI-conscious work-out, and after a rather soupy middle section, the last movement finds Lawrance's busy-business feeling a little less self-conscious. But generally - and despite the stylish ceiling of ice-white origami lampshades - it is, in the immortal words of Pina Bausch in Viktor, as interesting as a stick.
The Dance GB trailer for all three pieces