A Streetcar Named Desire, Scottish Ballet, Sadler's Wells |

reviews, news & interviews
A Streetcar Named Desire, Scottish Ballet, Sadler's Wells
A Streetcar Named Desire, Scottish Ballet, Sadler's Wells
Tennessee Williams' famous play is seized and redrawn as a powerful dance-drama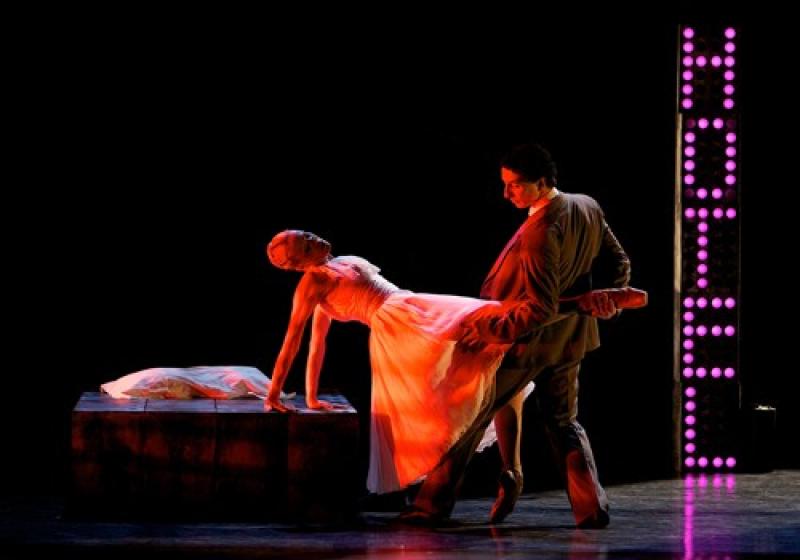 The kindness of strangers: Eve Mutso as Blanche, Erik Cavallari her client
Tennessee Williams's A Streetcar Named Desire carries with it an enormous loading from its past, the associations with those iconic performers on stage and screen Marlon Brando and Vivien Leigh not the least of them. For a narrative dance, that hothouse close-up combat between the hapless Blanche Dubois and Stanley Kowalski, her sister's boorish husband, needed a fresh revising and some bravely independent performing.
Much kudos to Scottish Ballet for creating and pulling off a genuinely involving new dance-drama which looks as stylish as it feels emotionally substantiated.
Director Nancy Meckler, artistic director of theatre company Shared Experience, and choreographer Annabelle Lopez Ochoa made a successful conversion of the words into movement material by taking the useful observation that there is no past tense in dance. They show us Blanche Dubois's full story, not just as the fraying belle with her befuddled memories in New Orleans, but also as the girl whose life led her there. Shades of the ballet Giselle, we see the destruction of a blameless girl's equilibrium by her betrayal by her beloved new husband, her discovery that he is homosexual, his suicide, and her guilty self-obliteration in drink and promiscuity.
The strength of it is less on the complexity of the characters and more on the success of the evocations of places, impressions of time, the conditions for events, rather than their motivation. The flow is much clearer and stronger than in Liam Scarlett's clotted Sweet Violets at the Royal Ballet earlier this month. Story elements are illuminated in flashes on a stage decked sparely but evocatively with furnishings.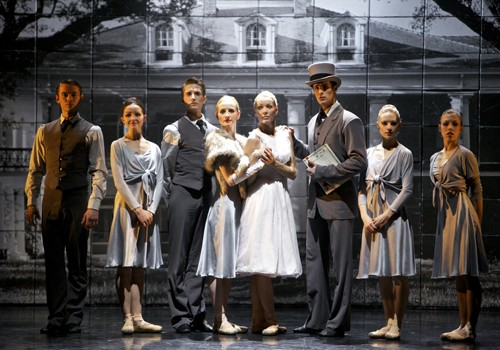 A single lightbulb, or a grid of them, a pile of crates - such simple elements have inventive results in the hands of designer Niki Turner, with the economical lighting work of Tim Mitchell. The wall of the genteel monochrome world of Blanche's marriage (pictured left) collapses, the blocks are swiftly manipulated by dancers into a streetcar, its tracks, wheels, relentless mechanics, and then the crammed interior in which Blanche recoils from the crush of other flesh.
That scene is also a pleasing sample of Ochoa's observant, resonant choreography and inventiveness with props. Rather in the manner of Matthew Bourne, she whisks body-language and contemporary dance together, with Blanche on pointe, to show the socially pretentious widow ill-at-ease in the earthier New Orleans company of her sister Stella. Ochoa also slyly nuances her ensembles when they engage with Blanche: just how much should we deduce from their body language - menace, discomfiture or just indifference?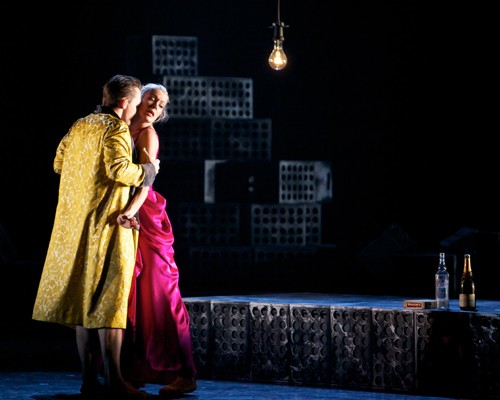 Peter Salem's music swings transiently and sensually between live and taped, mood-setting, Latino jazz, atmosphere (night-birds, radio jingles) and dance-hall songs - "It's Only a Paper Moon" recurs like a tune that Blanche can't get out of her head, and nor can we. The tricky elisions between live and taped sounds were handled seamlessly by conductor Martin Yates with the Scottish Ballet Orchestra, and sound and picture have a unity of effect that speaks of a veritable shared experience of creation under Meckler.
Shining through the evening, though, is Eve Mutso's haunting performance as Blanche. A tall Hitchcockian blonde of great beauty, she moves through her tragedies with a mesmerisingly languid passivity, strongly pitiable as she unfurls her long legs for yet another lowlife encounter, because Mutso somehow with a nuance of body language conveys the absolute inevitability of fate for a dreamer, and somehow a sense of dignity, despite all. (Pictured above, Mutso as Blanche attacked by Tama Barry's Kowalski)
She dances a longing solo, private in her never-ceasing love for her husband, while men in vests march obliviously yet ominously by. When she drops off pointe and into her pink negligee, her defences fall. It's a suggestive, compassionate painting of character through the styling of how she dances at a particular time, and it's equally cleverly done with sister Stella, whose contemporary dance idiom means that she strips down from her daytime phraseology to underwear and bedtime grapples with hardly a flicker. Brunette Sophie Martin makes a terrific contrast with Mutso, showing a mercurial sensuousness under her plain blue dress that evidently keeps Kowalski permanently on the boil.
The men are less interestingly portrayed, being inarticulate not lending itself so well to dance articulacy. Tama Barry in his vest and muscles is more stuck with Marlon Brando's shadow than he can cope with, but Victor Zarallo as the bloody ghost of Blanche's dead husband has a poignantly balletic solo, expressing himself while (in a refraction of Blanche's solo) women walk blindly past him.
All in all, this Streetcar should be one of the major credits on Ashley Page's directorship of Scottish Ballet, for once getting the storyballet thing right (scarce as hen's teeth, as we know). I wish it a long, vibrant and profitable ride on tour.
A tall Hitchcockian blonde of great beauty, Eve Mutso moves through her tragedies with a mesmerisingly languid passivity, strongly pitiable
Share this article