Birmingham Royal Ballet, The Grand Tour/ Faster/ The Dream, Sadler's Wells |

reviews, news & interviews
Birmingham Royal Ballet, The Grand Tour/ Faster/ The Dream, Sadler's Wells
Birmingham Royal Ballet, The Grand Tour/ Faster/ The Dream, Sadler's Wells
An autumn trio that leaps from Twenties movie stars to military fairies via the Olympics
Saturday, 27 October 2012
Bintley's Faster: a dancing expedition through sport
Birmingham Royal Ballet's second triple bill at Sadler's Wells this week is aptly titled "Autumn Celebration", acknowledging the season's diverse weather through eclectic, light-hearted programming.
Joe Layton's The Grand Tour is a nostalgic 1971 comedy-ballet about the heyday of the 1920s and the escapist glamour of sea travel. John Conklin's art deco set and costume designs are supported by a Noël Coward score (adapted and orchestrated by Hershy Kay) that ranges from toe-tapping to shoulder-swooning musical numbers. Coward features as a character on board, and Layton uses other celebrities of the time (as well as some "normal" people) to convey an essence of the era. Fine examples are the screen siren Theda Bara, played provocatively by Samara Downs, and Matthew Lawrence's Noel Coward, evoking the melancholic side of the jack-of-all-trades.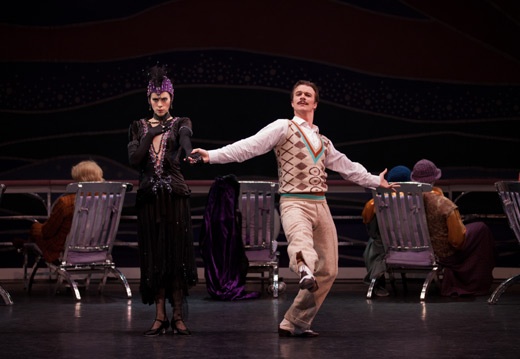 Layton was perhaps influenced by Jerome Robbins, the celebrated American choreographer of both Broadway and the New York City Ballet, as there are similarities in their use of comic timing, as well as a direct reference to The Cage when the Bara figure slyly attacks the helpless George Bernard Shaw just as Robbins's pack-mentality female insects do their own male prey.
David Bintley's new creation for the Olympic year, Faster, has a sense of perpetual dynamism from the moment Matthew Hindson's vigorous score begins, and takes the audience on an expedition through sport by discussing both the highs and lows of athletes' existences. Bintley's idiom is a fusion of classical ballet and high-end jazz that sees recognisable steps evolve into a hybrid form that's less stifled and more freewheeling.
The piece's overall structure is divided into three sections – the first and third being ensemble numbers that ebb and flow between a full and fractured cast, and the middle, a tussling pas de deux for two wrestling athletes that questions injury and its many issues. The female dancer (Elisha Willis) writhes in pain before journeying to a point of resolution – it communicates a rare insight into what actually happens off the stage.
A synchronised-swimming section communicates a sense of glamour like that of Esther Williams, and the final Marathon section sees Bintley use simple running/hopping phrases to accentuate the intensity of the score's rhythmical underpinning. Becs Andrews's set design is deliciously minimal and her training-inspired costumes give Stella McCartney's Team GB offerings a serious run for their money.
The two human couples lost in a game of love and hate beyond their control kept the usual overacting at bay
Ashton's The Dream (1964) closes the programme, using Shakespeare's comedy of errors-style narrative to highlight through dance the power fairy-folk have over mere mortals. The choreography portrays the fairies as a militantly romantic army, executing regimental patternings with a lush, mischievous manner; and the BRB corps de ballet performed this with an obvious ease.
The two human couples lost in a game of love and hate beyond their control kept the usual overacting at bay, and Jonathan Caguioa as Bottom roused plenty of giggles with his hind-leg pointe-work. Mathias Dingman seemed on first sight too tall for a Puck, but soon proved he could wrap his long body around the finicky choreography just as adeptly as any slighter dancer could.
César Morales as Oberon showed a keen technical prowess by flitting between controlled passages and frenzied turn sequences with playful abandon, and Momoko Hirata played Titania with a feminine arrogance – translated through an expressive upper body, knife-sharp footwork, and a vivacity that projected far beyond the proscenium.
The Royal Ballet Sinfonia, expertly guided by Philip Ellis, did the verdant Mendelssohn score more than proud – as they did throughout the entire evening.
Watch American Ballet Theatre in the lovers' misunderstanding in The Dream
A Noël Coward score ranges from toe-tapping to shoulder-swooning musical numbers
rating
Share this article