Birmingham Royal Ballet 1990-2010, Birmingham Hippodrome |

reviews, news & interviews
Birmingham Royal Ballet 1990-2010, Birmingham Hippodrome
Birmingham Royal Ballet 1990-2010, Birmingham Hippodrome
An easy-watching show minimises the courage of the Sadler's Wells move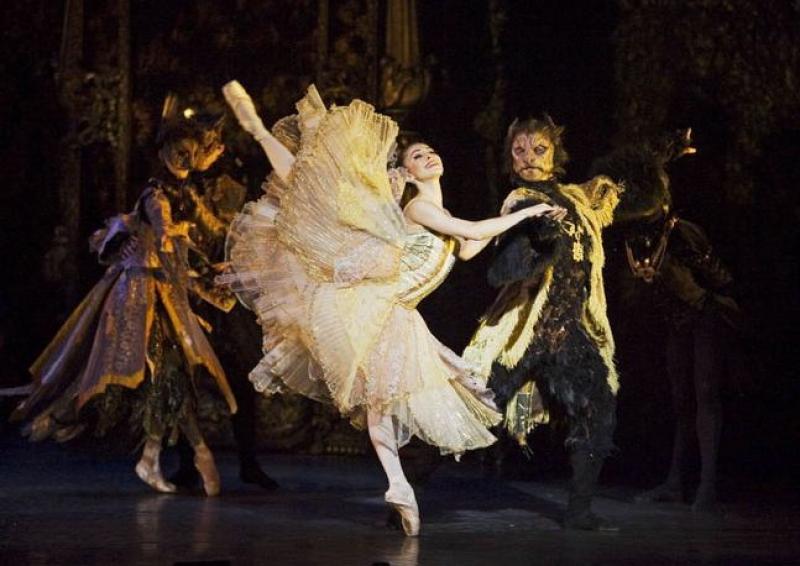 Bintley's Beauty and the Beast: 'This gala seriously shortchanges Bintley's and Wright's greatest achievements'
What should a choreographer set before a Prince for a Royal Gala performance when his finest hour is a portrayal of Royal buggery with a hot poker? Well, possibly (sotto voce) clogdancing cobblers and pegleg pirates might be found more suitable, and plenty of children on stage. So peglegs and clogdancing is what Prince Charles will duly be served tonight at the celebration of 20 years of Birmingham Royal Ballet. These are not times to be challenging any more.
It's 20 years since Sadler's Wells Ballet took on a breakneck challenge, handed in the keys to its historic home in Islington and got the train north to a pretty dreggy bit of Thatcher-Britain Birmingham. Brave faces were put on - British Rail renamed the train "The Birmingham Royal Ballet" - but the only one who really believed in it was 92-year-old Dame Ninette de Valois, who sat on board and said how great it would be also to have a Leeds Royal Ballet and a Manchester one. A decade later, the gamble was in trouble. Birmingham Hippodrome was being redeveloped and ballet performances were slashed to the bone. BRB's artistic director David Bintley was coming over to London critics as all chippy, with ropey dancers and underfed repertoire.

But you can't keep a Yorkshireman from trying to give Londoners bloody noses, and he had his satisfaction in 2005 at the Frederick Ashton Festival in New York. BRB were declared the knock-down winners in Ashton style over their posh London cousins. And now with the lacquer barely dry on this year's South Bank Show Dance Award for his new piece e=mc2, Bintley can well celebrate a gamble that paid off.

Last night the 20th Anniversary gala - repeated this afternoon and tonight, when Prince Charles and the Duchess of Cornwall attend - was undeniably and rightly self-congratulatory, with news film interspersing, even dominating the dance in the auditorium, highlighting the obstacles overcome and friendships made to bring what came evidently damn close to disaster to a PR triumph.

Peter Wright, then artistic director, probably crossed his fingers hard behind his back when he claimed urbanely to the TV reporters in 1990 that he was full of confidence; Jeremy Isaacs in his memoir of his time as Royal Opera House general director records that Wright was worried dancers would not like moving from London to the Midlands and standards would fall. Much more recent, much more relaxed footage of now elderly Sir Peter revealed how devoted he became to the job and how reluctant he was to leave it - Birmingham Royal Ballet, he said, had proved itself by growing its own ecosystem, its own fans and supportive community, with its own attached school (Elmhurst), its own creative resources and its own spirit. Unlike Sadler's Wells Ballet, it was nobody's junior half. A point made even more bullishly by Bintley.

And the film screens rolled out a list of awards made to BRB over the years, many of them from Manchester - no doubt envious that it has no Manchester Royal Ballet. What I found most striking from the award-winning programmes listed and what has been put in the gala is that this gala seriously shortchanges Bintley and Wright's best achievements. It's a bit of a Royal Variety Performance, with the focus on Bintley's MOR side - the Sylvia pirates, the Hobson's Choice hoofing, the jitterbugging jazz men of Orpheus Suite, the railing priest of Carmina Burana and soupy pas de deux from two crowd-pleasing story ballets, Beauty and the Beast and Aladdin. Too many bland clichés there for my liking, apart from Hobson's Choice.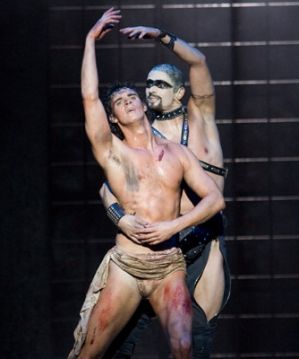 The Bintley I prefer created Tombeaux and Edward II (pictured right), commissioned significant ballet scores from John McCabe, Carl Davis and Glenn Buhr, lovingly rediscovered Ashton's neglected pieces, hooked up with Birmingham's contemporary music forces. The Peter Wright who made Birmingham dance-lovers rapidly learn and grow their taste was not just the wizard of The Nutcracker, but the bringer of Massine's Choreartium and Agnes de Mille's Fall River Legend, the setter of perfect classical productions that pushed his dancers to their limits.

These sorts of things do not lend themselves to galas, and right now it may be that BRB's tactic is to stress its middle-of-the-road appeal when arts cuts bite. A pity. The classical dancing last night wasn't great from the girls - Nao Sakuma's Juliet, Gaylene Cummerfield's Sugar Plum Fairy and Natasha Oughtred's Two Pigeons girl all being rather staid and solid in the hands - but the boys were more lively and interesting. Robert Parker displayed his irresistible party spirit in Slaughter on Tenth Avenue, Carmina Burana and Orpheus Suite, Iain Mackay (Cummerfield's Nutcracker partner) is a tall, handsome man who takes care in presenting his ballerina, and Chi Cao looked delightfully headstrong in the Romeo and Juliet Balcony Scene with Sakuma, and contrastingly dignified in Balanchine'sTheme and Variations. Ballerinas have been the constant problem in BRB, but I think the resolutely down-to-earth image BRB emits doesn't help there.

What a pity that they can't have the dazzler of last night's show, the student from the Royal Ballet School, Yasmine Naghdi, who made her own compelling, stern beauty of MacMillan's Concerto pas de deux, considerately partnered by the shy, interesting Sander Blommaert. Both kids are off to the Royal Ballet this year, not BRB.

The other fresh pleasure was the short, sweet and unselfconscious duet Printer Jam by dancer Kit Holder, with office boy and secretary (feisty Kristen McGarrity) riffing on the idea of a malfunctioning computer printer. No big ideas, just neat observation and high spirits. More from him, please.

There were local youths b-boying through the Romeo and Juliet Mandolin dance, and small eager children on show from Elmhurst School of Dance, whose move to Birmingham from the south is probably very nearly as significant as BRB's in breaking the London hegemony on ballet. But though community links are evidently all-important for BRB, the survival of the company - as for any - will be about being inspiring and extraordinary on stage, not just inspiring and extraordinary in making things happen.
Right now it may be that BRB's tactic is to stress its middle-of-the-road appeal when arts cuts bite. A pity
Share this article