The Rite of Spring/Gianni Schicchi, Opera North review - unlikely but musically satisfying pairing |

reviews, news & interviews
The Rite of Spring/Gianni Schicchi, Opera North review - unlikely but musically satisfying pairing
The Rite of Spring/Gianni Schicchi, Opera North review - unlikely but musically satisfying pairing
Odd-couple double bill of Stravinsky and Puccini with plenty to delight ear and eye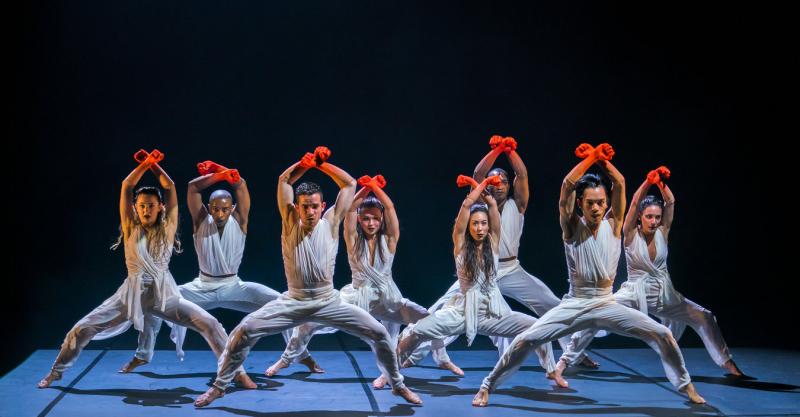 Supernatural synchronisation: Phoenix Dance Theatre tackle The Rite of Spring
Stravinsky acknowledged that his orchestra for The Rite of Spring was a large one because Diaghilev had promised him extra musicians ("I am not sure that my orchestra would have been as huge otherwise.") It isn't huge in Opera North's production (★★★★★), and for practical reasons they're using the edition arranged by Jonathan McPhee in 1988 for a standard pit band.
I expected to be underwhelmed, but, as conducted by Garry Walker, it sounded terrific, most of the sonic thrills emerging unscathed.
This staging, a collaboration between Opera North and Leeds's Phoenix Dance Theatre, marks the UK debut of Haitian born choreographer Jeanguy Saintus. He deploys all eight company dancers in a buoyant, celebratory reinvention, informed (we're told) by ideas of initiation drawn from Haitian folklore. There's no bloody sacrifice, this Rite taking us from prayer to joyous possession by Haitian vodou spirits, Saintus's cast twitching, jerking and writhing in the closing minutes.
As physical spectacle it mesmerises, the dancers' non-verbal communication enabling feats of coordination and synchronisation which border on the supernatural. There's so much lightness, so much air in what we see, the increased energy levels reflected in the flashes of colour appearing in Yann Seabra's costumes. Intoxicatingly good, and brilliantly played to boot.
It's coupled with Puccini's evergreen one-acter Gianni Schicchi. Stravinsky wasn't a Puccini fan, and in a rare meeting with Shostakovich in the early 1960s the two composers discovered a mutual antipathy. Puccini himself had dismissed The Rite as "the work of a madman", though he must have been impressed by Petrushka, to the extent that Stravinsky accused him of imitating the bear-like tuba solo from the ballet's final scene in Gianni Schicchi. Hearing it after the ballet highlights just how modernistic Puccini's writing is. This brittle score abounds in ear-tickling harmonic and colouristic effects, the orchestra laughing, sneering and weeping by turn. The one show stopping aria, "O mio babbino caro", sticks out like a sore thumb, much as "Nessun dorma" does in Turandot.
Christopher Alden's anachronistic update (★★★), revived four years after its first outing, mostly retains its freshness. Though the silent prologue, Tim Claydon's Dante setting the scene before assuming the role of the dead Buoso Donati now feels overstretched, and his posthumous perambulations are distracting. Alden's relatives are an impressively nasty bunch, one of them (Claire Pascoe's La Ciesca) smothering poor Buoso with a pillow as the music starts. They're dressed up to the nines by costume designer Doey Lüthi, strutting around Buoso's house as if it's already theirs. Buoso's will says otherwise, so the rogueish Gianni Schicchi devises a cunning plan.
Richard Burkhard's nattily-dressed Schicchi (pictured above) has ample charisma and just a hint of menace; we know immediately that he'll gain the upper hand. It's a nice touch to show Ben Hinchliffe's young Gherardino glued to his iPad and keen to take a selfie with Buoso's corpse, and Jeremy Peaker's lawyer dictates the revised will straight onto a laptop. Tereza Gevorgyan looks the part as Lauretta and shines in her big number, Walker wisely refusing to linger. The orchestral playing is impressive, though occasionally overwhelming the voices.
Puccini himself had dismissed The Rite as 'the work of a madman'
Explore topics
Share this article