Elizabeth Taylor: 1932-2011 |

reviews, news & interviews
Elizabeth Taylor: 1932-2011
Elizabeth Taylor: 1932-2011
She could act too: theartsdesk recalls a great star's finest screen moments
'She can't sing, she can't dance, she can't perform.' But the camera loved Elizabeth Taylor
Yes, we've always claimed her as one of ours, even though her parents were both American and they moved her back to the States as war loomed. She appeared in her first film, There's One Born Every Minute, with Universal Pictures, with whom she signed her first contract for $100 a week. It wasn't renewed.
Her production chief famously suggested that: "She can't sing, she can't dance, she can't perform." Metro-Goldwyn-Meyer snapped her up and by 1942 she had appeared in
Lassie Come Home
(1943) opposite Roddy McDowall and a canine co-star who stole every scene. But her real elevation came the following year in
National Velvet
, in which she played Velvet Brown, a young girl who somewhat fancifully trains her horse to win the Grand National.
The films from the rest of her teenage years have not lasted the course. The first film of her adulthood to register with filmgoers was A Place in the Sun (1951), in which she played a socialite whose beauty floors Montgomery Clift. In this early example of her love affair with the camera, Clift declares his love but the focus is on the shimmering young face of his co-star.
Watch a clip from A Place in the Sun
Quite a few forgettable movies would follow before Taylor started to land consistently challenging roles, among them Giant (1956), Raintree Country (1957), Cat on a Hot Tin Roof (1958) and Suddenly Last Summer (1959). In this clip from Cat on a Hot Tin Roof, Taylor demonstrates her instinctive understanding of how to play a tragic Tennessee Williams heroine, but also how to tailor a theatrical performance for the camera.
Watch a clip from Cat on a Hot Tin Roof
At the age of 30, Taylor was suddenly the biggest female star on the planet, one with intense erotic appeal at a time when cinema was becoming less uptight about female sexuality. She duly won her first Academy Award for her portrayal of a high-class hooker, co-starring her fourth husband of the time, Eddie Fisher. "She's the most desired woman in town and the easiest to find," said the trailer. "Just call Butterfield 8."
Watch a clip from Butterfield 8
The prize was Anthony and Cleopatra (shot in 1960, released in 1963), an epic folly that went through scripts and directors and, more than anything, money. But in the days before CGI Cleopatra's entrance into Rome was gloriously choreographed without any skimping. Taylor doesn't say a word in this clip, indeed she doesn't even appear till near the end of it, but such is her irresistible allure that she overpowers the screen even when she is nowhere near it. The humble bow at the end is perfect. "Nothing like this has come into Rome since Romulus and Remus," said Burton's Antony.
Watch a clip from Antony and Cleopatra
Thus began a relationship whose tempestuousness was shrewdly mirrored in the movies, first in Edward Albee's Who's Afraid of Virginia Woolf (1966), which yielded her second Oscar, then in Franco Zeffirelli's The Taming of the Shrew (1967). In this clip we find her furiously smashing up fixtures and fittings. Crucially, Zeffirelli does not allow us – or Burton's Petruchio - to see her face. The moment she turns, it seems instantly clear that her ravishing beauty has captured the heart of the man who has come to conquer her.
Watch a clip from The Taming of the Shrew
The camera fell out of love with Elizabeth Taylor long before the end, but for an actress who found fame playing a jockey the going was very good to firm for 20 years. It is a career whose highs deserve to be celebrated long after her marital incontinence is forgotten. When it comes to Taylor, there wasn't one born every minute.
It was 30 years ago, in what some might nonetheless regard as the twilight of her career, that Taylor began to spread her wings theatrically - as made sense from an actress who had triumphed in screen versions of both Tennessee Williams's Cat on a Hot Tin Roof, as Maggie the cat, and, of course, her ballsy and brilliant Oscar-winning turn as the rampaging Martha in Edward Albee's Who's Afraid of Virginia Woolf?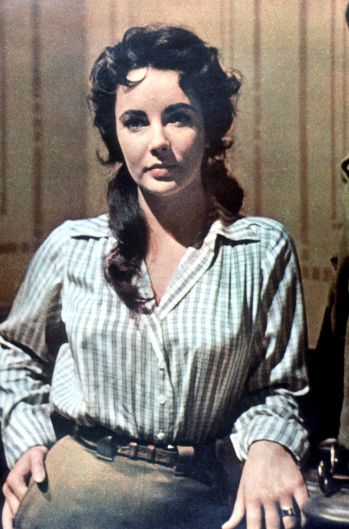 In May 1981, Taylor opened at Broadway's Martin Beck Theatre as the villainous Regina in Lillian Hellman's The Little Foxes in a star turn that often induced a standing ovation from eager punters the moment she first walked on stage. That may have been good timing. As it turned out, Taylor's voice - a screen purr that could do sibilant and furious where needed - didn't have much resonance on stage, though Taylor still got a Tony nod for Best Actress, losing, as it happens, to England's Jane Lapotaire in the Pam Gems play Piaf. (She brought Little Foxes to the West End a year later, with a somewhat different supporting cast.)
Even in defeat, Taylor emerged the evening's winner at the actual Tony show, so hilariously mangling her introduction of the names for the award for Best Musical - she referred to veteran producer James Nederlander as James Needleheimer(!) - that she quickly became the audience darling. ("Forgive me, I can't read very well," was her excuse.)
Watch Elizabeth Taylor present Best Musical at the Tony Awards
That wasn't the case, alas, on her only other return to Broadway in May, 1983, in a reviled revival of Private Lives, partnering no less an Elyot than Richard Burton. The New York Times then-chief drama critic Frank Rich wrote of both stars looking "whipped and depressed", and a subsequent stage venture co-produced by Taylor and Zev Bufman for the Elizabeth Theatre Company, Cicely Tyson in The Corn is Green, didn't fare much better, closing after two weeks.
Both images courtesy of TopFoto

Matt Wolf on Elizabeth Taylor onstage
Share this article