The Blood Pact, All 4 review - a (tax) inspector falls |

reviews, news & interviews
The Blood Pact, All 4 review - a (tax) inspector falls
The Blood Pact, All 4 review - a (tax) inspector falls
Themes and characters entwine in the third series' masterly denouement
Monday, 06 September 2021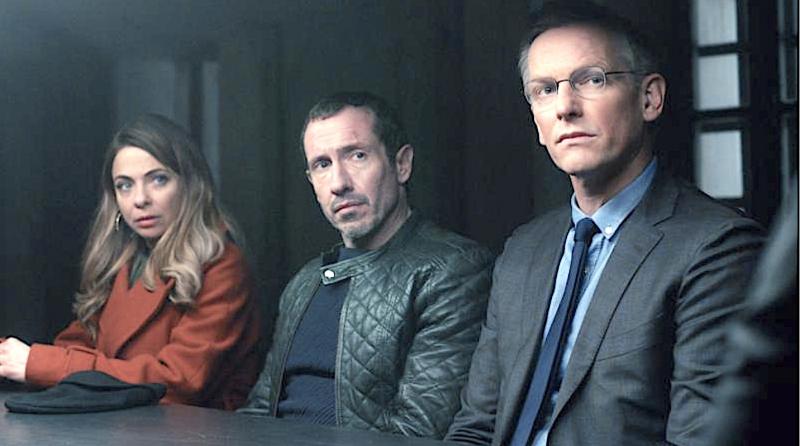 Dark dealings: the central trio of Georgina Verbaan as Kitty, Jacob Derwig as Marius and Barry Atsma as Hugo
In Klem (meaning "clamp"'), we find ourselves in the calm, ordered and ordinary world of Amsterdam-Zuid. There are parents' evenings to be attended, school plays to be watched. The area's many pretty parks are just perfect for the early morning jog. Tall green bins stand in neat rows.
Evenings are for helping children with their homework, or for going to choir practice, at which a widowed, serious, bespectacled tax official in the tenors might notice a romantic gaze coming in his direction from a hospital doctor in the sopranos, to the strains of Samuel Barber's
Agnus Dei
...
Except that these appearances are deceptive. These are the same streets where criminals from the underworld settle their scores, normally with firearms. And just a few kilometres away are the docks, from which unfortunates who have displeased their underworld bosses can suddenly find themselves dropped off the edge in 50kg "concrete sneakers", and dispatched to watery deaths in the shallow depths of the harbour.
The "blood pact" in the English title is an oath of allegiance which Suus, the younger daughter of the tax official, Hugo Warmond (Barry Atsma), has sworn to her best schoolfriend Chrissie, daughter of the resourceful and hyperactive Kitty van Mook (Georgina Verbaan) and her jailbird husband Marius Milner (Jacob Derwig). Milner has a fierce and volatile temper, and his many attempts to reform himself and abandon crime always involve a lot of impassioned promises, but never seem to carry any substance. He constantly endangers himself and the people around him.
The central figure is Hugo Warmond, the bespectacled tax inspector. At the start of the first series, he has a promising career, and clearly no need or inclination to become involved in any criminal activity. And yet he gets dragged gradually and inexorably deeper and deeper into Marius Milner's dark world. It is not just his close relationship with Milner and Kitty, but also his tendency to reach out and help people, and to betray secrets. And these are the means which take him further and further into illegality.
He looks the most unlikely person to be drawn into punch-ups, but he does. "What happened to you?" his daughters, colleagues or girlfriend ask him, when, as happens several times, they see his newly battered face and replacement glasses after another inevitable scrape. His standard feeble alibi, "I fell off my bike", starts to echo like a leitmotif as the series evolves.
The actor who grows most convincingly into her role is Georgina Verbaan as Kitty. At the beginning she seemed to have nothing of the emotional range of Rifka Lodeizen in Overspel, an earlier series from Frank Ketelaar and Channel 4/ BNN Vara, but here she plays a very different character, and impressively inhabits it more and more. She is all about survival strategies and coping, as each new challenge and twist needs her to reinvent herself and protect her daughter. And it is scarcely a surprise when her regular and enthusiastic pursuit of self-defence classes turns the plot at a vital juncture near the end.
In addition to the central trio of characters and their children who appear throughout the series, there is a changing cast of villains. One irresistibly odious character is Wout Borgesius, played superbly by Maarten Heijmans (pictured above with Marie-Mae van Zuilen as Laura Warmond, courtesy BNN/Vara) in the second series. Another key villain in the third is the impeccably smooth but utterly ruthless and unprincipled Maurice Samuels, played by Thom Hoffman.
The scriptwriter and mastermind here, who also has the occasional director credit for some of the 30 episodes in the three seasons, is Frank Ketelaar. His meticulous plotting is unfailingly gripping; Ketelaar is the complete genius when it comes to creating and sustaining tension. Time and again we see the characters hesitate to become embroiled in another dangerous deceit, before becoming drawn irresistibly into the mire. If there is a weakness it is that the first series places the plot elements in place too carefully, builds the tension too slowly and patiently, and keeps us waiting. Incidentally, watching the show with the adverts on Channel 4/ Walter Presents spins this out further. That said, the way in which Ketelaar manages to bring all the different themes together for the final showdown and dénouement of the third series is absolutely masterful.
Scriptwriter and mastermind Frank Ketelaar is a genius at sustaining tension
rating
Explore topics
Share this article