Tim Vine, Touring
Tim Vine, Touring
Punslinger who tells jokes a mile a minute tickles your inner child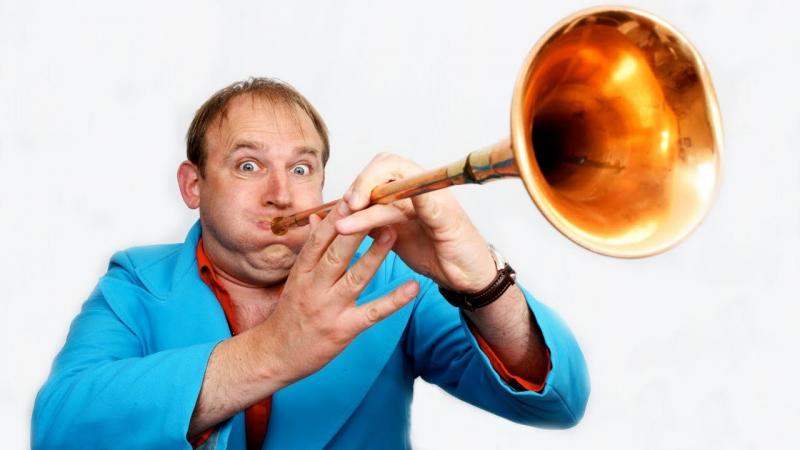 Tim Vine: A clown in the great music-hall tradition
Normally, comedy critics maintain the polite convention of not writing comics' jokes in reviews - it spoils the fun for punters if they then see the show and already know the punchline. But even if this review was peppered with gags from Tim Vine's Joke-amotive, they would represent only a tiny percentage of the astonishing number of funnies he gets through in his set.
Puns, one-liners, surreal wordplay, sight gags and musical jokes follow each other in rapid succession as the pace never slackens in his 75-minute set.
Vine, whom you may have seen as an actor on BBC One's Not Going Out, comes on stage wearing a hat composed of skeins of wool: "I've got nits," he deadpans. It's heroically silly, and starts the ball rolling on an evening (I saw the show at the Anvil in Basingstoke) where the laughter rarely lulls as he fires off gag after gag.
He frequently delves into a box of props - pulling out a card with BNAG written on it, he says, "That's bang out of order" - and some of the lines are groan-inducingly funny: "A thief stealing T-shirts in size order is still at large." Several of the set-ups have three or even four pay-offs, so if you don't laugh at one, you will surely at another.
Essentially Vine is a clown in the great music-hall tradition of "if you fire off enough gags, some of them will hit the target", but that's to undersell his writing skills and stagecraft, as his hit-rate is phenomenally high. It's an utterly uncynical show and it helps if you just go with the flow and allow Vine to tickle your inner child, but even so this kind of shtick could easily pall. Cleverly the comic slots in the occasional short musical interlude (and even a sing-song), some physical comedy and sight gags aplenty.
Yes, you will find more nuanced and biting material from, for example, Ed Byrne or Andy Parsons, or comics who equally love words but form them into a narrative structure (Alun Cochrane springs to mind), but few comics beyond Vine and Jimmy Carr churn out quite so many well-crafted gags per set, although Carr's achieve a vastly different effect. As Vine says, there is nothing offensive in his show, no swear words, no political comment or ironic subtext; it's simply wonderfully daft and deliriously funny.

Watch a clip of Tim Vine:
'It's an utterly uncynical show and it helps if you just go with the flow'
Share this article