Stephen Merchant, Reading Hexagon
Stephen Merchant, Reading Hexagon
An accomplished debut by a talented stand-up and physical performer
Tuesday, 13 September 2011
Stephen Merchant: the stand-up does some very proficient miming in his act
Stephen Merchant has played the sleeping partner for so long in his professional relationship with Ricky Gervais that it was perhaps inevitable he would address the issue at the top of the show. The good thing about going on tour, apart from meeting ladies, is, he says, that he doesn't have to share the profits with "you know who".
Although Gervais is the louder of the two and Merchant usually remained behind the camerain their early career together, the latter has steadily come to the fore; after occasional appearances in The Office a more substantial role in Extras (pictured below, with Gervais) followed and he is – nominally at least - an equal participant, along with Karl Pilkington, in The Ricky Gervais Show (albeit the title suggests otherwise). But where Gervais has gone on to stadium gigs and American über-fame, Merchant has preferred to stay in the background and give only rare interviews, which is perhaps why he remains a genuinely popular comic who can sell out his first tour as a stand-up.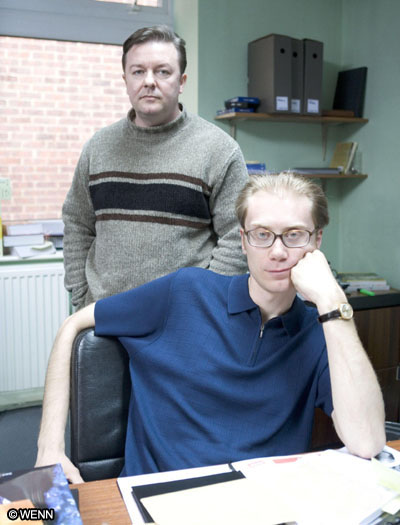 Merchant performed on a multiple bill, Rubbernecker, at the 2001 Edinburgh Fringe in the company of Gervais, Robin Ince and Jimmy Carr, and has done the occasional spot at comedy clubs over the years, but Hello Ladies... marks his debut with a full-length show. It is, he says, about his ill-fated attempts to find a wife. He covers a lot more besides and veers bravely into male-female differences territory - it's a neat construct that's seemingly personal but is actually nothing of the sort.
He gets the height issue – he's 6ft 7in – over with straight away by showing (in the first of a few very well-performed mimes in the show) how he copes on economy flights, and immediately addresses his subordinate role in his writing partnership, as least as some numbnuts in the media see it, by using the large onstage video screen to reproduce some less than flattering newspaper coverage in which he's either cropped out of the top of the picture, or his name is misspelt.
Merchant also, with exquisite subtlety, drops in the fact that he has a shelf full of awards at home while doing his "nice to meet you" shtick with the front row. There are times that his patter is so cleverly laden with irony, backchat and supposedly self-deprecating remarks that you have to remind yourself that this is a craft he's mostly new to.
He tells us lots of reasons why "there's not a lot of repeat business at Chez Steve": could it be the single bed, his use of Tupperware beside it (not what you're thinking), telling people what you really think of their kids, not being a dog lover or because he's a meanie on dates? The stingy stuff isn't particularly strong, or indeed believable, but the weak lover material suggests either a misogynist – that would be why, Stephen! - or a comic who has underestimated his audience's comedic and sexual sophistication.
It is, though, an enjoyable hour with some deliciously turned phrases and Merchant is a performer you would be happy to hear telling stories all night. He's also a talented physical performer.
His encore, however, is rather a chore, despite its funny starting point – a play he says he wrote for GCSE Drama – and quite the best callback gag I've seen for some time, but it goes on too long and relies too heavily on the audience members he brings up on stage to perform it to make it work. Merchant is simply too nice and should be chivvying them along and insulting them when they try to take over the stage or fluff their lines. Treat 'em mean, Stephen. They love it.
It's an enjoyable hour with some deliciously turned phrases
Explore topics
Share this article