Edinburgh Fringe: The Monster in the Hall/ Joel Dommett/ Katherine Ryan |

reviews, news & interviews
Edinburgh Fringe: The Monster in the Hall/ Joel Dommett/ Katherine Ryan
Edinburgh Fringe: The Monster in the Hall/ Joel Dommett/ Katherine Ryan
A new play by David Greig, celebrity obsession and a misconceiving Canadian
The Monster in the Hall, Traverse ****
David Greig's indie comedy musical, first performed at Glasgow's Citizens Theatre at the end of last year, is a bright and inventive four-hander about a 16-year-old girl struggling to keep everything together. Duck Macatarsney (Gemma McElhinny), who writes escapist stories in her room, cares for her biker dad, known as Duke, who suffers from multiple sclerosis. At the beginning of the play Duke (Keith Macpherson) is struck blind.
Duke was a Hell's Angel in his day, before Duck's mother died in a motorbike accident, but now stays at home, tinkering with his bike, eating pizza and smoking dope. Although, as Duck points out, "To be fair he liked a spliff before the whole MS thing..."
They are just about coping when Duck's (short for Ducati, her mother's favourite bike) teachers call in a social worker, Mrs Underhill (Beth Marshall), whose answer to everything is, "Take a leaflet." Will Duck have to go into care or will they let her stay with Duke and Lawrence (David Carlyle), the boy she has a crush on but whom everybody else assumes is as gay as a goose? Lawrence, however, tells her that he just likes designing costumes.
The play is performed by four actors, who also form a sort of Greek chorus made flesh as a 1960s girls group, The Fabulous Duckettes - and the parallel with the Shangri-Las' "Leader of the Pack" is intentional. They interrupt the action to don pink glasses and sing (original songs by Nigel Dunn), while the stage is bare except for four microphones and a chair. Guy Holland's production (which occasionally loses pace) deftly moves from Benny Hill-style farce to teenage angst or middle-aged passion.
Greig's script crackles with humour - Duke's motorbike is the monster in the hall or, as the text tells us in one of many nicely judged asides, "clearly a metaphor for the things in our lives we can't face" - and treats some difficult subjects (illness, teenage sexuality) with irreverence. The four actors are wonderful and this heart-warming, though never sentimental, stripped-back storytelling is a joy to watch. Until 28 August
Joel Dommett, Pleasance Dome ***
Joel Dommett is a name you'll be hearing a lot of. With his floppy hair, ever-smiling face and dressed in skinny jeans and oversize trainers, Dommett is the new Jack Whitehall, as if we needed another, but that's not his fault. Like Whitehall, he's personable, well spoken and commands the stage well – not surprisingly, since he already has a career in television; he's appeared in Skins on E4 and Popatron on BBC Two.
It was in a television studio that Dommett met the celebrity with whom he fell in love, and Neon Hero is an extended anecdote about the perils of falling for someone a few notches above you on the celebrity scale, who doesn't even notice you. How many notches separate them we cannot work out because the said celebrity's management did not want her name used in the show, so instead he uses that of a girl in the front row – on this day, Anne.
It ends with love unrequited and along the way we learn of the romantic and daft things Dommett did to impress "Anne", to no avail. He has fashioned a show of sorts and, although every sentence is littered with "like" and "right", he tells the story engagingly - but by crikey you have to find Joel Dommett as fascinating as he does. The teenage girls in the audience loved it, however. Until 29 August
Katherine Ryan, Pleasance Courtyard **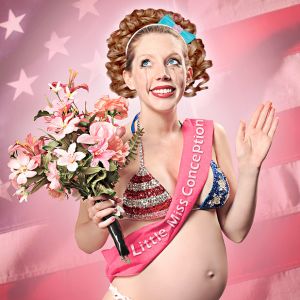 Katherine Ryan has had a life that other comics would give their right hand for: she grew up in small-town Canada on the American border; had a hard-drinking Irish immigrant dad and a mother who entered her in beauty pageants as soon as she could walk and later started a relationship with a boy at the high school Katherine attended; spent time working in a Hooters restaurant; and has survived cancer.
You would think then that Little Miss Conception would be a riveting show, but what starts out well descends into a mess as Ryan throws far too much into the mix and fails to carve out a clear narrative.
She is dressed in a tutu and fairy headband, I assume to say that pretty women can also have a brain, and talks for an hour about her life. Admittedly there are some neat lines – she comes from a place where "there's not a lot to do but exploit your kids" in reference to the ghastly pageants her mother was obsessed with – but not enough is made of the comedy gold her life has been.
There's a surprise at the end that would be too generous to call a coup de théâtre, which fatally changes the tone of the show. It's a shame as Ryan has some wit and verve but this show is, you've guessed it, misconceived. Until 29 August
Explore topics
Share this article