Edinburgh Fringe 2018 reviews: Catherine Bohart / Norris & Parker / Pelican |

reviews, news & interviews
Edinburgh Fringe 2018 reviews: Catherine Bohart / Norris & Parker / Pelican
Edinburgh Fringe 2018 reviews: Catherine Bohart / Norris & Parker / Pelican
Opening on the fringe at the world's biggest and best arts festival
'Bisexuals have superpowers': Catherine Bohart
Catherine Bohart ★★★★
Catherine Bohart tells us at the top of the show that she is the bisexual daughter of an Irish Catholic deacon, which is, when you consider it, a niche description. Oh, and she has OCD. That's quite an introduction, and she more than lives up to it in this debut show, Immaculate.
Her style is conversational as she rattles through her realisation about her sexual preferences and her mental health, as well her father's reaction to them. She is very close to him, and a story about his childhood is a neat throughline in the show.
His story, of emotional neglect, is of an Ireland thankfully now signed to history. She, meanwhile, is rather peeved that all the good bits about being a daughter of modern Ireland – the equal marriage vote of 2015, followed by the abortion referendum result earlier this year – happened after she left to live in England.
But another great move forward – deaths in your local parish being announced online – means that Bohart can preempt her father's opening line any telephone conversation they have – "You'll never guess who's died" – with that precise information. He now thinks bisexuals have superpowers...
The show, which is very personal, never feels jarringly confessional, still less comedy as therapy, and is a very fine debut.
Pleasance Courtyard until 26 August
Norris & Parker ★★★★
"Right, that's enough of the misogynistic stereotyping," say Katie Norris and Sinead Parker, as they whip off their witches' hats and get down to business in Burn the Witch, a wonderfully daft and dark tale about a town called Phallus Ridge, "the saddest town in the North West", where locals go dogging along the penis-shaped cliffs.
Norris and Parker play multiple roles as they whizz through the story, introducing us to local busybody Jean Finger, farming family the Cheesebrows and their son Oedipussy, and psychic Gypsy Peg, among many others. They make some sly points about female sexuality and repression, and how it's still a man's world, while providing some big laughs along the way.
Norris and Parker are both very fine actors (and Norris has a cracking singing voice), with musical accompaniment provided by Huge Davies. Great fun.
Pleasance Courtyard until 26 August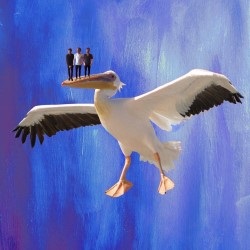 Pelican ★★★
Pelican is a three-member comedy group, the latest generation of Cambridge Footlights alumni plying their trade at the Fringe, and Sam Grabiner, Jordan Mitchell and Guy Emanuel are a very likeable threesome. Their show, Fisk, is a slightly rambling tale about a professional doubles pair who come to grief in a dastardly plot by tennis's Mr Big.
Set against the backdrop of the upcoming World Cup of Tennis, top doubles player Benny Hawk (Emanuel) must find out who killed his partner, Bjorn Fisk (Mitchell) before it's too late and the ultra smooth, blazer-wearing Mr Big (Grabiner) achieves world domination.
It's as silly as it sounds as the three men play multiple roles in what at times is a confusingly convoluted tale, but it's done with great energy and an eye for the surreal – at one point the three sit atop ladders, like tennis umpires on their high chairs, having a board meeting. The writing could be sharper, but the jokes keep coming as Pelican serve up a pleasing entertainment.
Bedlam Theatre until 27 August
The show is very personal but never feels jarringly confessional
Explore topics
Share this article