Our Friend Victoria review – Victoria Wood's genius is irreplaceable |

reviews, news & interviews
Our Friend Victoria review – Victoria Wood's genius is irreplaceable
Our Friend Victoria review – Victoria Wood's genius is irreplaceable
Julie Walters presents the first part of BBC One's series celebrating a comedian without equal
Victoria Wood: at it again, again
In the closing credits of Acorn Antiques, wobbling diagonally across the screen, it says the part of Berta was taken by "Victoria Woods". Has there ever been a lovelier, truer typo? There was only one Victoria Wood, and yet she seemed somehow to be plural.
She wrote and performed
sketches
and sitcom, songs and
stand-up
, musicals and drama. She directed, she produced. And she never seemed to stop until, alas, last year.
Our Friend Victoria (BBC One) is a piquant reminder that television comedy has never unearthed anyone remotely like her. Her genius is irreplaceable. That genius, as celebs and friends queued up to explain, was to observe the funny in the ordinary. Julie Walters introduced the clips for this opening episode from a homely caff, but also popped up in a launderette, which felt just right. Wood's consoling comedy was about washing all our dirty linen in public.
She joked about radiators and towel rails, knitting and guttering, about underwear and undercarriages. She conjured up an unhygienic yesteryear in which body odour was part of school uniform. She celebrated normal women getting through their teenage years, their menopause, their semi-demented senility. "I wouldn't be an adolescent again if you bumped up my pocket money to three and six." That was the first joke in this first episode. Chin-stroking analysts could spend hours unpicking its myriad complexities. The bottom line is it's an inimitable zinger.
As Harriet Thorpe said, "she confronted women's issues for all of us." The beneficiaries, it's less often said, were also men, who had their mothers, sisters, daughters and especially their crotchety old grans explained to them. Andrew Dunn's lone bloke in Dinnerladies kept nipping out for a fag rather than hear yet more about women's rebellious bodies and minds in riot. But husbands, fathers and sons flocked to the Albert Hall in their thousands to laugh and learn.
For all Wood's celebration of HRT patches and Fallopian malfunctions, there was a powerful streak of surrealism that ran through her work, too. These sketches and routines had madcap cameos for seals and seagulls, for the bizarre visual metaphors in bingo and Daliesque non-sequiturs. "My daughter – born Christmas Eve, so we called her Brenda," explained the fantastical crone Petula Gordeno in Dinnerladies.
Wood's taste for the exoticism of language meant she loved words for the sounds they made – minestrone and macaroons are two of the most frequently mentioned comestibles in her oeuvre. But sound wasn't enough for her: these favoured words had to put in a shift too. In Acorn Antiques Mrs Overall furtively upturns the macaroons on her tray to find the one with the script written on the underside (then chokes on it, having missed her cue). In Dinnerladies Brenda asks the stroppy Twinkle (Maxine Peake, making her debut) what the soup of the day is. "Minestrone," says Twink. "Why don't you put it on t'menu?" "Can't spell it."
From Lancashire's illustrious conga-line of funny-boned comics, Wood was wonderful at northerners. Dinnerladies is a homage to Northern Woman, whatever her age or ethnicity. It was strangely moving to hear Shobna Gulati recall her joy at playing a woman whose primary characteristic was an obsession with haemorrhoids. "My cousin had three big ones sort of in a cluster," said her character Anita. "How brilliant for an actor of colour," Gulati added, "to stand there and talk about piles and not something to do with her culture."
And yet Wood also, with the help of Celia Imrie, mined the humour in hoity-toity poshies from south of the Watford Gap. Imrie remembered how difficult it was not to corpse on set as Walters's sclerotic, forgetful waitress took an order for two soups. Duncan Preston cracked up all over again at the memory ("She was probably the best writer of a gag that I ever worked with," he mused. Probably?) Walters, with her extraordinary physical and vocal dexterity, was a gift for Wood, but the gift was mutual, the collaboration symbiotic. "She was an absolute powerhouse of creativity," Walters said. "All I ever wanted to do was make Vic laugh." The audience were the winners.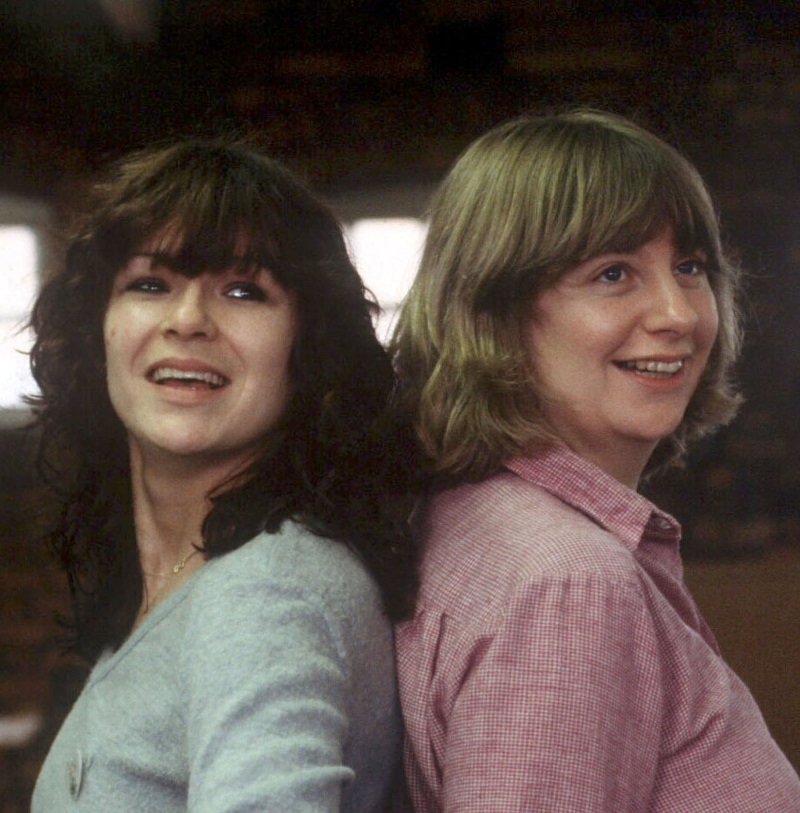 This opening half-hour, on the subject of age, was a delectable taster in what promises to be a six-course feast. As talking heads reminisced with wide eyes and fond smiles between the clips, it wasn't always easy to discern the real woman behind the performer. Joanna Scanlan got closest as she homed in on Wood's front teeth, one more to the fore than the other, that made her look so eternally young. That winning smile was the reason she got away with chuckling along to her own jokes.
However much the good cheer abounded, there were also sharp stabs of melancholy. Wood had it in her to exude that, too. The immensely touching sketch in which 12-year-old Chrissie disappears swimming the channel is only a tweak or two from a Strindbergian tragedy about parental neglect ("I don't really like the dark and I don't talk French very well"). The episode closed with "Fourteen Again", the bitter-sweet song from Wood's 1978 stage show Talent. The edit deftly cut between Walters performing it in character and in a studio, and in came Wood at the keyboard. "I was a crazy girl, I had a laff," she sang, blue eyes twinkling wistfully. Her face was reflected in the shiny lid of the grand piano. Two Woods.
Watch and weep, mainly with laughter.
She joked about knitting and guttering, about underwear and undercarriages. But there was also a powerful streak of surrealism
rating
Explore topics
Share this article