Winter Wassail, Gabrieli Consort & Players, Shakespeare's Globe |

reviews, news & interviews
Winter Wassail, Gabrieli Consort & Players, Shakespeare's Globe
Winter Wassail, Gabrieli Consort & Players, Shakespeare's Globe
A damp start to the New Year, with a few livelier numbers later on
Saturday, 01 January 2011
Vienna has its New Year's Day concert, conducted this year with some style but not quite enough sensuousness by Franz Welser-Möst. London could do worse for a more modest equivalent than let the Wooden O play host to a well-spiced small package of carols, seasonal songs and readings from Chaucer's times to Thomas Hardy's. But sing and play it lustily, ye Gabrieli ladies and gentlemen, or not at all. And it's sad to report that the proceedings got off to a start as soggy as the winter's afternoon they were supposed to keep at bay.
Were those well-muffled chorenes at sixes and sevens really the distinguished members of the Gabrieli Consort? Hadn't anybody except the lively reader, Peter Hamilton Dyer, learned the lessons of tough projection most actors by now know at the Globe? And wasn't it bad luck to start the solo-singing year with a bass who couldn't remember his lines? Fires were slow to kindle: the ladies gave sweet but still rather pale harmony to "Angelus ad virginem", and the two numbers with audience participation felt as jolly as my damp overcoat ("whoa-hoa", cried some of the Gabrielis forlornly as their colleagues still failed to mull the wine and tripped off the stage singing different words to the same verse).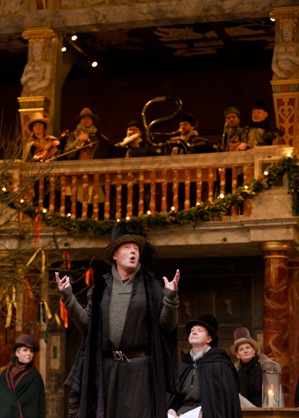 The first half was short, but felt interminable. Things improved all round after a warm cider bowl. Gabrieli motivator Paul McCreesh (pictured right, in the foreground) must have realised he needed to stoke the embers of enthusiasm with a pleasant bit of compering in Part Two, and a contrabass serpent lent gravitas to readings from Hardy's Under the Greenwood Tree. The Gabrielis enjoyed more togetherness in old tunes reused for carolling purposes, and hit a high point with Thomas Ravenscroft's Remember, O Thou Man. As Hamilton Dyer launched into John Julius Norwich's A Correspondence between variously pitched verses of The Twelve Days of Christmas, I thought my frozen toes might slowly curl. But no, the conceit of a true love who sends his increasingly exasperated sweetheart too much birdlife and livestock, many of which have finally to be returned by an intervening solicitor, held out to the punchline and Jim Clements's lively, hard-working arrangements for the merry band's medley between present-counts - including a Swan Lake Waltz for the seventh day - kept us all entertained.
In any case, that elaborate sequence would have needed the rehearsal time they clearly hadn't spent on earlier numbers. I'd give it all a groundling's fiver, no more (top-bench places are ludicrously overpriced at £30). So roll on Easter and the cover-to-cover reading of the King James Bible on its 400th anniversary before the season proper can begin again.