theartsdesk at the Lichfield Festival |

reviews, news & interviews
theartsdesk at the Lichfield Festival
theartsdesk at the Lichfield Festival
A slimline Magic Flute in the Cathedral and David Matthews as featured composer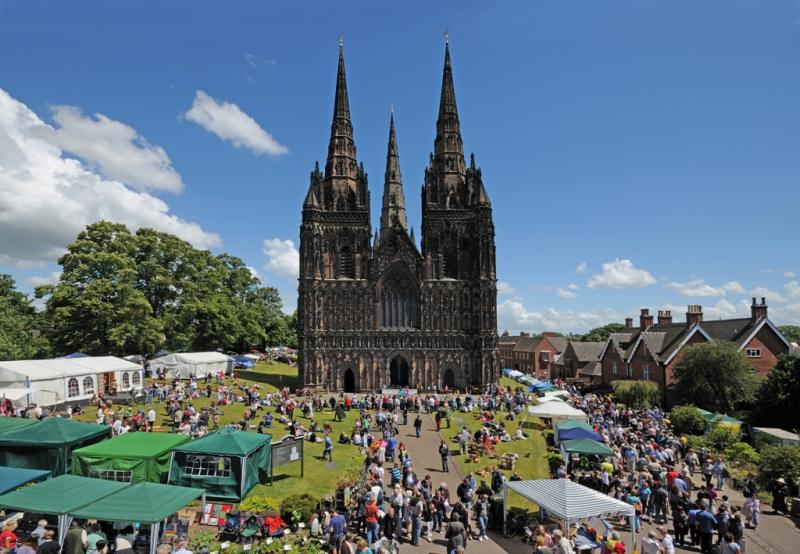 Lichfield Cathedral with festival market: pace Dr Johnson, worth seeing and worth going to see
"I lately took my friend Boswell and showed him genuine civilised life in an English provincial town. I turned him loose in Lichfield, that he might see for once real civility". In Lichfield, it's more or less obligatory to begin with a quotation from Dr Johnson – no lover of music, although his native city does have a modest musical pedigree to set alongside its literary hall of fame.
Muzio Clementi lived here briefly in 1830; Havergal Brian sang in the Cathedral choir and the late Percy Young – composer, Elgar biographer, and much-loved friend of the Cathedral library – is buried in the north east corner of the Cathedral Close, where he can keep a kindly eye on the annual Lichfield Festival.
This year's Festival was the 34th, and though it's never quite had the profile of a Cheltenham or a Three Choirs, it's managed to evolve a distinctive musical identity. Perhaps that hasn't been so evident recently – the recession caused serious financial problems, accompanied by a loss of artistic nerve – but this remains the Festival where Gergiev, Vengerov and Kissin made their UK debuts, which commissioned Peter Sculthorpe's Requiem, and where you'd sometimes find local lad Jonathan Harvey's Mortuos Plango, Vivos Voco playing on a loop in the Cathedral's Lady Chapel.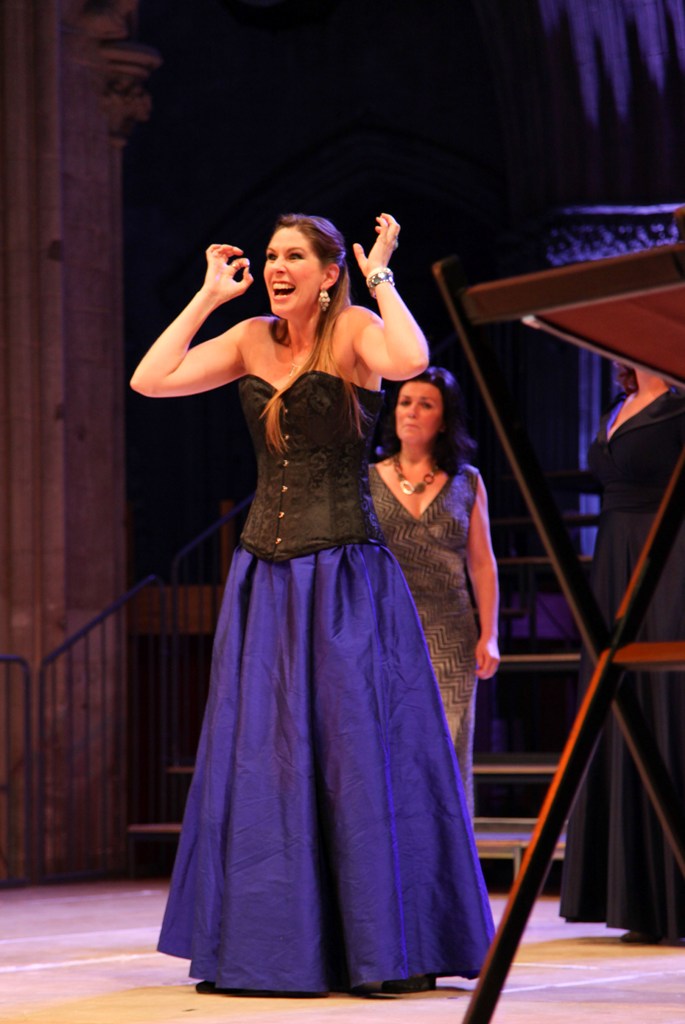 Now it has a new artistic director, Sonia Stevenson, and the 2015 programme – her first – signalled a return to that spirit of musical adventure in a small cathedral city. David Matthews was composer in residence, with two substantial premieres. The Sacconi Quartet was also in residence, with five separate programmes and a sizeable education project – rather more than a token gesture. These were encouraging signs, and none more so, for all its shortcomings, than the Festival's opening concert: a demi-semi-staged production of The Magic Flute in the nave of the Cathedral itself (Samantha Hay as the Queen of the Night pictured right by Clive Edwards of Classica Photography).
It was enjoyably homespun. There was no orchestra or chorus, just Zemlinsky's four-hand piano transcription in an adaptation by Anthony Kraus which worked about as well as piano transcriptions can ever work. Everyone wore variants of standard concert dress (apart from a Papageno in denim cut-offs), and there were no props other than a garden-variety flute and the crisps and bottled water that the Three Boys (three of the Cathedral's girl choristers – a nice touch, and wonderfully light of voice) laid on for Tamino and Papageno mid-way through Act Two's ordeals.
Tess Gibbs and Damian Thantrey were credited as producer and director, though it didn't look like there'd been over-much direction: the bare stage and risers (set up for subsequent orchestral and choral concerts) made an awkward space to work with, and occasional bursts of coloured lighting couldn't really change that. A more serious problem was the decision to dispense entirely with the spoken dialogue – described by Stevenson in the programme as "lengthy". Really? An intermittently poetic narration written by Janice Galloway and delivered by Guy Henry didn't quite fill the gap. Without dialogue, the plot became muddled and the characters were only half-present.
Jonathan Gunthorpe, as Papageno, seemed to feel that most acutely – you felt him holding back from the usual ad libs and playful banter. A shame, because this was an expertly put-together cast. Samantha Hay brought the poise and laser-like intensity that she's demonstrated as English Touring Opera's and Welsh National Opera's reigning Queen of the Night, Adrian Thompson channelled Leonard Rossiter as Monostatos and Kate Valentine, as the first of the Three Ladies, rivalled her Queen for full-voiced hauteur. Richard Wiegold was an authoritative Sarastro, with a tendency to use his dark, velvety voice too much at full-beam (the Lichfield Cathedral acoustic isn't really that problematic), and Alexander Sprague's light, likeable tenor could, with a bit more dash, make him an engaging Tamino. It would have been fascinating, had the dialogue been present, to have seen how he played off Anna Dennis's dignified, wounded Pamina: an outstanding performance amidst an unusually fine team. If the Lichfield Festival has yet to prove itself as an originator of opera productions, this suggested that its musical values, at least, are back where they should be.
That was definitely the case with the opening event of the Sacconi Quartet's residency. Stevenson had spoken of her desire to create "festival moments" – those one-off convergences of time, place and artist – and this late-night performance under blue-lit arches of Elvis Costello's 1993 Brodsky Quartet song cycle The Juliet Letters certainly created its own atmosphere.
The vocalist was Jon Boden, of Bellowhead, and despite a couple of hiccups with the microphones he re-invented the cycle convincingly, stripping away memories of Costello and presenting something simultaneously more delicate and more raw than the studio album. The Sacconis responded with a rich palette of instrumental colour, and the sort of emotional commitment they keep for Shostakovich. It worked: and the encore, when Boden and the quartet persuaded a drowsy pre-midnight audience to sing along to Costello's The Scarlet Tide, was pretty much the definition of a festival moment.
If only there'd been a few rough edges in Wednesday night's performance of Beethoven's Pastoral Symphony by the City of Birmingham Symphony Orchestra, conducted by Lahav Shani (pictured left by Anthony Motton of Redlock Photography). With the CBSO currently searching for a new music director and Shani booked for several Birmingham appearances next season, expectations were high.
But it was hard to know what to think of this mannered, airless reading – sometimes smothered under the weight of string sound, sometimes manicured to within an inch of expiry (there was something weirdly forensic about the way Shani held the opening violin melody of the "Shepherds' Song of Thanksgiving" almost motionless, then prodded and pulled at it to no great expressive end). True, there were long lines; a submerged sense of the symphonic arc that might one day turn into something powerful. For now, you just wished that he'd forget whatever recordings he's presumably heard (Celibidache? Thielemann?) and listen more carefully to the orchestra in front of him.
Shani's foursquare accompaniment kept Jennifer Pike's account of Mendelssohn's Violin Concerto earthbound too. No matter: the needlepoint clarity of Pike's passagework and her gorgeous, smoky tone offered generous compensation. As a complete performance, though, nothing really came up to the level of the opening item: the world premiere of David Matthews' Toward Sunrise. Written as a birthday gift for the documentary-maker Barrie Gavin (who'd travelled from Wales for the occasion), it was conceived by Matthews as the score for an (as yet) unmade film - a symphonic nocturne evoking the hours before daybreak in the Welsh borders.
It's in oils rather than watercolours. Cor anglais and strings sketch out the landscape, brass chords loom out of the darkness and the long shadows of Vaughan Williams and Sibelius stretch over the hills before the sun rises and the work ends on a stark, piercing, high B for violins. Shani and the CBSO gave a loving, wholehearted performance. Still, what does it say about our orchestral culture that a work this attractive, by a symphonist of Matthews' standing, has gone nearly five years without a hearing? The Festival's second Matthews premiere didn't have to wait quite so long. Dawn Chorus, completed earlier this year, was premiered the following night by Ex Cathedra under Jeffrey Skidmore.
Mathews seems to have an affinity for aubades. This, too, dealt with the early morning, expressed through the medium of wordless a capella chorus. It was the starting point – after Benjamin Rogers' Magdalen College Hymnus Eucharisticus - for a beautifully-imagined candlelit sequence of mostly British choral music, beginning at 9pm and skilfully paced against the fading of the evening light through the Cathedral's great west window. The hour-long programme included a 2007 Lichfield commission from Alec Roth, the Ex Cathedra-commissioned Three Portraits by John Joubert and James MacMillan's So Deep: an unexpected partner in spirit, as it turned out, for Wilbye's Draw On Sweet Night.
Skidmore and his choir do this sort of thing superbly: the real surprise was the Matthews. With solo voices singing birdsong-inspired material (Matthews aimed for euphony rather than a Messiaen-like clangour) in all corners of the Cathedral while the body of the choir intoned shimmering Lark Ascending chords in the distant Lady Chapel, the atmosphere was such that you barely registered the tour-de-force of ensemble. Touchingly, Matthews had dedicated Dawn Chorus to Stevenson, and this was a Lichfield Festival moment in excelsis: music inspired by these people and this place, that sang of renewal on a summer night.