theartsdesk in Calgary: Innovation and Iconoclasm at the 2012 International Honens Piano Competition |

reviews, news & interviews
theartsdesk in Calgary: Innovation and Iconoclasm at the 2012 International Honens Piano Competition
theartsdesk in Calgary: Innovation and Iconoclasm at the 2012 International Honens Piano Competition
A young competition with old-school musical values names its 2012 laureate
The 10 finalists of the 2012 Honens International Piano Competition
Can you name the last three winners of the Tchaikovsky Piano Competition? The Van Cliburn? The Queen Elizabeth? Chopin? Probably not. There was a time when winning a piano competition was a ticket to success, a star-making, career-changing event. Now it's lucky to land you an agent, let alone a record contract.
Radu Lupu, Vladimir Ashkenazy, Martha Argerich and Maurizio Pollini all came to prominence in this way, and in one memorable year Mitsuko Uchida went up against both András Schiff and Myung-Whun Chung in a Leeds Piano Competition final. But in recent years, just as the competitions themselves have proliferated so audience interest has steadily declined.
But there's one young competition (barely 20 years old in a field in which age is all-important) that is battling this trend, hoping to build interest and careers where others are crumbling. The creation of Esther Honens – an office-worker with a passion for the arts – the Honens International Piano Competition is based in its founder's home-town of Calgary – a city of oil and agriculture, at a defiant distance from the European centres of classical music.
Honens has officially become the most remunerative piano competition in the world
But just as for two weeks every year Calgarians shed traditional office-wear and dig out their Stetsons and cowboy boots in honour of the annual Calgary Stampede (a massive rodeo, dubbed "The Greatest Show on Earth"), so the city is keen to don high-heels and evening dress every third October for the Honens Finals. And judging by the fervent and opinionated debate taking place in the foyer, the people of Calgary feel every bit as strongly about this, their contribution to the international music scene.
2012 has seen some major changes at Honens thanks to artistic director Stephen McHolm (pictured below), reworking the competition's earlier rounds, the number of semi-finalists, and most notably the prizes. Now offering just a single Laureate to the overall winner, Honens has officially become the most remunerative piano competition in the world, combining a $100,000 cash prize with $500,000 of career-development over three years. In an age of predatory agents, always pushing for their 10 percent, the support of a not-for-profit organisation like Honens (which in the case of previous winners has extended well beyond their three-year Laureateship) can mean the difference between a slow-burn artist of serious heft and a burn-out prodigy.
This focus on career-development rather than immediate virtuoso gratification permeates every aspect of Honens, whose artistic philosophy sets it consciously apart from the mainstream competitions. Looking at the musicians emerging from the major international events in recent years it's clear that while we are demanding more and more of our pianists (the growing ubiquity of Rachmaninov's Piano Concerto No. 3 – once considered too difficult for competition – says it all) we are demanding less and less of the competitions themselves. Too often a rather blunt battle of power and technical might, competitions are neglecting the less showy aspects of the craft – the musicianship, intellect and understanding of their performers.
At Honens this focus is translated into the concept of the "Complete Artist" – a musician who both "inspires the heart and engages the intellect", who is at once "a sensitive musician, a consummate collaborator, an awe-inspiring virtuoso, a communicator, a dreamer, an explorer". The goal is an ambitious one, but McHolm himself dismisses briskly as "naïve" the suggestion that the competition expects to find all of this in one of its terrifyingly young competitors. The search, it seems, is for a musician with the capacity, the curiosity to grow into such an artist, someone capable of turning their hand to the portfolio of skills that make up the contemporary soloists's repertoire – collaboration, intelligent programming and the championing of new works.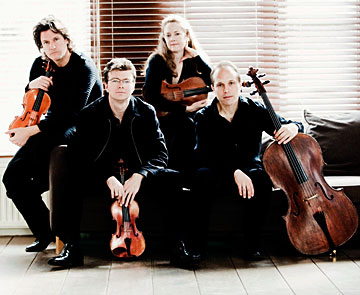 With this in mind the competition's earlier rounds see the pianists craft their own solo recital programme and also take part in collaborative recitals with other musicians, this year including the St Lawrence String Quartet (pictured left) and soprano Amanda Roocroft. They also undertake an interview with an arts journalist, exposing not only their willingness to communicate but whether they have the thoughts and ideas to make it worthwhile. The five who excel then go on to the concerto finals – an elite group, this year comprising Russians Maria Mazo and Pavel Kolesnikov, Eric Zuber from America, South-Korean Jong-Hai Park and Lorenzo Cossi from Italy.
In a suprising twist three of the five opted to perform Brahms' monumental Concerto No. 1. With its symphonic structure and often textural treatment of the soloist (the work neither starts nor closes with the piano) it's an unusual choice for a competition, but perhaps one that speaks to the ethos of Honens, an attitude that encourages the performers to look beyond the big concerto showpieces.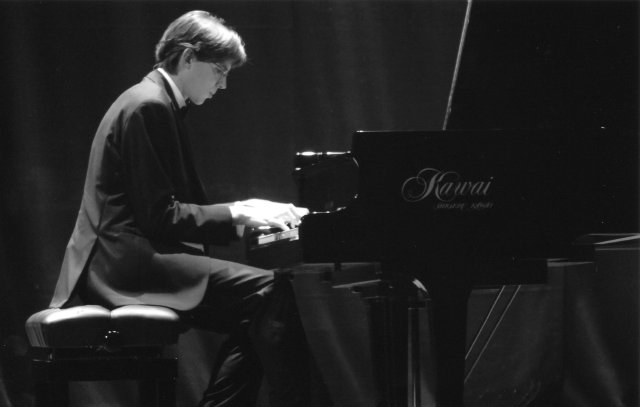 We opened with Cossi (pictured right) – fluid of touch and loose of arm, but oddly distant from the musical matter at hand. Accompanied by the Calgary Philharmonic Orchestra under their music director Roberto Minczuk, both pianist and orchestra seemed to be exploring their way through the work together, uncertain of what exactly they were going to find. In a brief video-clip of Cossi, screened before the performance, he spoke of his love of improvisation, and it showed here in occasionally experimental gestures and episodic approach. But despite his technical fluency, emotionally there just wasn't enough at stake here. All the risks were taking place in the fingers, not the mind.
Maria Mazo followed with by far the slowest performance of the night – impeccably placed in its tone colour and quality, but dissolving Brahms' larger arcs in her insistence of the bar-by-bar detail of the score. She achieved a stature (especially in the second movement Adagio) lacked by Cossi, but nerves never quite seemed to leave her and at least twice she parted company with the orchestra.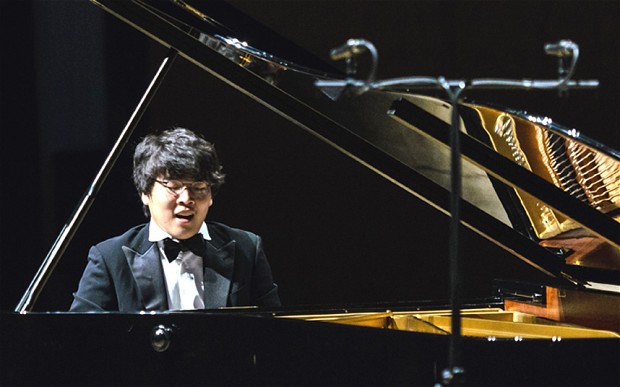 From an almost hour-long concerto to an interpretation that whisked by in a brisk 40-something minutes. Jong-Hai Park (pictured left), only 22 is a great find – a joker on and offstage, but one whose levity conceals a matter-of-fact seriousness and some classy technique. His Brahms had humour and humanity in equal measure, and moments of excess that felt earned, unlike the calculated Rachmaninov we had heard from Zuber earlier in the competition. His is an artful approach, but none the less endearingly sincere for that, bringing pace and personality to the episodes of the Rondo, while never losing its structural coherence.
Of the two pianists who opted not to play Brahms, Kolesnikov chose Tchaikovsky's Piano Concerto No. 1 and Zuber went for Rachmaninov's Second Piano Concerto. Zuber is apparently a regular on the competition scene and sadly it shows. Perhaps in a more conventional environment than Honens his secure technique might serve him well, but here his lack of musical personality, the learned emotions and too-conscious flamboyance seemed out of place. Most convincing in the fluid passagework of the second movement's più animato, his dramatic gestures elsewhere were certainly authoritative but often thumped.
Kolesnikov, who looks like a pixie and plays with all the cheeky charm of one, was a very different story. Another of the competition's youngest competitors (just 23 years-old), he balanced a through-line of emotional intensity through the Allegro non troppo with unexpected flashes of larkiness. One of the most sensitive communicators with the orchestra and at his best when interacting with them, his solo passages had personality but perhaps not as much depth to the sound as certain other finalists.
Every third year Calgary might erupt into musical activity, but what about the rest of the time? For Honens to continue to flourish it can't just be an event in isolation, and while the competition brand is beginning to spread itself to European and North American cities, sponsoring performances for its laureates and associated artists, there's also a growing continuity of work happening at home. A rising number of concerts now take place in Calgary year-round between competitions, bringing together previous laureates as well as performers who exemplify the values of Honens. There's also the partnership with the Banff Centre, just a few hours away into the Rocky Mountains, a cultural hub that not only attracts an enviable roster of international artists but also offers facilities for classical recordings, workshops and performances. The Centre's prestigious International String Quartet Competition forms a natural dialogue with Honens, with the winners often collaborating and touring together.
Calgary is also home to Canada's National Music Centre – a bald name that doesn't do justice to the vast and fascinating collection it houses. This is very much a living museum; of the almost 2,000 objects and instruments held here a large proportion are still functional and can be interacted with. So while keyboard nerds will be in ecstasy, casual visitors and non-musicians can get a much more vivid experience of musical history than from the many instrument collections housed in silent and unassailable glass cases.
Here you can have a go on an 1808 Erard grand piano rigged to impersonate a fashionable Janissary band with percussion, woodwind and bell-sounds, and hear the Kimball Theatre Organ from the 1950s (occupying almost a whole wall) in which glockenspiel, marimba, chime and percussion instruments are all hooked up to an organ console and piped together in the most gleeful and grandiose assault of sound you're likely to hear. You can have a go on Elton John's white upright piano and see one of the 20 most valuable harpsichords in the world – a Couchet from 1679 – and don't miss the bizarre Push-Me-Pull-You "Duo-Piano" that solves the issue of collaborative piano music by combining two instruments into a single beastly form with two keyboards. All before you get to the daunting and comprehensive array of early electric and digital devices.
After lengthy deliberations (possibly even more heated among the audience than the jury) the winner of the Honens International Piano Competitions 2012 was named as Pavel Kolesnikov (pictured above). His is certainly a fresh and identifiable voice, and I'll look forward to hearing what he does next and whether he can live up to the success of previous winners Jean-Efflam Bavouzet and Minsoo Sohn (whose recent disk of the Goldberg Variations is starting to makes waves in the industry). But my money was, and is still, on South-Korean Jong-Hai Park – an iconoclastic personality and presence that can only grow, and someone you'd want to spend time getting to know on the concert platform.
Honens too is a competition that grows on you, one that deserves better acquaintance with the world stage. Quiet excellence is one thing, but in self-promotion if not in philosophy or performing ethos perhaps the competition needs just a touch more of the brash, virtuoso stunts of its international rivals.
While we are demanding more and more of our pianists we are demanding less and less of the competitions themselves
Explore topics
Share this article