Requiem for Hieronymus Bosch, BBCSO, Bychkov, Barbican review – fire and brimstone on a flat canvas |

reviews, news & interviews
Requiem for Hieronymus Bosch, BBCSO, Bychkov, Barbican review – fire and brimstone on a flat canvas
Requiem for Hieronymus Bosch, BBCSO, Bychkov, Barbican review – fire and brimstone on a flat canvas
Gigantomania claims another victim as Glanert's magnum opus reaches the UK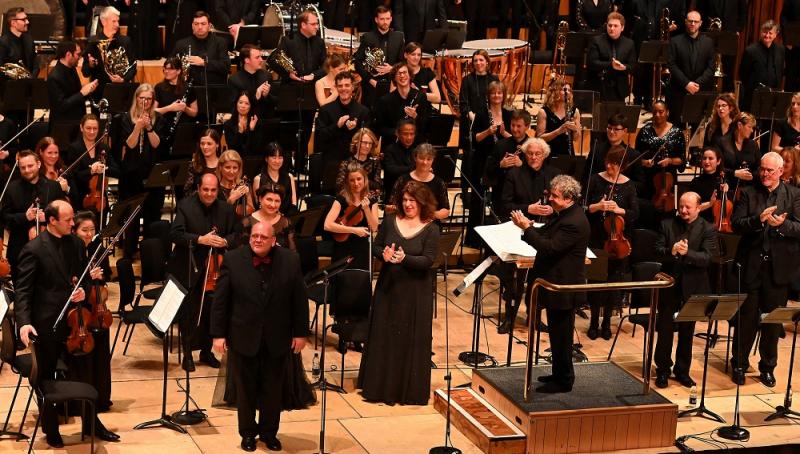 Take a bow, Mr Glanert: the composer acknowledges the warm reception given to his 'Requiem for Hieronymus Bosch' at the Barbican
"Hieronymus!" bellowed David Wilson Johnson from the Barbican Hall's circle on Saturday evening. "Hieronymus Bosch!" Commissioned by Dutch radio for a big piece to mark 500 years since the passing of the Dutch painter in 1516, the German composer Detlev Glanert wrote a Requiem.
There is a precedent for his grand design in the
War Requiem
of
Britten
, where poems of Wilfred Owen are interleaved with the text of the Requiem Mass. Glanert alighted on the Seven Deadly Sins, as described in the medieval collection of
Carmina burana
on which Orff drew for his barnstorming, perennially popular cantata.
Was Bosch being summoned to account for his own sins? Or for his wickedly unsparing portrayal of human vice in general? It wasn't clear. Either way there was no sign of the carnivalesque aspect to Bosch's painting in Glanert's score, nor the humour, black and madcap, nor the ambiguity – was Bosch a heretic, or a fervent believer in eternal hellfire as well as earthly pleasures? While certainly long on fire and brimstone – the orchestration had a manic quality associated with some of Schumann's music in which everyone appears to be doing everything, all the time – the Requiem was disappointingly short of the finely drawn specifics to be savoured on a Bosch canvas.
Born in 1960, Glanert has written 14 operas and a substantial body of orchestral music, much of it known to British audiences through the efforts of the BBC. Doubtless the prospect of staging the first UK performance of his longest and loudest concert work held a certain, glamorous appeal to the programmers of this "Total Immersion" day which fell far shorter of fulfilling its brief than recent projects dedicated to Ligeti, Julian Anderson or the Boulanger sisters. I wonder if the money would have been better spent on a much more wide-ranging survey of his output beginning with the Mahler/Skizze persuasively championed by the late Oliver Knussen, for example, on second UK performances of more focused pieces such as the Megaris introduced to London by Sakari Oramo in 2018, on Glanert's evocative Mahler and Schubert arrangements, even on more modest works still awaiting a first UK performance such as the Harp Concerto. Less can still be more.
The performance itself lacked nothing for sympathetic commitment, technical command or energy, especially on the part of the BBC Symphony Orchestra, Chorus and Singers at full strength. Semyon Bychkov (pictured above with the composer) handled dynamics carefully within an acoustic at the limits of accommodating Glanert's frequent recourse to literal-minded eruptions of brass and choral clamour. The quartet of vocal soloists (Aga Mikolaj, Christa Mayer, Norbert Ernst and Albert Pesendorfer) worked hard, and not in vain, to project arias and ensembles of threadbare melodic quality over the dense and expressionistically illustrative orchestral textures.
I found myself longing, however, for a deft vignette that didn't have someone else's fingerprints all over it: here a John Adams-lite ostinato, there a Mussorgskian skirl of strings, often a French perfume to be scented wafting over all the sulphur. Quotation need not lapse into pastiche, and any composer tackling a Requiem will likely engage with its heritage. But Glanert's piece creaks and groans under the anxiety of influence, even more so than the late work of his teacher Henze. It's hard to understand what place Messiaen's "Dieu parmi nous" has in the half-time organ solo, or the Summer's Wild Hunt from Schoenberg's Gurrelieder in the preceding conclusion to the Dies Irae, other than to fill the gap of original inspiration.
A trio of Bosch's contemporaries supplied some of the missing invention in a first half of 16th-century secular songs and sacred motets. A 10-strong consort drawn from the BBC Singers and conducted by Andrew Griffiths (pictured above) made a more than passable counterpart to the Brabant Ensemble in three brief but exquisite love-songs by Thomas Crecquillon, infused with smooth and subtle sensuality: an all-too-salutary contrast to the sticky and curiously empty vision of Paradise (haunted by the devout Fauré and the unbeliever Strauss) with which Glanert closes out the Requiem.
Glanert's piece creaks and groans under the anxiety of influence
rating
Explore topics
Share this article