Prom 69, Beethoven's Missa Solemnis, Monteverdi Choir, ORR, Gardiner review - shock, fervour and total focus |

reviews, news & interviews
Prom 69, Beethoven's Missa Solemnis, Monteverdi Choir, ORR, Gardiner review - shock, fervour and total focus
Prom 69, Beethoven's Missa Solemnis, Monteverdi Choir, ORR, Gardiner review - shock, fervour and total focus
A crazy masterpiece cuts like a knife through Albert Hall haze
Thursday, 08 September 2022
John Eliot Gardiner conducting the Orchestre Révolutionnaire et Romantique and top soloists William Thomas, Giovanni Sala, Ann Hallenberg and Lucy Crowe
Back in 1990, John Eliot Gardiner with his Monteverdi Choir, English Baroque Soloists and world-class singers set the South Bank alight with revelatory concert performances of Mozart's Idomeneo and La clemenza di Tito. Now he's done it again for an even quirkier masterpiece, burning away any Albert Hall mists with the best possible voices and an "Orchestre" which can be called "Révolutionnaire" but decidedly not "Romantique" when it comes to the Missa Solemnis.
For some of us with blind spots in Beethoven, it's a hard work to love, except in the serene flow of the solo-violin-led Benedictus. Those full-choral blazes in the Gloria and Credo can seem to go on for ever (and they're a fearful strain on the voice, as I know from experience). Not, though, when you can whip up such a tempo that only a professional choir of limited numbers is agile enough to deal with it (the whole thing was over in 80 minutes). This Proms season will be remembered, among other things, for a return to big meets of choruses – in Mahler's "Resurrection" Symphony and Elgar's The Dream of Gerontius especially – yet it was undeniably refreshing to have this far from quiet yet very focused coda, trumpet-like tenors especially being an asset you don't usually get in amateur choirs.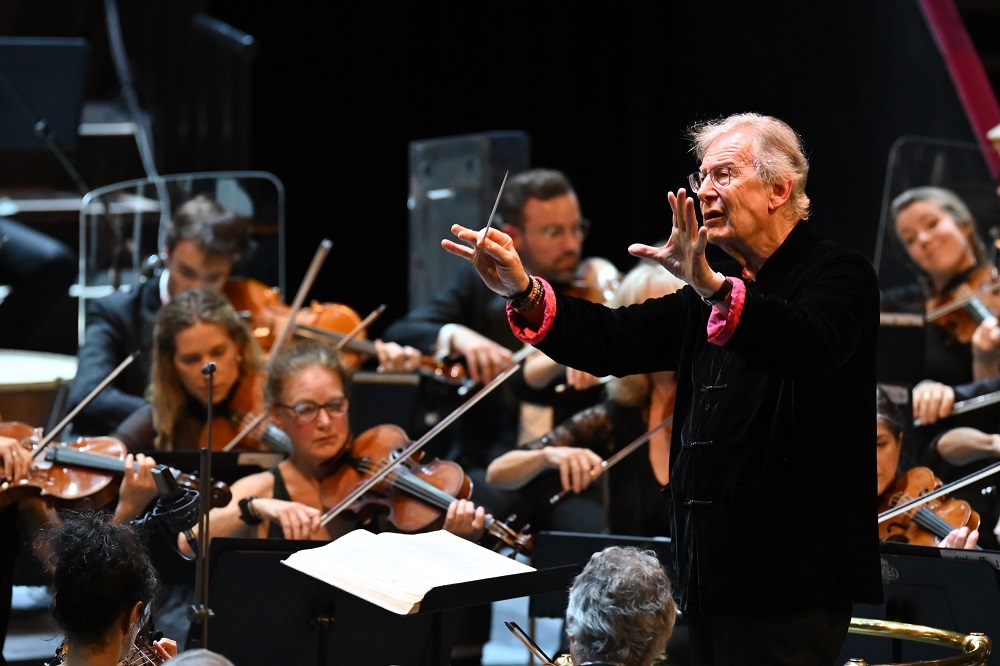 If Beethoven doesn't always move all of us on a spiritual level – probably comparisons with Bach's B minor Mass or Verdi's Requiem are unfair – there's constant fascination in his textures. The chiaroscuro effects have always been a Gardiner speciality given the very special timbre of period instruments, while valveless horns, trumpets and trombones give a special cut to the fervour.
What an amazing list of star players had been assembled in this version of the ORR. Star vocal soloists, too, but beautifully blended when singing together. The wondrous Lucy Crowe always has a special glow in the upper register; in this space, it sounded supernaturally luminous, and she always has an extra stop or two to pull out. Clarion Italianita came from Giovanni Sala, a revelation since I hadn't heard this loveliest of tenor sounds before. Bass William Thomas and star mezzo Ann Hallenberg made the desperation in the pleas of the "Agnus Dei" sound very human indeed (all four pictured below).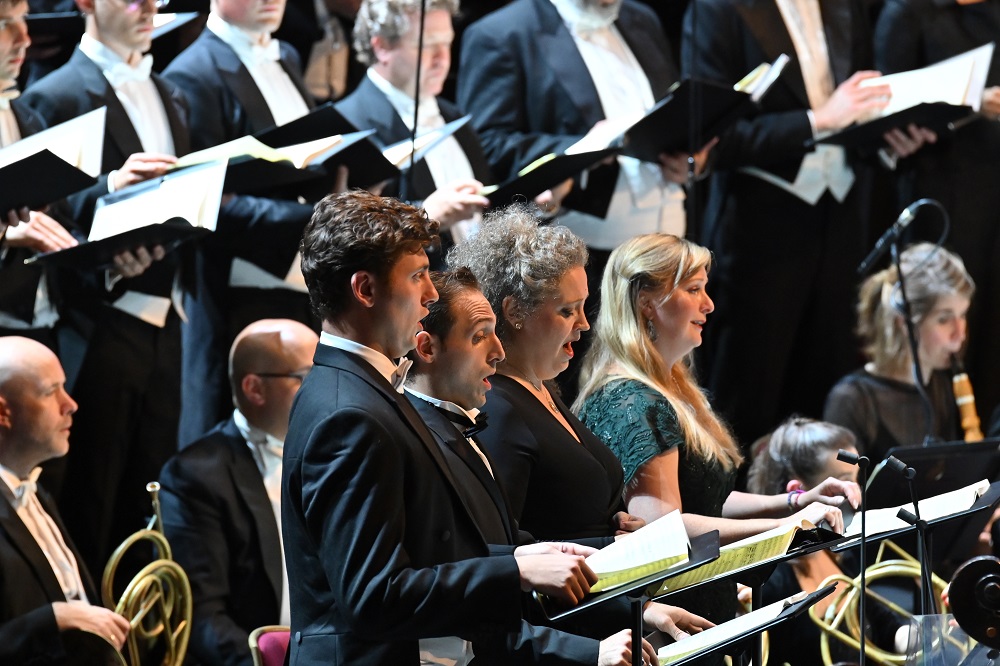 That finale, with its sudden disruptions of warlike sounds Beethoven's last stroke of original genius, struck home to us now (but when has there ever been a time when peace is denied to whole swathes of the world?) Gardiner ended with stunning abruptness, as alive as Beethoven himself to every possibility. May he be with us for many Proms to come. Special commendation, meanwhile, for the planning of the last major Proms strand, giving us so much late Beethoven (Chineke! forces in the Ninth Symphony - let's be honest, it would have been nice to see a bit more diversity here - followed by Schiff in the last three piano sonatas, now this). Tonight, it's back to the true revolution with the "Eroica" Symphony from the Philadelphia Orchestra under another great galvanizer, Yannick Nézet-Séguin.

The wondrous Lucy Crowe always has a special glow in the upper register; in this space, it sounded supernaturally luminous
rating
Explore topics
Share this article