Otello, LSO, Sir Colin Davis, Barbican |

reviews, news & interviews
Otello, LSO, Sir Colin Davis, Barbican
Otello, LSO, Sir Colin Davis, Barbican
No giants in a tame concert performance of Verdi's late masterpiece
Let's suppose that off-centre genius among opera directors Richard Jones had been asked to bring his imagination to bear on Sir Colin Davis's latest Verdi-in-concert. I imagine he might have weighed up leading men, chorus and the conductor's unexpected blend of manicure with flash alongside swathes of masterful beauty, and decided to follow up his 1940s Windsor Falstaff at Glyndebourne with a 1970s Otello set in Surbiton.
As things rather stiffly stood on the concert platform racial issues, Love thy Neighbour-style or otherwise, could be left behind. There were instead two pressing questions before the metaphorical curtain even rose. Could the singers liberate themselves from the printed score to evoke this opera's anguished clashes of personality? Only Anne Schwanewilms, the Desdemona, would be able to give an affirmative to that. And would it be worth going ahead with an Otello unable to take us down into the abyss of extreme human suffering and back? To judge from Torsten Kerl's all too healthy Glyndebourne Tristan, he would certainly have had the stamina for the role but possibly not the dramatic stature. Kerl, however, was unwell for both performances. Taking his place with courageous first steps in the role was young New Zealander Simon O'Neill.
At first it seemed as if a promising Cassio had stepped prematurely into his leader's boots. O'Neill flashed brightness rather than the baritonal weight we expect from the commanding Moor in his crucial landing on Cyprus, but sudden bottling of selected top notes deprived this "Esultate!" of its ring and suggested vocal trouble ahead for a lyric-turned-heroic tenor. Clutching the music close, perhaps understandably, meant little interaction with his flanking angel and devil. And it was when he delivered "atroce, atroce idea!" as if Iago's suggestion was simply not very nice that I gave up all hope of flaming jealousy. He did rally a little for his final blaze of glory, but the bigger dimensions of Shakespeare's colossus were never evoked at any earlier point.
Sir Colin had at least furnished him with a fine supporting squadron: young tenors Ben Johnson (Roderigo) and Allan Clayton (Cassio) will have great careers if they don't box above their weight, and the baby basses were fine. But nice Gerald Finley is no Iago vilely born, stylishly as he inflected some of the text. He has the commanding look of a sour satyr, yet came nowhere near the titanic dimensions and treacly charisma of the villain's crucial "Credo" as performed by Bryn Terfel in his Bad Boys concert the other week.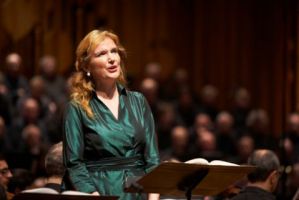 Translucent-toned Anne Schwanewilms
(pictured left in rehearsal by Kevin Leighton) was cast a little against the Italianate ideal of Desdemona, too, and sometimes went sharp forcing her natural vocal colours. Still, my old English master, who used to wander the class sighing, "Lovely lady, lovely lady" in our A-level Shakespeare studies, would have approved her poise and sympathy. In short, she was a Pre-Raphaelite madonna rather than Verdi's more fleshly Titian woman. You felt that if anyone could have willed this Otello to engage, she would have managed it. But she only truly shone when making chamber music alone with Sir Colin and the LSO in the eerie twilight of the "Willow Song" and the pure relief of the "Ave Maria".
This, in fact, was where the orchestra truly began to breathe with a singer. It may have been O'Neill's last-minute deputising that caused earlier bumps, but then the chorus weren't very confident either. There's no pretending that the amateur LSO voices, for all their enthusiasm and goodwill, can emulate the phrasing of opera-house professionals in the Bonfire Chorus, or the sheer burnished weight of tone needed for the ensembles. And it certainly wasn't good enough to have sopranos impersonate the children flocking adoringly around Desdemona in Act Two.
So should we have welcomed the insights the ever sprightly Sir Colin, who had just been awarded the 2009 Queen's Medal for Music. now brings to Verdi's paciest tragedy? Yes, certainly, in terms of the detail: his LSO players proved irreproachable in the starbursts and moonshine of the love duet, the cynical string and woodwind trills buzzing like flies around Iago, the shadows and haloes surrounding Desdemona's bedchamber. But the broader sweep, so hard to communicate in a concert performance of this most confrontational opera, was more fitful. I won't be rushing to buy the recording.
Explore topics
Share this article