Mariam Batsashvili, Wigmore Hall review – the serious virtuoso |

reviews, news & interviews
Mariam Batsashvili, Wigmore Hall review – the serious virtuoso
Mariam Batsashvili, Wigmore Hall review – the serious virtuoso
An intriguing recital from a strikingly impressive young artist
Wednesday, 14 October 2020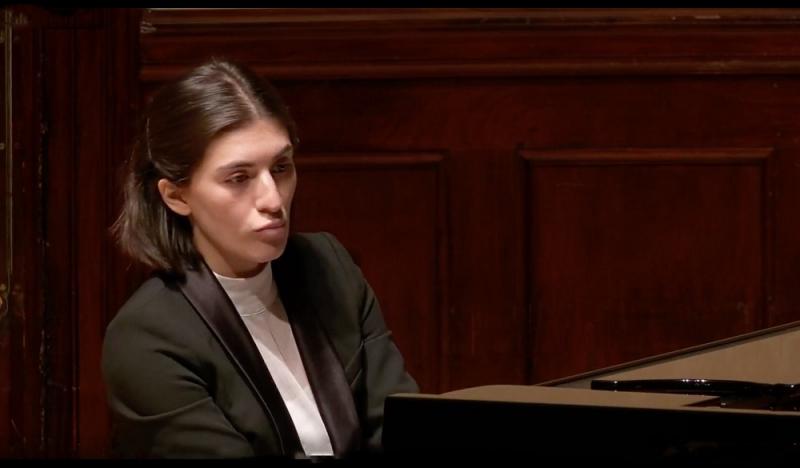 Mariam Batsashvili: creating atmosphere from the first note
"O wise young judge", says Shylock to Portia in The Merchant of Venice.It seemed just such a figure who made her way to the piano at the Wigmore Hall last night.
Besuited, bespectacled, with a poised upright posture that frees her arms, plus the serious demeanour that I sometimes term "Heifetz face", the youthful Georgian pianist Mariam Batsashvili eschews any fashionable emoting, arm-flinging or face-pulling. Instead, her energy is entirely focused upon the instrument and the music. (The significance of "Heifetz face" is the calm, even severe visual frontage of that legendary violinist's staggering virtuosity; he's not a bad example to follow.)
One of BBC Radio 3's New Generation Artists for 2017/18, Batsashvili is an uncommon musician and I suspect could become still more so as time goes by. Her programme was unusual and attractive, opening with the mesmerically gorgeous and unaccountably rare Prélude, Fugue et variation by Franck, creating the rapt atmosphere from the first note. There followed Ravel's iridescent Sonatine – pure "un coeur en hiver" territory in which her clarity of touch allowed the composer's icy poetic world to shiver, whirl and gleam.
The first of the two virtuoso operatic fantasias to punctuate the recital was Thalberg's Grand Caprice on Bellini's La Sonnambula, quite a rarity, since most pianists, if taking to operatic fantasias, plump for the more famous examples by Liszt. Batsashvili delivered this pianistic razzle-dazzle with high seriousness, the instrument singing full-throated under her fingers: and even if the work isn't quite a neglected masterpiece, not everything needs to be one in order to prove simply enjoyable and impressive.
Schumann's Fantasiestücke Op. 12 often lose out in recital programmes (in normal times…) with pianists tackling the composer's bigger structures in preference to "miniatures" – but there's nothing miniature about the scale and range of his imagination. Batsashvili rose to the challenge of creating a different soundworld for each of the pieces, from the stillness and purity of "Des Abends" to the headlong, on-the-edge tempo of "Traumes Wirren"; there was nothing "safe" about this playing, but some brief lapses of memory never upset her equanimity.
Finally, though, the metaphorical gloves came off. Liszt's goloptious Paraphrase on a Waltz from Gounod's Faust found Batsashvili bounding around the keyboard as if back in her own front room, a spring in her step, the windows wide open and the sun blaring in through those relishable glissandi. It was with Liszt that Batsashvili first came to prominence, winning the 2014 Franz Liszt Piano Competition in Utrecht; several times she has picked his Piano Concerto No. 1 for important debuts, and in interviews she has expressed continuing devotion to his music. Some might find this surprising home territory for such a refreshingly serious artist, but the much-garlanded Gounod waltz was all the more fun for what went before, and I'd defy any toe not to find itself tapping along.
Her encore was Rossini's Petit Caprice (Style Offenbach) – ballet fans would recognise it as the can-can from La boutique fantasque – delivered with unflappable aplomb and, finally, some smiles. She's a rare and special performer and I can't wait to see where she goes from here.
Finally the metaphorical gloves came off: the sun blared in through relishable glissandi
rating
Explore topics
Share this article