L'Enfance du Christ, Monteverdi Choir, ORR, Gardiner, St Martin-in-the-Fields review – clear-cut Christmas story |

reviews, news & interviews
L'Enfance du Christ, Monteverdi Choir, ORR, Gardiner, St Martin-in-the-Fields review – clear-cut Christmas story
L'Enfance du Christ, Monteverdi Choir, ORR, Gardiner, St Martin-in-the-Fields review – clear-cut Christmas story
Berlioz's singular take on the early adventures of the Holy Family in experienced hands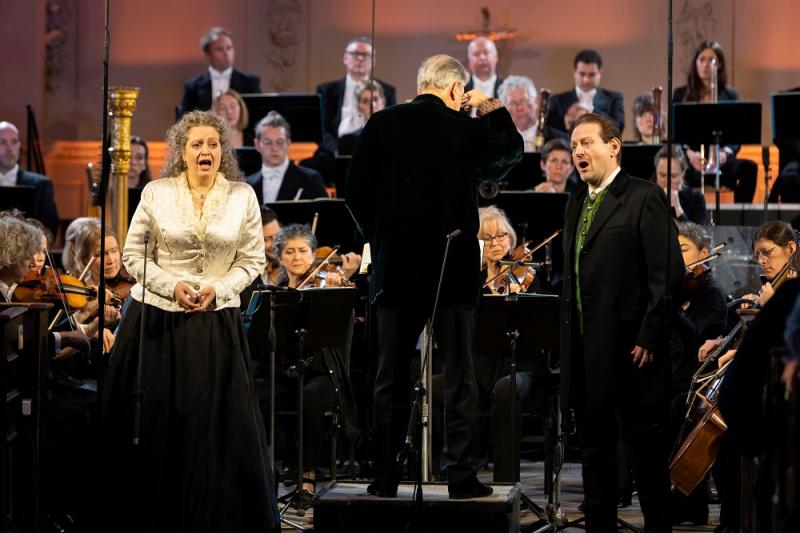 Desperately seeking refue: Ann Hallenberg and Lionel Lhote as Mary and Joseph in Egypt, with John Eliot Gardiner conducting
Time, place and performers gave this performance of Berlioz's typically original "Sacred Trilogy" a special significance.
Nothing in it is more striking, in choice of text and the music to illustrate it, than the scene where Hebrew refugees
Mary, Joseph and their child
arrive in Egyptian Sais and are rejected by two heartless households before a kind Ishmaelite receives them. St Martin-in-the-Fields supports people "away from homelessness", while Saturday evening marked the start of a new partnership between John Eliot Gardiner, his Monteverdi Choir and Orchestras and the church.
Its acoustics tell the truth about a substantial group of players and singers – I can't remember having heard anything as large as Gardiner's Orchestre Révolutionnaire et Romantique here, though Berlioz isn't extravagant with his forces – even to the point of exposing any rough edges. There were a few here, and the more radical sounds in a work with a high proportion of haloed gentleness worked best: the bite of the three trombones throughout Part One, "Herod's Dream", not to be heard again, and of woodwind in the weirdest of all Berlioz's dance movements, for the king's soothsayers, the edgy lamenting strings of "The Arrival in Sais" where the vividly acted and sung desperation of Ann Hallenberg's Mary and Lionel Lhote's Joseph drove home the contemporary significance of the exiles' plight.
Hallenberg must always be Gardiner's Berlioz mezzo of choice; their collaboration with the London Symphony Orchestra in the most nuanced and tone-rich Les nuits d'été I've heard set new standards. But her gentle song to the infant Jesus, as Berlioz moves from darkness to light, from Jerusalem to the Bethlehem stable, in Part One, needs a halo around it, and I wonder if vibrato-less period strings are best equipped to provide it. You could argue that with the ORR forces under Gardiner these are early Gothic pictures, all gold and sharp definition, rather than chiaroscuro-rich late Renaissance canvases. Both BBC Symphony Orchestra performances of recent years have moved me more here. No doubt about the tearful spirit of tender delight, though, in the instrumental trio the Ishmaelite serves up to calm his guests' troubled souls, with state-of-the-art (platinum) flute mastery from Gareth Davies and David Westcombe gleamingly complemented by harpist Gweneth Wentink .
Perfectly modulated perfection also came from the Monteverdi Choir, running the gamut from tenderest of shepherds to harsh, spitting Egyptians. The same was true of Michael Spyres' Narrator (pictured above with Gardiner), using the full palette of colours from baritonal range to tenor heights: thrilling and involving from the very first declamation of the evening. There's also no doubt that young William Thomas is next in line for "great British bass" status; Herod's aria resounded with perfect phrasing and tone. And the final, simple-seeming chorus, approached via a Berlioz minimalism of single unison notes which Gardiner caught to perfection was gilded with the seraphic tones of the Trinity Boys' Choir from the gallery at the west end. You don't get more spiritual seasonal music, with the exception of parts of Bach's Christmas Oratorio, than this, nor classier performances.
Filmed for streaming on DG Stage from 22-29 December (£)
Perfectly modulated perfection also came from the Monteverdi Choir, running the gamut from tenderest of shepherds to harsh, spitting Egyptians
rating
Explore topics
Share this article