Gerhaher, Huber, Wigmore Hall |

reviews, news & interviews
Gerhaher, Huber, Wigmore Hall
Gerhaher, Huber, Wigmore Hall
Adventurous programme reveals broad range of the German baritone's talents
Christian Gerhaher: distinctive and versatile in Beethoven and Schoenberg
Christian Gerhaher is a classy recitalist. His stage manner is debonair, his tailoring immaculate (although his hair can be unruly). His artistry focuses on key vocal virtues: directness of expression and beauty of tone. In this evening's recital, an adventurous programme that switched between the Classical era and the Modern, that proved as valuable a combination in Schoenberg as it did in Beethoven.
There is a husky quality to Gerhaher's voice, an attractive burr that appears around mezzo-forte and defines all of the louder music that he sings. It is less apparent in quiet music, but even here he is still distinctive, as much for his approach as for his tone. In quiet entries it sometimes seems that his intonation is less secure than it actually is. A deliberate tease, but an indication that he never rests on certainties. Quiet dynamics can always go lower, and he's often prepared to take his voice to the bare limit of audibility.
That daring was clear in the opening of the Beethoven cycle An die ferne Geliebte, which opened the programme. For a moment it seemed that Gerhaher's voice was completely lost in the piano accompaniment, until the ear tuned in and located it in the middle of the texture. In all of the Classical-era works on the programme – Beethoven and Haydn – Gerhaher and pianist Gerold Huber took risks with extreme dynamics. But stylistically, they remained very much in the 18th century, thanks to disciplined, stately tempos and subtly shaped phrases. The performers seemed at pains to emphasise how Beethoven's songs fit together as a cycle, gradually increasing in intensity up to the thunderous sixth song. The point was made, perhaps a little too emphatically.
So too with Schoenberg's Das Buch der hängenden Gärten. The programme came with a supplement, an article by Gerhaher himself detailing the dramatic wave described by the Stefan George texts that Schoenberg sets. This is difficult music, so any guidance was welcome. But, for all the music's Expressionist indulgences, Gerhaher was able to rely on solid, unyielding support from Huber, presenting the complex piano accompaniments with focus of line and elegant clarity of tone. Gerhaher too took a disciplined approach to this music, taking great care to clearly enunciate each of the evocative lines. Particularly effective here were the non-cadential endings to phrases and songs, the music left hanging in the air, never demanding resolution, always comfortable with the ambiguity.
Six Haydn songs opened the second half, to English texts and dating from Haydn's second visit to London in 1794-5. Needless to say, Gerhaher's English diction is as immaculate as his German, and his attention to the meaning of the words just as acute. He seemed to use a different voice for the quiet music here, with more tonal definition and greater evenness of timbre. As with the Beethoven, attention to Classical decorum did not mean any lack of expression, the often broadly arched phrases drawing the ear into every line.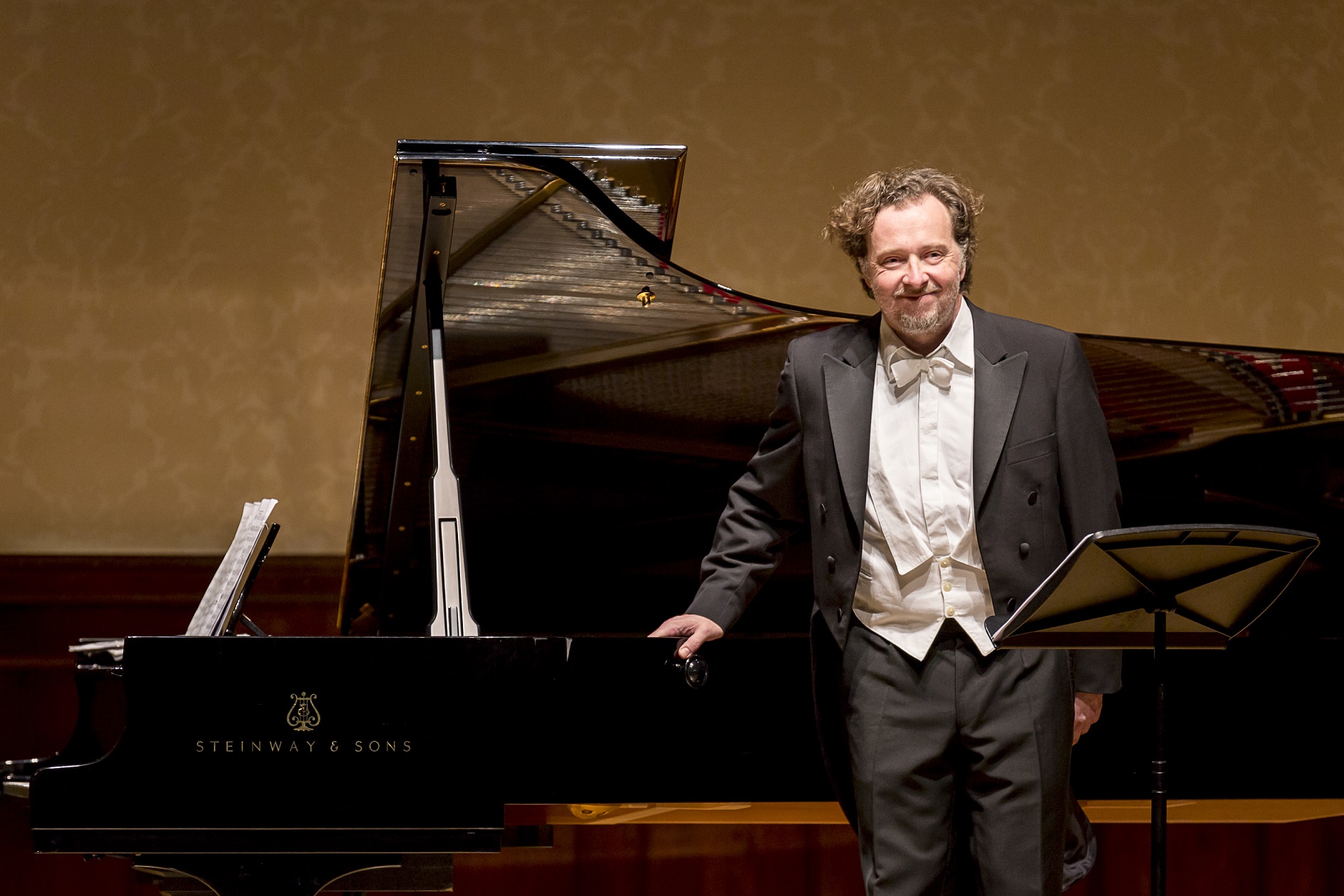 Berg's Altenberg Lieder proved the highlight of the evening. London audiences were recently disappointed when Gerhaher pulled out of a concert performance of Wozzeck, so this chance to catch up with his Berg proved a welcome recompense. And Gerhaher was born to sing Berg. That aristocratic demeanour contrasting a raw, even vulnerable, artistic persona is the ideal combination for Berg's physiologically intense vocal writing. After the Schoenberg, Berg's cycle seemed stylistically conservative, although it includes many surprising effects – both pianist and singer have occasion to pluck the strings inside the piano, and one of the songs ends in a disturbingly strained falsetto. But the broad expressive range of this music, and its sheer sophistication, are perfectly aligned with Gerhaher's performance style. This was an intense experience, and one not quickly forgotten.
Back down to earth with the final number, Beethoven's Adelaide, by the standards of this evening's eclectic programme an exceedingly well-mannered finale, but suitably robust, and convincing enough in its elegant expression to calm nerves frayed by the Berg. The encore (kindly identified by Jamie Henderson) was Mozart's Abendempfindung, music of even greater civility but no less emotion. A perfect end to a satisfyingly diverse evening.
This recital will be broadcast on BBC Radio 3 on 9 November at 7:30 and available on the iPlayer for 30 days: http://www.bbc.co.uk/programmes/b06nrj1l
Gerhaher focuses on key vocal virtues: directness of expression and beauty of tone
rating
Share this article