First Person: Royal Academy of Music Principal Jonathan Freeman-Attwood on why a conservatoire should make recordings |

reviews, news & interviews
First Person: Royal Academy of Music Principal Jonathan Freeman-Attwood on why a conservatoire should make recordings
First Person: Royal Academy of Music Principal Jonathan Freeman-Attwood on why a conservatoire should make recordings
25 years and 50 recordings on, an experienced producer on students and the studio
Wednesday, 11 January 2023
Barbara Hannigan conducting students from the RAM and its regular partners The Juilliard School: a recording - the 50th in the series - will be released in late 2023
Why is it important for a music conservatoire to make recordings? What is the educational context? These are questions we have continued to reflect upon at the Royal Academy of Music – celebrating its bicentenary this year – since we took our first steps towards what has become an established and invigorating part of Academy life.
Twenty five years ago, we made a conscious decision to equip young musicians with the particular skills required for "the studio". There was also the belief that giving students greater artistic agency would only yield exciting results, empowering them to take a leading role in creative partnerships with other musicians, engineers and producers. Using high-level recorded material to underscore their artistic values could also help promote careers and point students in the right direction. Our latest collaborations – with celebrated musicians and other young professionals – have also galvanised international connections, most recently through the Sir Elton John Global Exchange Programme.
The Academy's recorded catalogue has always demonstrated a quest for enterprising programming where students can be showcased within a strong ensemble culture. Our first recording was entitled Biber to Birtwistle – a rather self-conscious title for a debut release. It aimed to show how our early music department, alongside a seasoned chamber music culture, milled from the years of the Griller and Amadeus Quartets, and a long-established commitment to contemporary music, could be juxtaposed effectively. Many of the subsequent recordings took on a life of their own in that same vein, such as an off-site project with our chamber choir and the Becket Collection (a newly acquired assembly of fine "period" instruments that now form part of the Academy's rich collections). The recording took place in Neresheim Abbey in Germany, interspersing liturgical pieces with a great eight-part Lassus mass, with doubled ancient brass, and a particularly irreverent and frothy Mozart mass. Somehow it works – so well, actually, that even 20 years later it's a regular on BBC Radio 3's night-time offerings. Amongst the singers on that recording is soprano Lucy Crowe, then in her fourth year of undergraduate study, and the tenor, Ed Lyon. Both artists are now eminent international opera and concert singers.
Some recordings are simply important historical documents. Janáček's The Cunning Little Vixen conducted by Sir Charles Mackerras, a generous-spirited visiting professor, was a magical project, although for an all-round foreshadowing of great things to come, nothing can trump Rameau's Dardanus under Laurence Cummings. Allan Clayton took the title role with David Butt Philip as one of the two Phrygians. Fast forward 15 years and these two are the stars in UK and American productions of Brett Dean's Hamlet.
The catalogue has always reflected a keen interest in innovative practice, and this led in 2008 to a major collaboration with MIT and its musical guru, the composer Tod Machover – also a visiting professor – whose curated work for Hyperbow inspired a young undergraduate cellist, Peter Gregson. He is now a pioneering figure on the Deutsche Grammophon label. Likewise, we recorded an all-Reich percussion programme (which received a fulsome endorsement from the composer) and an exhilarating Frank Zappa disc, inspired by Philip Cashian.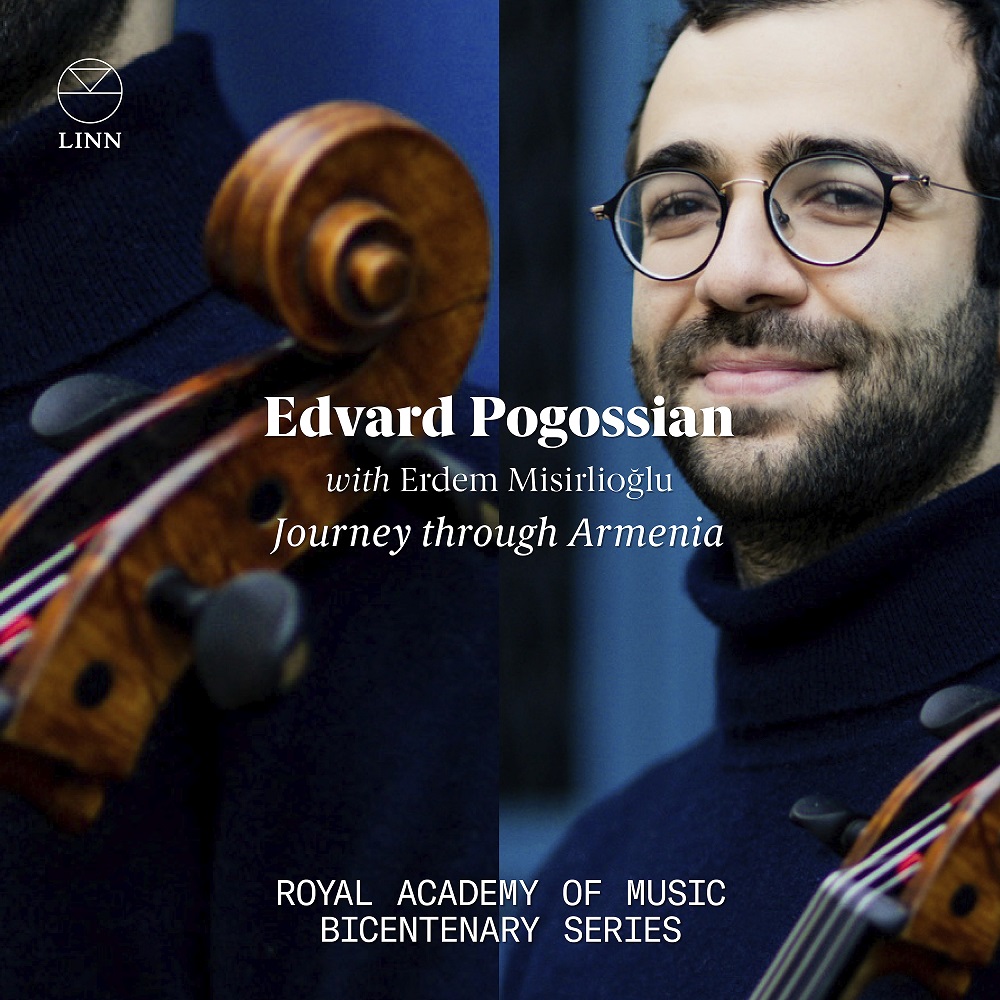 In 2012 we were offered the opportunity to transfer our work to Linn Records (the most recent release pictured left). Their values, inhabited by their inspirational chief producer and engineer Philip Hobbs, matched the Academy's own, uncannily: Linn has a catalogue which encourages bold curiosity and a critical engagement as to how their "products" can – in Hobbs's words – "contribute to the argument" by offering interesting, perceptive and probing interpretations. The raison d'être for Linn is to help artists realise their personal vision for a project on every level, as I have experienced myself as a trumpet soloist for the label for 20 years. Apart from the Academy's own ensemble recordings, Linn has also started a special Royal Academy Bicentenary Scholars Series, highlighting students with outstanding solo potential. These have already made serious inroads onto Apple, Spotify and other playlists worldwide.
The initial trio of inaugural Linn recordings, under Trevor Pinnock's direction, were designed to reignite Schoenberg's vision for the Society for Private Musical Performances. This important, if short-lived society, challenged the post-First World War status quo of listening in the "commodified" Viennese world of 1918. Members would turn up, without knowing the work to be presented, and then it would be performed in a distilled chamber scoring of usually no more than nine or ten musicians, and with a hallmark harmonium. Oh yes – and no critics present! The most established examples include Mahler's Fourth Symphony and the Lieder eines Fahrenden Gesellen arranged by Erwin Stein and Schoenberg respectively, but the series also uncovered Alban Berg's brilliantly re-worked versions of Johann Strauss II's waltz Wine, Women and Song, whilst also adding to the series (and the concept) by commissioning Anthony Payne (of Elgar Third Symphony fame) to reduce Bruckner's 65-piece Second Symphony to 16 instruments.
In the spirit of re-imagining, Pinnock also directed Josef Koffler's version of Bach's Goldberg Variations for four solo winds and strings (for which we were joined by young musicians from the Glenn Gould School in Toronto), which has been one of the most popular of all our recordings. Koffler's neo-classical scoring is masterful in deft and unexpected ways. On the back of this project, we have commissioned Thomas Oehler to "do a Koffler" on three of Bach's keyboard partitas (again with Pinnock) for the same instrumentation.
A recording of Mozart's wind Gran Partita was followed by a Giovanni Gabrieli brass recording – A Venetian Extravaganza – with The Juilliard School in New York. I know of no greater single achievement by a group of talented young wind/brass players anywhere. Both intimate and burnished, it never tires. There's a biased trumpet player speaking! But perhaps the starriest – and most poignant on account of their recent deaths – is our recording of Stravinsky's The Soldier's Tale, conducted by the Richard Rodney Bennett Professor of Composition, Oliver Knussen, with alumnus Harrison Birtwistle as the Soldier. It was always a dream to have Olly work with our students on this piece. We recorded it in Snape, with Harry as a spectacularly grumpy soldier, Harriet Walter as peerless narrator and George Benjamin as the newly-minted Devil. It was an uproarious three days of recording, and the students' playing speaks for itself.
One of the great legacies of these recordings has been how many of those students involved now hold some of the best chairs in the world's leading orchestras, or performing as outstanding freelance musicians and recording artists. They include the Leipzig Gewandhaus, Royal Concertgebouw Amsterdam, Berlin Philharmonic, Rotterdam and Oslo Philharmonics, all the London and UK orchestras, the Los Angeles Philharmonic and many others. If these projects have contributed to a greater self-belief and self-awareness, or simply a greater sense of artistic possibility through the art of recording, then our primary ambitions will have been realised. It is probably no coincidence that Academy students' profile in recorded life, in the UK and internationally, has been partly generated by a culture where they gain experience in how to generate a productive "live" environment, an imperative for good recordings: how to make the adrenaline run, how to marshal your energy and harness material so that every "take" falls within the context of your interpretative vision.
Thinking about this early in a musician's creative life brings untold benefits in expanding and deepening a student's capacity to "make a mark", to understand that a great piece of music can withstand many views, visions and interpretations. We want students to see this as an endless journey of discovery. Taking part in a recording experience allows them to chronicle their work, think independently for themselves and appreciate how their unique role can refresh the art form and communicate it as widely as possible. Many young Academy artists take these skills into their careers and form alliances with major labels. The Decca roster today includes Isata and Sheku Kanneh-Mason, Freddie De Tommaso, Martynas Levickis, Benjamin Grosvenor and recently Plínio Fernandez, to follow Miloš, Gabriella Montero, Max Richter, Daniel Hope, Kit Armstrong and Ksenia Siderova on Deutsche Grammophon. I look forward to seeing who's next!
Perhaps the starriest and most poignant recording is of Stravinsky's 'The Soldier's Tale', conducted by Professor Oliver Knussen, with alumnus Harrison Birtwistle as the Soldier
Explore topics
Share this article