First Person: composer Kate Whitley on a new work for the Borletti-Buitoni Trust's 20th anniversary |

reviews, news & interviews
First Person: composer Kate Whitley on a new work for the Borletti-Buitoni Trust's 20th anniversary
First Person: composer Kate Whitley on a new work for the Borletti-Buitoni Trust's 20th anniversary
True collaboration about social media with the Multi-Story Orchestra at its core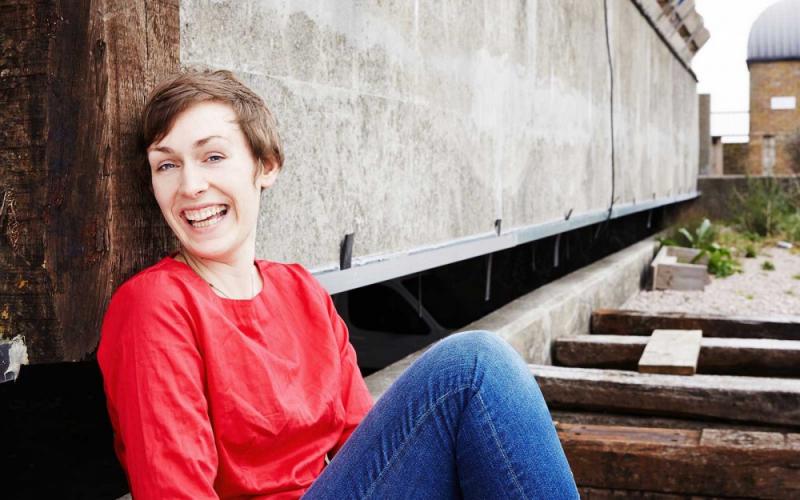 Kate Whitley in her element
We at the Multi-Story Orchestra have been writing a new piece of music about social media. In one of the writing sessions I remember one of our musicians spending every second she wasn't playing on her phone, checking likes and comments as she'd released something that day. That feeling – being at the mercy of an unwinnable urge to be validated by other people's approval - is what our new piece is about.
It was so cool hearing our young people's takes on it. They've grown up with social media in a way I can only imagine, and the original idea for a piece about social media was theirs. We wrote it over several sessions, and Verified was absolutely created by everyone in it. I remember Christina messing around on a xylophone in the corner of the room during a jam. She's a singer and rapper, she doesn't really play percussion, so I went over to see what she was doing. We turned the riff she came up with into a huge bass line - which is now one of the best bits of the piece. There's a middle section in the main song that Toni came up with the melody for- he came into choir rehearsals last week to play percussion and was bouncing off the walls when we practised that bit with everyone.
Verified is for choir, orchestra and 5 soloists, 2 sopranos and a violinist and percussionist. It starts with an orchestral introduction which I wrote, then we go into "Verified" – "I was waiting for that high, searching for those views, seeking praise from you "etc - the choir's introduction to the lure and threat of social media. Within the orchestral parts there are also sections for young instrumentalists, who come in with a big chaotic sound to depict the addiction to social media taking over for the middle movement, "Ego": "Feed my ego, I don't want it to stop, I really care what people think". There's a big chaotic section that they improvise - showing the central struggle against addiction - which then collapses into "Crash", my favourite part of the piece. "Crash" depicts the aftermath, and the emptiness you're left with once you've poured too much of yourself away. (Pictured below: in rehearsal).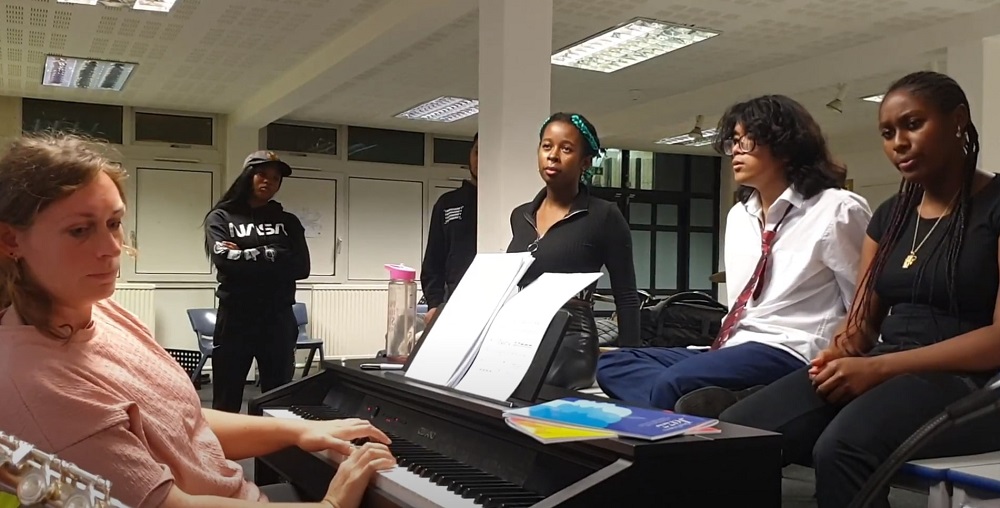 It's such a good piece, and it's so much better because it was created by all of us together. Multi-Story began as an orchestra that plays in car parks, which is still something that we do, but it's so cool that it has also moved beyond that into a different way of orchestras creating the music itself. Working collaboratively is at the heart of that.
When I first started writing music as a teenager I always did it on my own. I'd spend hours working on my own at the piano, in the school music room at break times. It wasn't till I was much older that I had my first experience of coming up with music with a group of people, and I found it terrifying at first. I guess it's how we're trained as "classical composers" - to think of music as something that one person writes on their own. I think that's a shame. It kind of becomes about that person's "achievement" and ego. Whereas there's something about making music with everyone together that completely takes you out of yourself. I love the feeling of working on something that is bigger than any of us. I love seeing people come up with something that puts a little bit of them into the whole. And I love knowing that what we've finally created has a bit of everyone in it. Like the escape from social media, it shows you that there are more important things than your own ego.
It's nearly 10 years since I was lucky enough to be given a Borletti-Buitoni Trust Award as a pianist and composer, and BBT has always been an ongoing support to me and felt like a family of musicians. As part of this, they invited us at Multi-Story Orchestra to create a new project especially for their 20th anniversary concerts and kick off the big weekend in London. Verified is this project, and was commissioned by BBT Communities - a part of the Trust that gives grants to organisations that help make music inclusive. We are proud to be supported by them and all wish BBT a very happy 20th birthday!
There's something about making music with everyone together that completely takes you out of yourself
Explore topics
Share this article