Dame Fanny Waterman (1920-2020) - some recollections, with love and affection |

reviews, news & interviews
Dame Fanny Waterman (1920-2020) - some recollections, with love and affection
Dame Fanny Waterman (1920-2020) - some recollections, with love and affection
The Leeds International Piano Competition's Artstic Director remembers its founder
Tuesday, 22 December 2020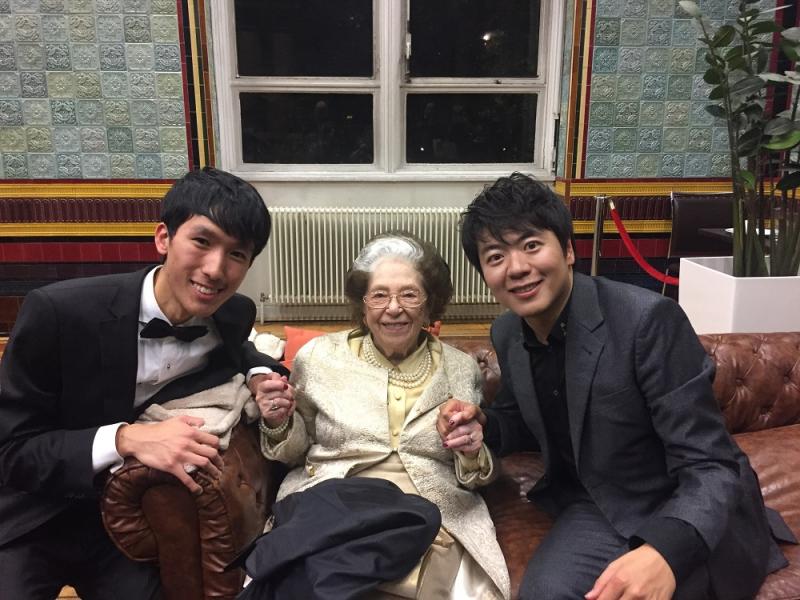 Dame Fanny Waterman (centre) with 2018 Leeds international Piano Competition Winner Eric Lu (left) and megastar pianist Lang Lang
Dame Fanny Waterman was a true force of nature, in the best sense of the word. Her diminutive height belied a giant intellectual force and a steely determination to achieve the seemingly unachievable through every means she could muster.
She certainly had a powerful armoury at her disposal: charm (which she possessed in spades – who has not been totally seduced by that wonderful twinkly smile, or that throaty chuckle?); an energy that continued unabated right until the end and that many of us half her age envied; an uncanny nose for musical talent, particularly among the very young; an integrity that made her unshakeable and totally incorruptible; extraordinary powers of persuasion which even the most hard-nosed business or musical people found impossible to resist; ingenuity that enabled her to get around some almost impossibly tricky and seemingly insurmountable situations with a deft sleight of hand; a vision that was matched by a long-term ambition; and finally a dedication to her calling, as a teacher and as Founder Director of the Leeds International Piano Competition, that saw her encompass a glorious career over more than eight decades. And although there was nothing self-effacing about Dame Fanny, she always put the cause to which she dedicated her life before herself. (Pictured below, Fanny Waterman at 21)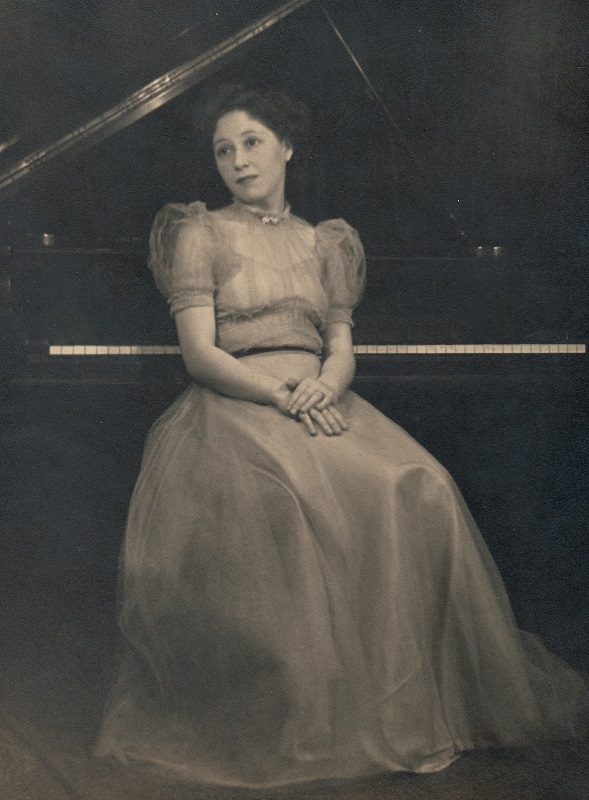 How to conjure up this extraordinary lady, whose life spanned a century and who had encountered every pianist from Rachmaninov to Lang Lang and Eric Lu, the winner of the 2018 Competition? My first encounter with her in 2011 was typical. I was introduced to her at a grand dinner and her opening words, in a gently admonishing tone, were "why won't you come on my jury?" She had indeed sent me an invitation and I had hesitated to accept. But she simply would not take no for an answer, so I joined the jury of the 2012 Competition. Thus began a friendship and an association that culminated, much to my surprise, in being invited with Paul Lewis to succeed her as co-Artistic Directors after she stepped down in 2015. On that first jury in 2012, although she strictly adhered to her own rule that we were not allowed to discuss any of the pianists, it soon became apparent, through gently hinted-at body language and the odd, almost inaudible, sigh when a particular phrase had pleased her, that we shared similar tastes in the sort of musicians that we found interesting. From that stemmed a relationship that, although never close, was based on a strong, unspoken mutual respect.
I accepted the invitation to succeed her alongside Paul with great trepidation and a not insignificant degree of self-doubt. These were, after all, huge boots to fill (not literally – she actually took a size 3!), and she had a formidable reputation. She fulfilled several roles for the Competition, indeed all the important ones: she was Artistic Director and CEO, she was also Chair of the Board and the Fundraiser, and for all I know was probably also Financial Director to boot. So Fanny was used to controlling all the strings, and when someone else was brought in to fulfil one of those functions to relieve her, they had an almost impossible task on their hands, as the number of different administrators who came and went will testify. (Pictured below: in conversation with Alfred Brendel while young pianists look on).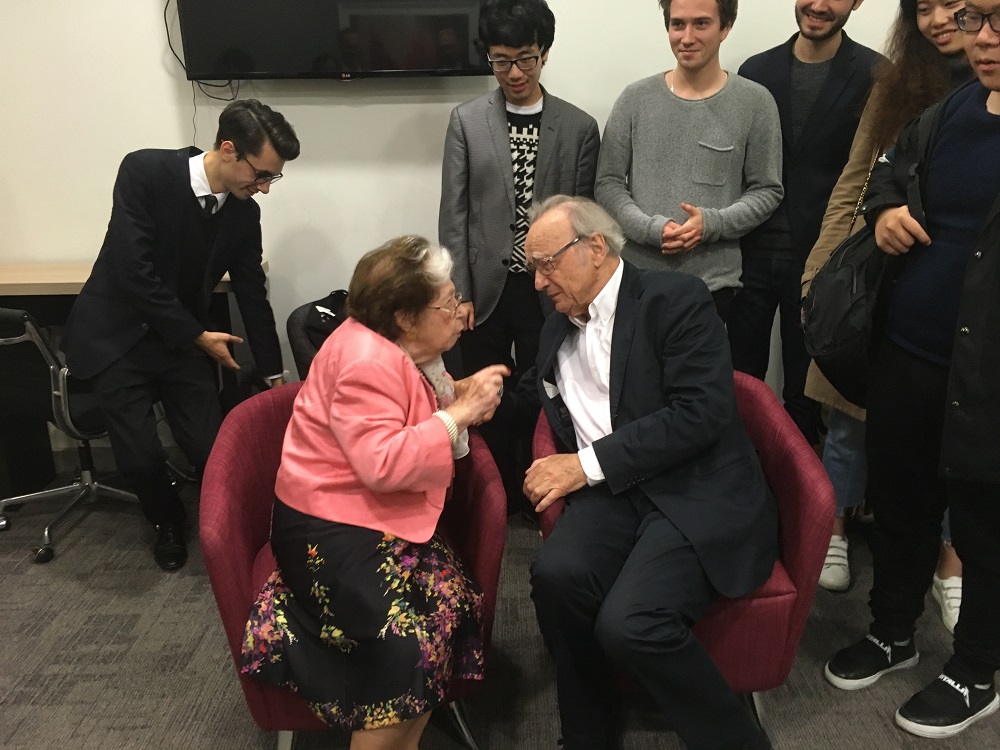 Never one to suffer fools gladly, if at all, she sometimes found it difficult if someone didn't measure up to her Herculean capacity for work, or indeed suggested an alternative way of tackling a particular problem. And I knew from the beginning that it was not at all easy for Fanny to step back from a job that was more of a calling, even in her 95th year. But I have to bless her for ever for her capacity to accept that Paul and I were going to be a catalyst for change in some areas that she held sacred, and for resisting the temptation to interfere, which must have been so hard at times. I can't pretend that she agreed with all our new plans, but where she didn't she was gracious in giving us the benefit of the doubt, so long as the hallowed reputation of the world-famous competition was never, ever going to be put in jeopardy.
During that 2018 Competition, Paul's and my first as Artistic Directors, Fanny attended every session, often meeting and chatting to the competitors from her seat at the front of the audience – of course they were all queuing up to meet her. And not just the competition sessions; she also attended all the master classes and lectures. And came to all the parties where again people queued up to chat to her and bathed in the glow of this legendary figure. She had a way of attracting people from all walks of life to her hemisphere, be it royalty (lovely letters from the Queen and Prince Charles adorned her walls), politicians of all persuasions (again lots of photos of them on her walls too, including at least seven Prime Ministers, one of whom – Edward Heath – fancied himself as a bit of a pianist. Her verdict on his playing was "not very good!"), bishops and archbishops, great judges, but also her enormous circle of Leeds friends and supporters, local children, some of whom were her pupils. I could go on... (Pictured below at the 2018 award-giving to Eric Lu).
Her talent and reputation as a piano teacher was prodigious. It's not for nothing that the first winner of "The Leeds", Michael Roll, was a pupil of hers, much to her embarrassment at the time (pictured below: Waterman teaching a young Roll). And the number of people she inspired through her teaching, either directly in her demanding piano lessons, or indirectly through her widely published piano books, is legendary. Many of them went on to fulfil important roles in British society – none of them ever forgot her forensic attention to detail, to singing tone, to line and rhythm. Or her mercilessly detailed analysis of what was missing!
But it was the founding, with Marion Thorpe, of the Leeds International Piano Competition, that put her, and the great city in which (against everyone's advice) she chose to mount it, firmly under on the international map. From the beginning her ambition for it was huge. She would invite pianists from every corner of the globe to compete, she would assemble a jury that brought together some of the leading luminaries of the musical world, she brought in the Royal Liverpool Philharmonic to play for the finals, and within a very short span, the Competition was launching the careers of some of the great names in the piano firmament of the later 20th century. Rafael Orozco in 1966, now largely forgotten because he died so young but a formidable pianist, Radu Lupu in 1969, a legend almost from the beginning, Murray Perahia (1972), Mitsuko Uchida and Andras Schiff (1975 – interestingly both of these didn't take away the First Prize!), Louis Lortie, Lars Vogt... More recently Federico Colli and Eric Lu are forging exciting and brilliant careers as a result of their involvement with The Leeds.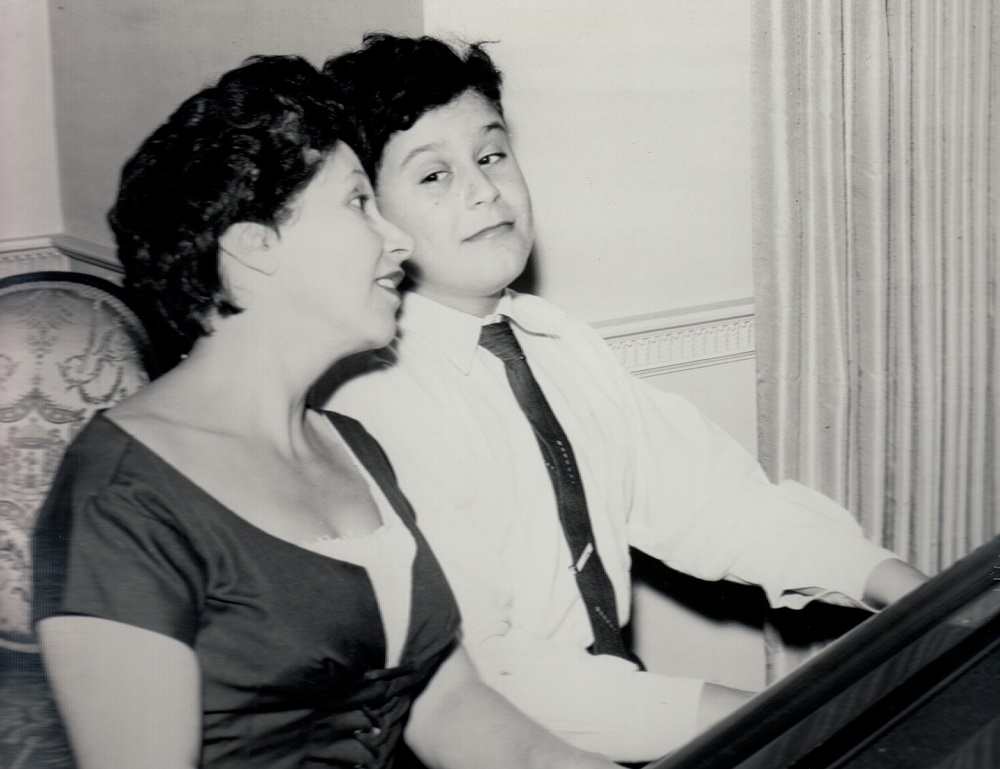 And her powers as a fundraiser were legendary. Many a hard-nosed businessman has gone into a meeting with Fanny having already decided to donate a modest sum, only to come out realising they had just agreed to give her £50,000. And when Paul Lewis and I took over from her, we were astonished to learn that she always had the money for the next competition in the bank three years ahead of time!
Of course she ruffled feathers, hardly surprising when you think of the scope of her ambition for the Competition, and her intolerance for anything that even smacked of second rate was legendary. But when she did ruffle those feathers, it was invariably because she wanted only the best – for her Competition, and also for the City of Leeds to which she devoted almost all her life, and which she put on the international map in a way no other organisation emanating from that great, tough, vibrant city has done before or since.
When I have travelled abroad in the last few years for the Leeds International Piano Competition, I have been amazed at the reputation that it has amongst the highest accolades of musicians and music promoters worldwide. The fact that, to them, the words "The Leeds" means one thing – the Piano Competition – in itself speaks volumes. The name of the city has become synonymous with that little competition that Fanny thought up during one sleepless night in 1961, and which saw the light of day across her kitchen table with her most beloved and trusted friends, her husband Geoffrey de Keyser and Marion Thorpe, helping and advising her. Who would have guessed then that today, almost 60 years later, we would be celebrating and honouring the extraordinary life of that diminutive giant, the adorable, irascible, inspirational and always entertaining Fanny Waterman?
When she did ruffle feathers, it was invariably because she wanted only the best - for her Competition, and also for the City of Leeds
Explore topics
Share this article