Classical Music CDs Round-Up 4 |

reviews, news & interviews
Classical Music CDs Round-Up 4
Classical Music CDs Round-Up 4
Gems include bumper Chopin set, Bruckner 8, an unknown Polish composer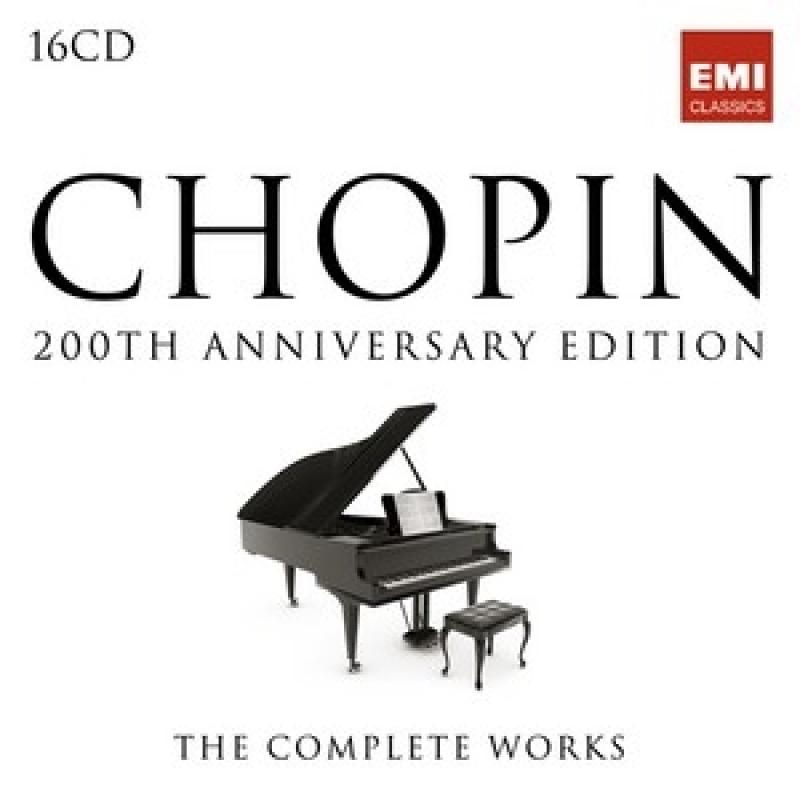 CD of the Month: 'We can never have too much Chopin in his bicentenary year'
Heading up this month's classical selection is a 16-CD budget box set of the complete works of Frédéric Chopin, issued to celebrate the 200th anniversary of the consumptive Pole's birth.
Plus we review a rare piano concerto by Ralph Vaughan Williams, a disc of even rarer string orchestra works by the post-war Polish composer Grażyna Bacewicz, a fresh coupling of the Debussy and Ravel string quartets, a new version of Bruckner's mighty Eighth from the French-Canadian
wunderkind
Yannick Nézet-Séguin and two sets of historic recordings conducted by "Glorious John" Barbirolli. Our reviewers this month are David Nice and Graham Rickson.
CD of the Month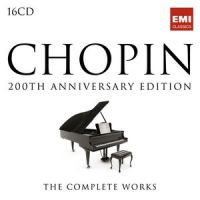 Chopin 200th Anniversary Edition various artists (EMI, 16 CDs)
by David Nice
We can never have too much Chopin in his bicentenary year. Well, I can't, at any rate, and the spell of a Christmas and New Year period spent working my way for sheer pleasure through all 16 of these CDs only makes me want to hear even more.
Hearing the great sets of dances through as a sequence, whether conceived in one block like the Études and Préludes or across an all-too-short lifetime, made me realise how we usually only get to hear the familiar tip of a strange and often dangerous iceberg in potpourri recitals. Here, there's Ronald Smith in the 1970s to point up the quirks and manners of every Chopin mazurka, a form he raised to unexpected levels. Among works of the 19th century's first half, only Berlioz's "Romeo Alone" is as futuristic-Tristanesque in its unsettled harmonic opening as Op. 17 No. 4; and constantly Smith reminds us what little miracles are achieved in extended codas.
It's much the same with the Nocturnes, even if the air is often more rarefied. I had forgotten how encyclopedic a Chopin interpreter Garrick Ohlsson could be, from the sheer withdrawn desolation of the later numbers to the thunder of a grand Polonaise. He's also poetry incarnate in the Piano Concertos, early works to be sure and over-represented in the concert hall simply because they happen to have a not very interestingly disposed orchestra attached. Still, they're very representative of Chopin's pearls-on-a-line bel canto in the slow movements; Ohlsson reminds us that the half-Polish, half-French chameleon was a great admirer of Bellini.
Smith and Ohlsson, then, provide the heart and soul of this collection. Andrei Gavrilov's Études are impressive, too – much more so in Op 25 than in Op 10 – were they recorded several years apart, as the vague dating suggests? But there are plenty of other scattered gems: Tzimon Barto (remember him?) in two translucent miniatures, Daniel Barenboim in the exquisite ostinato of the Berceuse, young Benjamin Grosvenor in a new recording of a quirky fugue. Quite why EMI settled on the ordinary Leif Ove Andsnes and the prosaic clunk of Cécile Ousset for the Sonatas baffles me. There are also some down-to-earth fillers from Danielle Laval, and Natalie Clein's perfectly decent account of the Cello Sonata is shown up by Andreas Brantelid in more newcomers, having fun with an operatic paraphrase of Meyerbeer's Robert le Diable as well as an utterly charming, persuasive partnership with Vilde Frang and the idiosyncratic Marianna Shirinyan in the early Piano Trio.
I'm a little puzzled as to where some of the names advertised on the back of the box – including Ann Murray, Yvonne Loriod and André Previn – have gone, as they're nowhere to be found on any of the discs. But the presentation is handsome enough and, if the documentation has to be brief, there's no more flavoursome writer for the job of summing up Chopin's elusive essence than Roger Nichols. DG/Universal promises an even more treasurable Chopin box, but failed to send it out in time; believe me, I would have gladly listened to every note. Buy the Chopin 200th Anniversary Edition on Amazon
Other New Releases
Bruckner: Symphony No. 8 (Haas edition) Yannick Nézet-Séguin, Orchestre Métropolitain (ATMA Classique)
by Graham Rickson
One tends to think of Bruckner interpreters as elderly and grey-haired, and it comes as a surprise to realise just how young the conductor of this new recording of Bruckner 8 is. Yannick Nézet-Séguin is only 34 and I was pleased to see that his performance spills over onto a second disc – this is a work that doesn't generally gain from being rushed. I know several musicians who hate Bruckner – all those pauses, stops and starts, and immense climaxes that build up and dissipate into thin air. I love the later symphonies. What is miraculous is how, in the right hands, all the disparate sections coalesce. To paraphrase another contributor to this website, Nézet-Séguin makes us appreciate that this is a long work that needs our patience and that, if we give it full attention, it will all make perfect sense.
Things start well – that C minor tremolando opening is suggestive and suitably ominous, and those descending brass figures in the first movement's development are terrifying. How refreshing to hear so clearly the timbre of those Wagner tubas, which later play a key role in the huge third-movement Adagio. Here Nézet-Séguin takes over 29 minutes, and the result is gripping. At a few moments I missed the richness of string sound that an orchestra such as the Vienna Philharmonic can provide, but this is still pretty remarkable – I loved that gorgeous passage near the end of the Adagio where the high strings negotiate a wonderful key-change over billowing harps. The Finale is weighty but avoids bombast, and the coda, where themes from preceding movements are overlaid, is appropriately cathartic, leaving you uplifted rather than bludgeoned. The Orchestre Métropolitain de Montréal plays brilliantly and is well recorded in a superbly appropriate and resonant church acoustic. Inevitably you lose some of the fine detail, but Bruckner needs to sound like this. There is a coupling – the Adagio from the same team's earlier recording of Bruckner 7: though exquisite, it sounds a bit odd heard immediately after the end of the 8th – have that pause button ready. Buy Nézet-Séguin's Bruckner 8 on Amazon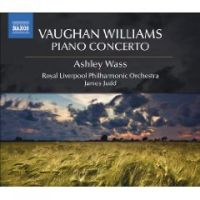 Vaughan Williams: Piano Concerto; The Wasps (Suite); English Folk Song Suite (orch. Gordon Jacob); The Running Set Ashley Wass (piano), Royal Liverpool Philharmonic Orchestra/James Judd (Naxos)
by Graham Rickson
What a striking opening – pounding, percussive piano figurations, suddenly melting into rum-ti-tum pastoral woodwind writing – it's as if Béla Bartók had suddenly pitched up in a remote Worcestershire pub. Ralph Vaughan Williams's neglected 1930 Piano Concerto is a surprisingly effective piece, and reminds you that the composer was far more cosmopolitan and sophisticated a musician than his detractors would have you believe. Vaughan Williams recast the work for two pianos in 1946, but it has never gained much popularity.
It's the quieter moments that impress – the second-movement Romanza is beautiful, and more striking is how the composer avoids a traditional barnstorming end to the concerto: soft piano chords and pizzicato strings fade away into silence. It's very affecting and is given strong advocacy here by Ashley Wass with the Royal Liverpool Philharmonic conducted by James Judd. The couplings are mostly better known. The suite from The Wasps is entertaining, even if none of the movements sparkle like the Overture does, and The Running Set and the English Folk Song Suite (played here in its orchestral version) are clean, honest fun. Naxos's recording is excellent, and the curious should not hesitate. Buy Vaughan Williams Piano Concerto etc. on Amazon


Debussy: String Quartet; Ravel: String Quartet, Violin Sonata Dante Quartet, with Simon Crawford-Phillips (piano) (Hyperion)
by Graham Rickson
I went straight to Ravel's Violin Sonata, composed in 1923–7 and a generous coupling for the two main works on this CD. I love this sonata – the way in which Ravel delights in the "basic incompatibility" between the soloists, the jazzy, popular allusions and the sheer fastidiousness of the music – every note matters in mature Ravel. The Dante Quartet's first violin, Krysia Osostowicz, gives a powerful performance, matched by Simon Crawford-Phillips on piano – the wit and steely brilliance of the Blues and the final Perpetuum mobile are exhilarating.
I had not realised that the Debussy and Ravel quartets were only separated by 11 years. Debussy's, first performed in 1893, attracted mixed reviews, with some contemporary critics unimpressed by the composer's apparent rejection of traditional Classical forms. Played by the Dante Quartet, it sounds youthful and passionate – the climaxes in the first movement are rich and sonorous, and those second-movement pizzicati are accurate and audible as notes as well as percussive effects. The Andantino is beautifully paced, leading to a passionate, exciting last movement closing with an ecstatic, abrupt coda.
In contrast, Ravel's 1904 quartet opens calmly and serenely, with my favourite Ravel moment coming at about 5 minutes in, where a high first violin line floats over a shimmering accompaniment. It sounds gorgeous here: played with impeccable intonation and a sense of wonder. The famous second movement, all bouncing plucked notes and cross-rhythms, is full of fun. Veiled slow-movement textures give way to a fast and furious finale that remains exciting while never sounding as if it might derail. Clear, detailed recording, and excellent booklet notes from Roger Nichols – anyone nervous or curious about chamber music should investigate. Buy the Debussy & Ravel Quartets on Amazon


Bacewicz: Music for String Orchestra New London Orchestra/Ronald Corp (Hyperion)
by Graham Rickson
No, I'd never previously heard of Grażyna Bacewicz either. It's always rewarding to discover previously unknown music in performances as committed as these, and even better to find that the music in question is of high quality. Born in Poland in 1909, Bacewicz was leader of the Polish Radio Orchestra in the 1930s and this disc collects four of her works for string orchestra. She studied composition in Paris in the early 1930s, and the earlier works here carry a whiff of Roussel's neo-classicism. The style is bustling and full of energy; anyone who responds to works such as Bartók's Divertimento or Tippett's Concerto for Double String Orchestra will find this music invigorating.
The Sinfonietta of 1935 and Symphony of 1946 are given premiere recordings here – both exuberant, spiky but always accessible pieces, full of busy contrapuntal textures. Still more impressive is Bacewicz's Concerto for String Orchestra of 1948 – a concise three-movement work with clearer melodic outlines and easy-to-follow structures. What makes this CD unmissable is the first Western recording of Bacewicz's Music for Strings, Trumpets and Percussion, composed in 1958, at the end of a period when Soviet-influenced "socialist realism" had imposed severe creative restrictions on Polish composers. While her colleague Lutoslawski went on to embrace avant-garde techniques, Bacewicz continued to write in a neo-classical vein, though one noticeably more adventurous and astringent. Different percussion instruments are highlighted in each movement, and the addition of two trumpets lends the sonorities a steely glitter. A fascinating CD, beautifully recorded and excellently annotated. Buy Bacewicz Music for String Orchestra on Amazon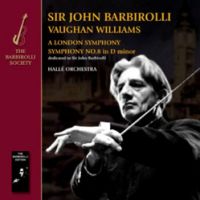 Vaughan Williams: A London Symphony; Symphony No.8 Hallé Orchestra/Barbirolli (SJB)
Beethoven: Symphony No.3 'Eroica'; arr. Barbirolli: An Elizabethan Suite BBC Symphony Orchestra/Barbirolli (SJB)
by Graham Rickson
Two hugely enjoyable reissues released courtesy of the Barbirolli Society. The two Vaughan Williams performances are already well known. The 1957 London Symphony is bright, alert and affectionate, with stylish wind playing. It's an episodic, slightly baggy score that comes across as coherent and symphonic under Barbirolli's direction, with moments of cockney bonhomie contrasting nicely with passages of quiet introspection. VW's Eighth Symphony, written for these forces and given its premiere recording in the Free Trade Hall in 1956, is a revelation. The sound, captured here by the famous Mercury Living Presence team, is astonishingly vivid, and the symphony is a small-scale treasure – listen through headphones and you're transported back in time. The second-movement wind Scherzo is superb – Bill Lang's cheeky trumpet solo a joy – and the closing movement has gongs, bells and vibraphone chiming out with cheery abandon.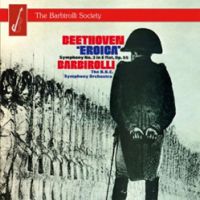 Barbirolli's 1966 BBC Symphony Orchestra Eroica is the slowest, weightiest performance I've ever heard. It's also rather wonderful – full-fat and calorific in a manner calculated to enrage the likes of Gardiner and Norrington, but never sounding sluggish or heavy. The Marcia funèbre reaches Mahlerian heights of angst, and the Scherzo is appropriately rollicking – horn buffs will appreciate Alan Civil's playing in the Trio. I have never previously enjoyed hearing this symphony so much. The coupling is Barbirolli's anachrononistic Elizabethan Suite, made up of arrangements of early English keyboard works by Byrd, Farnaby and Bull. Buy Barbirolli CDs direct from the Barbirolli Society