Classical CDs Weekly: Knussen, Weber, Alison Balsom |

reviews, news & interviews
Classical CDs Weekly: Knussen, Weber, Alison Balsom
Classical CDs Weekly: Knussen, Weber, Alison Balsom
Trumpets, bassoons, clarinets and horns, along with a celebration of a much-loved contemporary giant
Saturday, 01 December 2012
Oliver Knussen, inspirational interpreter of contemporary and 20th century repertoire
Oliver Knussen: Violin Concerto etc Various artists/Oliver Knussen (NMC)
Collecting music written between the early 1970s and 2010, this NMC disc is an enthralling tribute to one of the greatest of contemporary composers. Oliver Knussen has never been prolific. And, in Colin Matthews's words: "One of the reasons that Knussen's output is relatively small… is that he takes such pleasure in discovering new things when instead he should be composing… every bar that he writes is measured against all the music he knows and loves." Unsurprisingly, as a conductor he's an inspirational interpreter of contemporary and 20th century repertoire. This disc offers us contemporary music to swoon over. You'd do worse than to start with the Violin Concerto, started during the winter of 2001, its elegiac central Aria packing an incredible punch. Ghostly echoes of other slow movements flicker past over a five minute span, without making any concessions to accessibility – this is not easy music, but it's inevitably alluring. Knussen's ear for colour rarely falters; the sonorous yet unnerving bell sounds at the start of the concerto (played fearlessly by Leila Josefowicz) are magnificent. He can suggest music of the past without ever resorting to parody. The other orchestral piece is the lurching, processional Choral, completed in 1972, and full of arresting, subterranean sonorities. The transparent, richly harmonised close contrasts with the Ivesian murk heard at the start.
Knussen's virtuosic Whitman Settings are a harder sell, not helped by a recording balance which places soprano Claire Booth a little too far forward. The Requiem – Songs for Sue, commemorating the composer's late wife, is more successful. Settings of poetry by Antonio Machado and WH Auden are the highspots. Booth again is the soloist, pitted against an immaculately conceived chamber ensemble. This is music which just works. Try and whistle back the melodies, and you'd struggle, but Knussen's skills as an orchestrator and architect always win the listener over. Several other small-scale works complete the CD: I loved the recent Ophelia's Last Dance for solo piano. Played by fellow composer Huw Watkins, it's full of sly allusions to popular music and hovers slyly on the fringes of accessibility.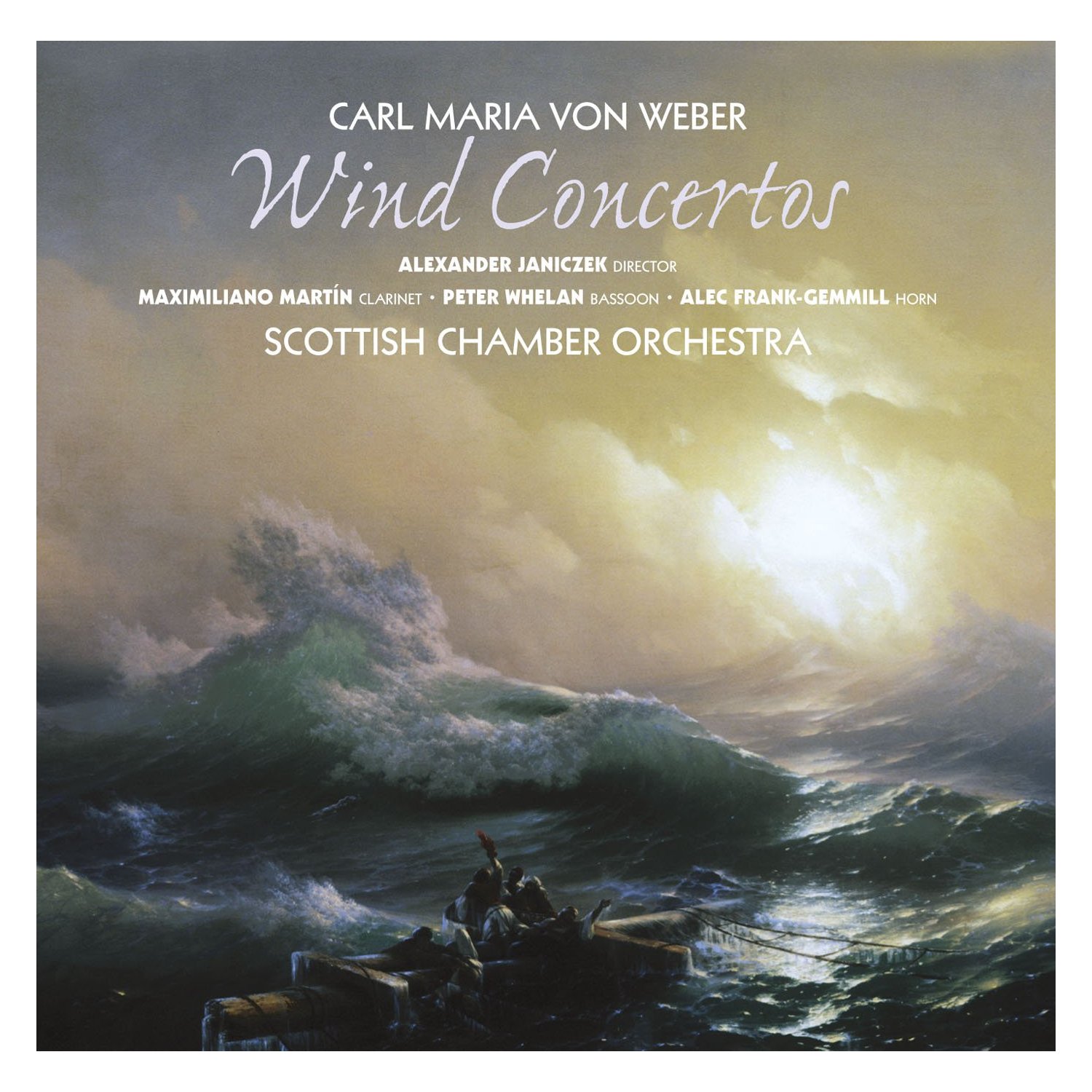 Carl Maria von Weber: Wind Concertos Scottish Chamber Orchestra/Alexander Janiczek (Linn)
Flamboyant wind soloists don't have that many opportunities to show off. Horn players are relatively well served by Mozart and Strauss. Bassoonists have Stravinsky's orchestral output, a concerto by Mozart and not much else, apart from this work by Carl Maria von Weber. Weber's stock has fallen considerably, though three of his operas retain a toehold in the repertoire. There are moments in each of the concertante pieces collected on this vividly recorded Linn disc where you could almost be listening to transcriptions of vocal music. Weber's unstoppable ability to write singable tunes always far overrides his occasionally clunky musical structures. When you hear Peter Whelan play the Bassoon Concerto, you'll forgive Weber anything; his is such an expressive, plangent sound. Weber's effervescent last movement will raise a smile, but the unruffled, tender Adagio is a charmer.
Better known are the two clarinet works, both hugely entertaining. The C minor Concertino, lasting barely nine minutes, feels fresher than its more expansive sibling. Both are dispatched with wit and fire by Maximiliano Martín. Alec Frank-Gemmil's performance of the fiendish, near-unplayable Concertino for Horn takes countless cheeky liberties with Weber's already twisty solo line, but only stony-faced purists would object. We'd all do the same if we could play as well as this. Frank-Gemmil's projection of the mad chordal passage in the cadenza is jaw-dropping, as are his acrobatics in the subsequent Polonaise. This is a beguiling CD; feelgood music of the best sort, sweetly accompanied by Alexander Janicek's Scottish Chamber Orchestra.
Alison Balsom: Sound The Trumpet – Royal Music of Purcell & Handel Alison Balsom, The English Concert/Trevor Pinnock (EMI)
More wind virtuosity from the consistently inspiring Alison Balsom, on a disc of transcriptions of music by Purcell and Handel. Playing the trumpet is already treacherous enough; on this disc, Balsom uses differently sized Baroque trumpets. There are no valves. These spartan instruments are essentially lengths of unadorned metal tubing. They're fitted with a couple of finger holes, used by the player to correct dodgy intonation. Balsom reminds us in her sleeve note that in the Baroque era "the trumpet was the instrument which was closest to the human voice, but bigger, louder, more powerful." Her distinctive tone remains clearly recognisable, despite the instrument's limitations. The timbre is sweeter, less aggressively strident than that of the modern trumpet, and she's paired with Trevor Pinnock and the English Concert, providing crisp, bouncy support.
Duets with countertenor Iestyn Davies and soprano Lucy Crowe serve to accentuate the natural trumpet's vocal qualities. Extended suites arranged by Balsom from Purcell's King Arthur and The Fairy Queen sound completely idiomatic, and she makes light work of Pinnock's transcription of Handel's Water Piece. A Handel oboe concerto, edited and transposed, closes proceedings in a mood of unruffled positivity.
Alec Frank-Gemmil's performance of the fiendish, near-unplayable Concertino for Horn takes countless cheeky liberties with Weber's already twisty solo line
Explore topics
Share this article