Classical CDs Weekly: James MacMillan, American String Quartets and Music from the Machine Age |

reviews, news & interviews
Classical CDs Weekly: James MacMillan, American String Quartets and Music from the Machine Age
Classical CDs Weekly: James MacMillan, American String Quartets and Music from the Machine Age
21st-century choral music, quirky American quartets and some noisy ballet scores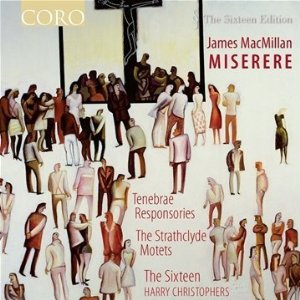 Miserere: Choral Music by James MacMillan The Sixteen/Christophers (Choro)
Scots composer James MacMillan's orchestral music has never convinced me, but this collection of a capella choral music is astonishingly accomplished. You can't help agreeing with The Sixteen's director Harry Christophers in his opinion that MacMillan's sacred music can stand comparism with that by Victoria and Poulenc. The brief Miserere, premiered in 2009, opens the disc: its Stygian opening gradually unfolding into music of unbelievable tenderness and cool beauty. It sounds both boldly contemporary and archaic, audibly the work of a composer long-acquainted with 16th-century polyphony. The occasional flashes of sensuality make this music a real pleasure to listen to; like Poulenc, MacMillan can't disguise his delight when sneaking into his sacred texts a particularly fruity chord progression.
Eight of the composer's Strathclyde Motets are included, each one a radiant, sophisticated miniature. Videns Dominus suggests the raising of Lazarus through a gentle progression towards a solemn, consonant A minor. In splendoribus sanctorum makes brilliant use of Robert Farley's solo trumpet. But just when you're worrying that MacMillan has become too touchy feely, he startles us with the three Tenebrae Responsories – tougher, darker, but no less involving. This is contemporary religious music for believers and doubters, and the performances are beyond praise. Astonishingly good.
American Music: String Quartets by Reich, Barber and Crumb Quatuor Diotima (Naïve)
Steve Reich's Different Trains remains an exemplary example of how to integrate live musicians with pre-recorded sound, the string quartet echoing precisely a series of speech samples and train noises. Reich's initial inspiration came from the long train journeys he and his governess were forced to make as a young child (Reich's parents had separated). The governess's voice is one of several heard in the opening movement; phrases like "From Chicago to New York", looped and repeated, take on distinctive melodic identities, underpinned by Reich's chugging riffs. It's with the second and third movements that the mood darkens; Reich's oral samples taken from Holocaust survivors. The end result is affecting and quietly moving. Reich's predominantly fast tempi mean that the music never becomes maudlin, unlike the ubiquitous, syrupy Adagio for Strings by Samuel Barber, heard here in its rarer, original form as the slow movement of his Op 11 Quartet. What's usually overblown and overwrought becomes more tender, affecting and restrained; odd to find its mood so abruptly shattered by Barber's terse last movement.
George Crumb's nutty 1970 Black Angels comes as a rude awakening; 13 short movements for amplified quartet, accompanied by a range of amplified sounds. Deeply peculiar in a highly satisfying way, this music provokes shocks and giggles in equal measure. At one point there's a Schubert quote, here played at a deathly slow tempo. Then the volume rockets, and we hear insect-like swarming and the players' own shouts. You miss the visual element of such a theatrical piece, but it's an exciting ride. Fantastic playing from this young French quartet, and, as usual, the sleeve art is fun.
Music from the Machine Age: Bartók, Holst, Prokofiev, Ravel, Schulhoff Borusan Istanbul Philharmonic Orchestra/Sascha Goetzel (Onyx)
The five ballet scores played on this well-filled disc arguably owe their existence to the one composer not actually featured. Namely Stravinsky, whose 1913 Rite of Spring sounded the death knell for ballets concerned with fairies and swans. Prokofiev's Scythian Suite, a four movement work condensed from a longer score rejected by Diaghilev, is always a blast – far more than a pale Stravinsky imitation. The enormous forces and sheer volume recall the Rite, but that's about it – underneath the bluster there are some superb tunes, culminating in a garish, life-enhancing coda. Bartók's suite from The Miraculous Mandarin possesses greater shock value, its sleazy scenario provoking music of edgy, unpredictable violence. Bartók's harmonic language still feels bold and unsettled. Sascha Goetzel's players tap into the brutality, the despair lurking under the glitter of Ravel's La Valse. This is like listening to a sequence of Strauss waltzes while nursing a terrible hangover, and the final shriek is painful.
The welcome rarity is a brief suite from Erwin Schulhoff's Ogelala, a 1925 score based on a Mexican myth. This is a worthwhile exhumation; Schulhoff's brilliant use of percussion give the work an idiomatic Latin feel. Brilliant. The oddity is Holst's peculiar ballet from his opera The Perfect Fool, which despite several enjoyable moments never quite lives up to the promise of the angular trombone declamation at the start. This is a fascinating anthology, well planned and well annotated. The Borusan Istanbul orchestra provide the requisite raw energy, helped by Goetzel's direction – none of this music is easy to play, and the panache and accuracy on display are impressive.
Explore topics
Share this article