Bournemouth SO, Karabits, Lighthouse, Poole – let there be light and joy |

reviews, news & interviews
Bournemouth SO, Karabits, Lighthouse, Poole – let there be light and joy
Bournemouth SO, Karabits, Lighthouse, Poole – let there be light and joy
Ukrainian principal conductor takes Sibelius's symphony of liberation to the edge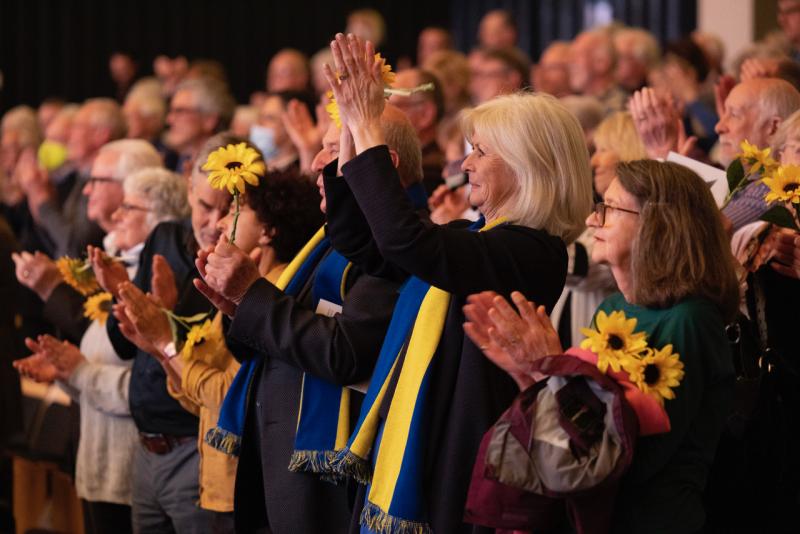 The Poole audience welcomes Kirill Karabits back
Returning to his Bournemouth Symphony Orchestra for the first time since the crisis began in his home country, Kirill Karabits' arrival on stage was greeted by the entire Lighthouse audience rising to their feet with loud applause and cheers of support.
Given how much the world has changed he'd considered changing the programme to include some Ukranian music, but quickly came to the conclusion that there was little point. During his past thirteen years with the orchestra his series "Voices from the East" has regularly featured so many works from his homeland that he felt both the BSO and local audiences are already probably the most knowledgeable in this area of repertoire outside Ukraine itself. As the programme contained three works featuring beauty and light emerging from darkness, no changes were deemed necessary. Needless to say, this brought even greater emotional intensity to the occasion.
The concert opened with All These Lighted Things, a set of three dances by the American composer Elizabeth Ogonek commissioned by Riccardo Muti for the Chicago SO in 2017. Inspired by a line of Thomas Merton's poetry about the dawn of a new day, they explore how a sequence of contrasted dances can morph through "imaginary filters" to suggest a whole range of different states of mind.
On this first hearing, the deftly woven textures, colours and fluidity of the music also seemed to suggest light, water and earth as three elemental catalysts for newfound joy with a palpable sense of buoyancy and optimism. A large percussion section and much-divided strings contributed a beautiful iridescence to all three dances with subtle and striking effect, reinforcing a work of ear-catching substance that prompts more listening to reveal all its secrets.
The celebration of light then blazed onto the seascape of Bax's Tintagel, and with special luminosity for the BSO, whose founder and principal conductor Sir Dan Godfrey gave the world premiere of the work in 1921 with the composer in attendance. Karabits set the waves rolling at a brisk and breezy pace that rose to very turbulent waters indeed - inescapably ocean rather than sea. The orchestra kicked up a storm to match, relishing the Wagnerian reference points as well as the influence of Debussy's La Mer and bringing great power and nobility to the closing vision of the castle still looking out proudly and knowingly across its ever-changing watery vista.
Rarely can Sibelius' Second Symphony have lived so close to the edge as here. Karabits galvanised the orchestra to play as one, taking them to danger zones of nature, mind and body that took no hostages to fortune and very much a "confession of the soul" as revealed by the composer himself when the work was first performed in Russian-oppressed Finland in 1902. Possessed of surging energy, sovereign beauty and cumulative power, each movement was enriched with natural ebb and flow without courting exaggeration. The collective quality of the playing was both incandescent and overwhelming expressive, crowned by the inspirational peroration firing on all cylinders and compellingly relevant as an expression of hope and optimism at the end of a journey from darkness to light.
Possessed of surging energy, sovereign beauty and cumulative power, each movement was enriched with natural ebb and flow
rating
Explore topics
Share this article