Bach St John Passion, OAE, Rattle, RFH review – earnest devotions |

reviews, news & interviews
Bach St John Passion, OAE, Rattle, RFH review – earnest devotions
Bach St John Passion, OAE, Rattle, RFH review – earnest devotions
Peter Sellars presents Bach for 2019 in a ritual without religion
Rattle directed proceedings with polished and choreographed assurance
We live in a secular age, or so we're told. Yet we seem to need rituals, the age-old practice and province of religion, as much as ever.
It is the achievement of Peter Sellars and
Sir Simon Rattle
to present one without the other in their concert stagings – "ritualisations" – of the
Bach
Passions they have taken around Europe and to the US since the
St Matthew
was first shown this way in Berlin in 2011. Last night saw the premiere of the
St John
in London, much awaited, long-rehearsed and at times striking home with irresistible force.
"It's not theatre. It's a prayer," says Sellars. In truth we experience both, and neither, at his godless touring Oberammergau. The first chorus depicts a tableau of souls in limbo, singers prostrate, pleading for relief and redemption with gestures drawn from medieval iconography. With the strings of the Orchestra of the Age of Enlightenment tucked away in a back corner of the Royal Festival Hall stage, much inner-part counterpoint went for very little, smoothed away by Rattle into a backdrop for the sinuous legato of the oboes' overlapping lamentations.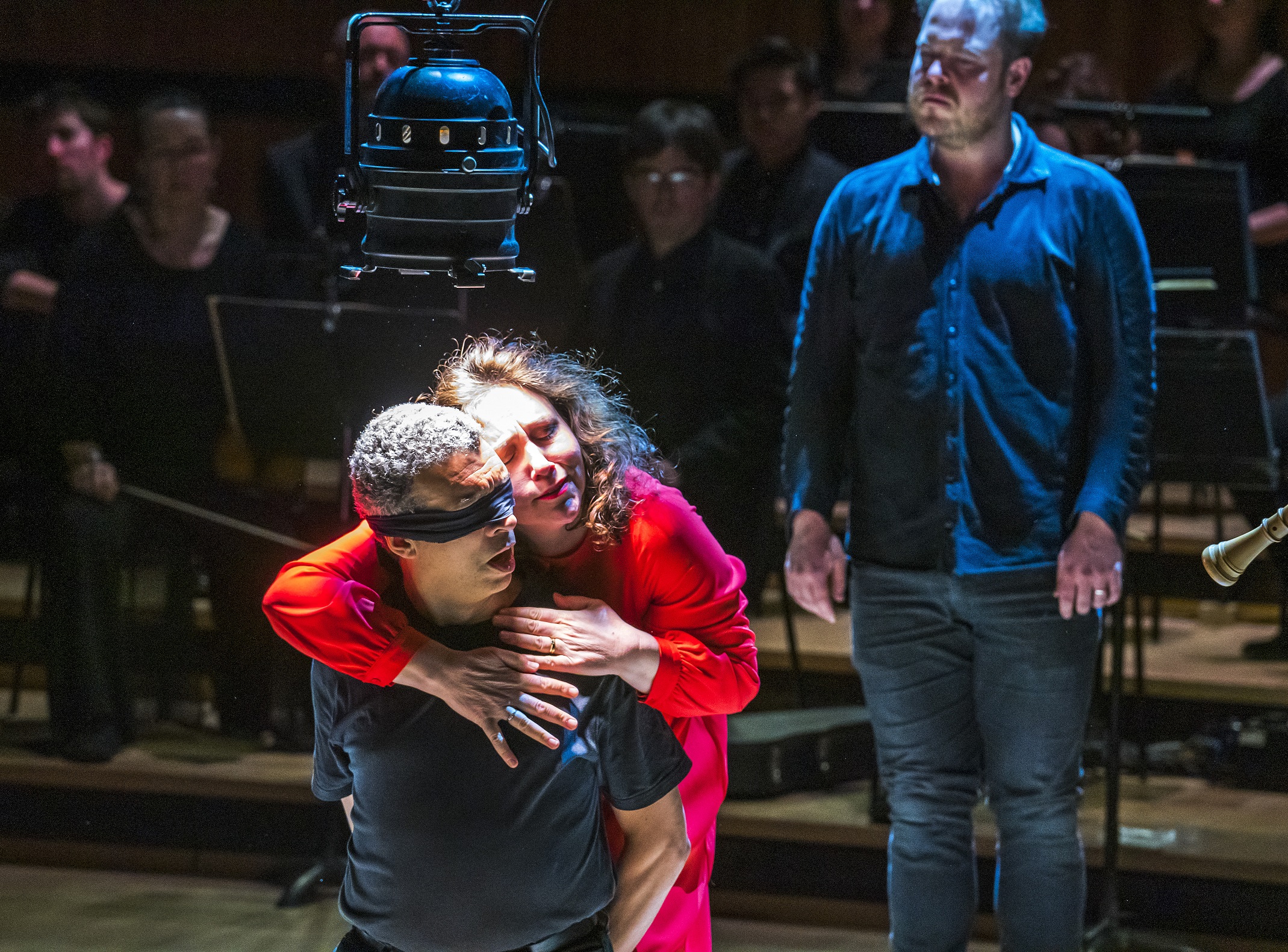 An interrogation lamp hangs centre-stage and it is to this that Roderick Williams' Christus (pictured above with Christine Rice's penitent Magdalen) is led as a prisoner, an everyman stripped of dignity like almost all everyone else on stage by more or less ill-fitting, studiously uncostumed black shirts and slacks – you could confuse most of them for the technical crew running the show until they open their mouths. With simple, naturalistic and discreetly updated imagery the story of Christ's arrest and execution is told by singers who mine every syllable for beauty and meaning – none more so than Mark Padmore, whose careworn Evangelist has been refined over the years as if by a monk-scribe labouring over every last detail of the illuminated manuscript before him.
Sometimes the narrative really does hang by a thread. You could hear Pinter whistling from the other side in the pause after Pilate's rhetorical enquiry, "What is truth?" There is a tension never satisfactorily resolved by Rattle and Sellars between the sophistication of what we hear and, at a lower level, what we see. Moments such as the bickering over Christ's robe match text, music and movement to revelatory effect but the heart sinks when chorus members mime picking up a grain of sand to a line from a chorale, or when Williams must deliver his last lines with his face pressed into the Festival Hall stage.
A sumptuous continuo section was led by Steven Devine's punchy organ contribution and Luise Buchberger's beautifully drawn cello lines, coloured in by lute and contrabassoon. Georg Nigl, Andrew Staples, Christine Rice and Camilla Tilling all excelled in their arias – Tilling's lament of deposition over the body of Christ was nigh-flawless (pictured above) – and Rattle directed proceedings with polished and choreographed assurance, though what his movements added to the chamber-music making between five or six musicians in the arias wasn't always evident. In all its earnest compassion, its technical confidence and reach across history, this is very much a Passion of our time.
Tilling's lament of deposition over the body of Christ was nigh-flawless
rating
Explore topics
Share this article