All Together Now: The Great Orchestra Challenge, BBC Four |

reviews, news & interviews
All Together Now: The Great Orchestra Challenge, BBC Four
All Together Now: The Great Orchestra Challenge, BBC Four
Another 'Bake Off', with violins and trumpets
Wednesday, 31 August 2016
In search of panache: Daniel, Derham and Nwanoku
The ingredients should be familiar by now. A plucky range of contestants drawn from across the geographic and social spectrum. A selection of interesting back stories. Demanding judges, their prickly edges softened by a fluffier presenter.
We've recently had dancing, choirs, sewing, cooking and painting. Now we get All Together Now: The Great Orchestra Challenge, a four-part series pitting five amateur orchestras against each other, the winner being selected to perform at this year's Proms in the Park. Helmed by Katie Derham, it's intermittently delightful, and anyone who's ever played in such a group will see and hear the truth behind the televisual gloss. Some of the playing sounds distinctly iffy first time round, though nerves are understandable when you've got multiple cameras recording every squeak and scrape.
We're introduced to the five ensembles on their own turf: groups from Scotland, Devon, Birmingham (the Peoples' Orchestra, pictured above), Yorkshire and London. Conductor and chief baddie Paul Daniel, increasingly resembling a baton in human form, is charmingly rude, telling a trio of Scottish bassists that they're "timid beyond belief", and berating another band for their lack of "panache".
He does get results though, as does sidekick Chi-chi Nwanoku. She's a bassist too, and there's a telling exchange between her and an octogenarian bass player from Stirling: she asks him why he's adopting an unorthodox finger position, he barks back "Age!" Later, Chi-chi is seen rehearsing the Peoples' Orchestra saxophones in a Birmingham pub. Asking the players to cover their eyes does indeed make them listen more carefully, and making the Slaithwaite Philharmonic's upper strings repeatedly attack the same bar does improve their definition and clarity. Daniel and Nwanoku are most insightful when working with the North Devon Sinfonia's plucky female conductor, with the job's arcane mysteries hinted at: are you there to direct your players or to enable them?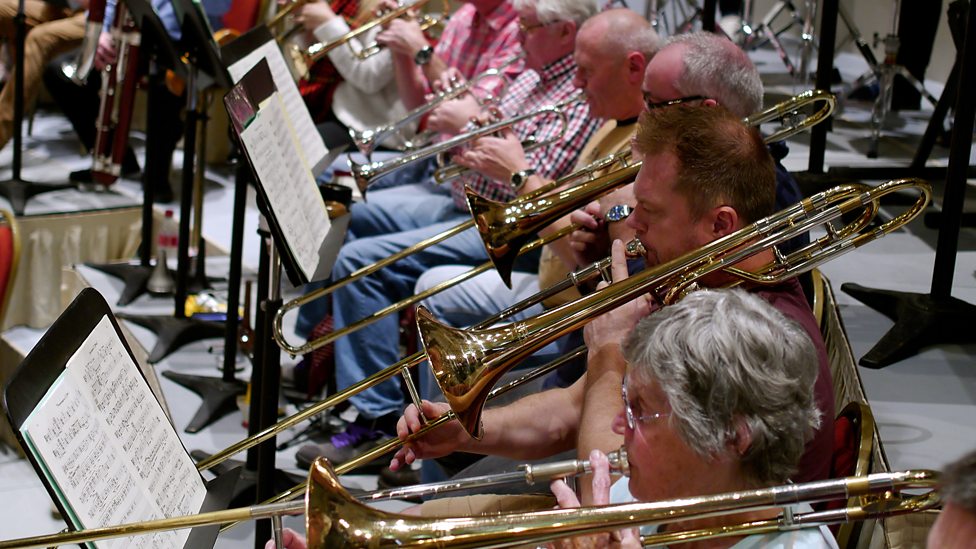 The players seem refreshingly ego-free. When you're performing something tricky with 60 or so other musicians, you just want to hit the right notes and avoid a conductorial hard stare. The London Gay Symphony Orchestra's tuba player speaks warmly of the group being a place where she can be herself, no questions asked. "Nobody cares. As long as I don't play loud wrong notes." The North Devon timpanist, a full-time carer, practices her Beethoven on table mats in the kitchen, and a flautist-cum-supermarket cashier from Birmingham movingly describes how music has helped her deal with depression. Britain's tradition of amateur music-making is still a thing to marvel at: we see the chair and secretary of the Slaithwaite Philharmonic (pictured above) describing the orchestra's beginnings in 1891 ("before our time, obviously…").
It deserves to be on BBC One rather than tucked away on BBC Four
What a programme like this can't show are the hours spent behind the scenes – the mind-numbing, muscle-draining hard work involved in getting each orchestra to the level where it can withstand televisual scrutiny. Amateur musicians rehearse in the evenings, when many of them have already done a day's graft. This programme might lead outsiders to believe that all that's needed to propel an orchestra into the top flight is a superficial scrub up from a pair of glamorous freelance consultants.
I'd also suggest that such a competition is not what being a musician is about. Playing in a large group is a collaborative affair, not a race to the top. Each ensemble displayed phenomenal talent, and the crude, Masterchef-style judge's pronouncement at the close, underpinned by ominous music, felt tacky and unnecessary. I'd better declare my interest now – I played in one of the featured orchestras, and it's a little frustrating seeing so many weeks of sturm und drang boiled down to just a few minutes. Everything looks disarmingly slick and polished – the reality was endless retakes and lots of hanging about. But good to see classical music given this sort of coverage, though it deserves to be on BBC One rather than tucked away on BBC Four. Did Paul Daniel make the right decision at the close of this episode? I couldn't possibly comment…
Britain's tradition of amateur music-making is still a thing to marvel at
rating
Explore topics
Share this article