'The Healing Power of Music': composer Nigel Hess on great-aunt Myra's wartime concerts |

reviews, news & interviews
'The Healing Power of Music': composer Nigel Hess on great-aunt Myra's wartime concerts
'The Healing Power of Music': composer Nigel Hess on great-aunt Myra's wartime concerts
Parallels between lockdown solace and a great Dame's National Gallery events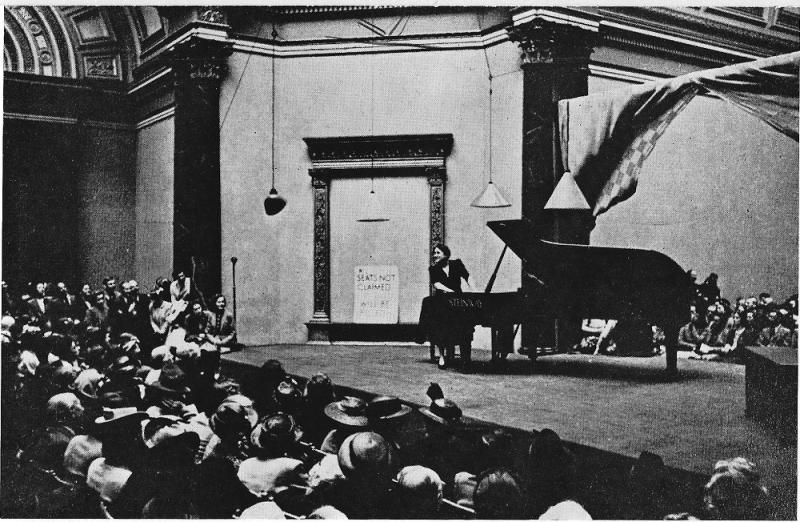 Dame Myra Hess performing at the National Gallery during World War Two
It has been well-documented over the last few months that there has been an upsurge in listener numbers for many radio stations offering classical music – notably BBC Radio 3, Classic FM and Scala Radio – and, during these unprecedented times it comes as no surprise to discover that so many people (of all ages) are finding sol
ace in music which, in some cases, they are turning to for the first time.
For me there's a family resonance – my great-aunt, Dame Myra Hess, set up a series of lunchtime concerts in the National Gallery during World War Two for war-weary Londoners and she seemed to know instinctively that this music could have the power to provide comfort for everyone – not just her core audience. As she was to write later: "Everybody was very busy during the war and there was nobody to tell people that this sort of music was over their heads. So they came. And they liked it."
Some years ago I was asked by the pianist Piers Lane to create a show telling the story of Myra and the creation of the concerts, and Admission: One Shilling has since been performed by Dame Patricia Routledge and Piers many times around the UK and abroad. We could just as easily have called it The Healing Power of Music – a theme which shines through as the story unfolds. Then, as now, many people found themselves turning to music in which they could, for a few moments, lose themselves and forget the painfully unfamiliar world they were trying to cope with. The National Gallery concerts started on 10 October 1939. Myra herself gave the first recital and thought that perhaps 40 or 50 of her friends would turn up, but 10 minutes before the concert was due to start the director of the Gallery, Sir Kenneth Clarke, rushed in. "There are a thousand people on the pavement!" And so Myra's life was mapped out for the next six and a half years – 1,968 concerts attended by nearly 825,000 people. Myra wrote: "People are realizing the true value of things. Music is more than a pleasure – it is one of the greatest achievements of mankind, and I think people feel the urgency of being reminded of constant things – such as the arts."
80 years later it's happening again, except instead of waiting patiently on the pavement an audience with the same longing for a moment of respite in extraordinary times is finding it on digital radios, computers and smart speakers. (I'm convinced that if today's technology had been available to Myra back then, all those concerts would have been streamed live to reach an even wider audience!) And, reading some of Myra's letters and interviews from those war years, the parallels are striking.
1938: Nowadays, with the world so full of unrest and turmoil, the artist is apt to feel pretty insignificant, and the world's restlessness makes it terribly difficult for one to be calm and have a sense of direction.
1939: People will soon be begging and clamouring for music. We can only live from day to day - wondering what next? It is impossible to make plans for more than a week at a time - but a wonderful opportunity to give spiritual solace to those who are giving their all seems, in some mysterious way, to have been given into my hands. Let us hope and pray that this nightmare may be prevented from lasting as long as is feared.
1940: Life is so incredible that even the seasons seem unreal. Happy times will come again and I never have the shadow of a doubt about the ultimate triumph of light over darkness. When music is needed as never before, the inspiration seems to be with me (although at times it is almost impossible to sit down and practice "passages and notes"). It is incredible how we can adapt ourselves to a state of existence beyond imagination, but the steady belief that 'all will be well' keeps us sane and full of determination.
1941: Away from London my concerts often take me to small towns, and in the old days one had to advertise extensively. Now, the news immediately gets around by word of mouth that on "such and such a date" so and so is giving a concert. And on "such and such a date" there is not even standing room. I have discovered a new audience – people from the factories who have little enough time for themselves willingly giving up their whole lunch hour to hear a recital of Bach or Schumann. Music, once a person really decides to listen to it, is the most immediate communication there is.
I'll never forget, after one of the worst London air raids through which nobody slept at all, I drove to the Gallery down streets filled with debris of all kinds. Houses were demolished everywhere. "There'll be a small audience today," I thought, but we had an overflow house of 500 people - a little pale from lack of sleep, but listening to our music, serenity returning to their minds and their faces. They had come, through streets littered with broken glass and reeking with dust and smoke, to get the spiritual strength more vital to them than physical rest - the healing power of music.
Listen to Myra Hess's 1940 recording of her Bach transcription, 'Jesu, Joy of Man's Desiring'
People from the factories who have little enough time for themselves willingly give up their lunch hour to hear a recital of Bach or Schumann
Share this article