Hewitt, Hallé, Schuldt, Bridgewater Hall, Manchester review - lightening the gloom |

reviews, news & interviews
Hewitt, Hallé, Schuldt, Bridgewater Hall, Manchester review - lightening the gloom
Hewitt, Hallé, Schuldt, Bridgewater Hall, Manchester review - lightening the gloom
Precise and telling results in Britten, Mozart, Strauss and Thorvaldsdottir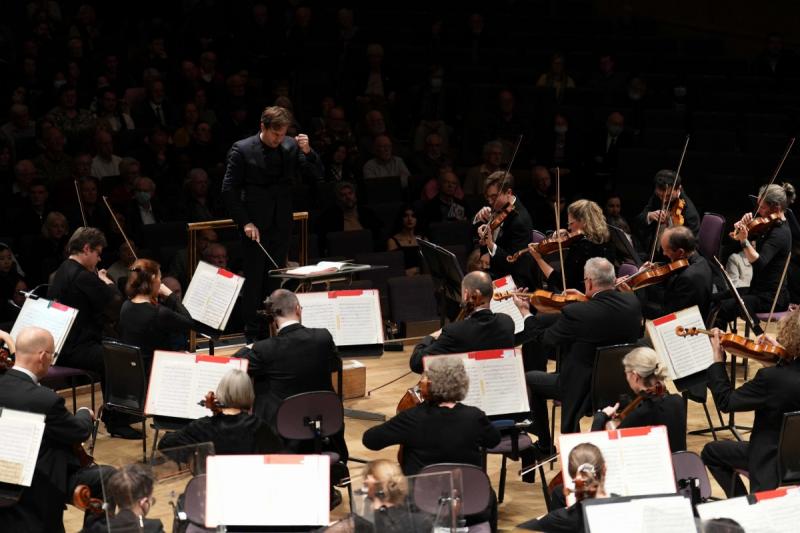 Back at the Bridgewater: Clemens Schuldt conducts the Hallé
If there was a certain doom-laden dimension to Clemens Schuldt's Bridgewater Hall programme with the Hallé ( … Requiem … Mozart in D minor … Strauss describing Death and …), it was easily lightened by the conductor's own approach and personality.
Schuldt has a very clear beat and makes his gestures economically, but every one of them works, and he gets precise and telling results. He's appeared in this hall before, with the BBC Philharmonic in 2018, and with the same Strauss work, Tod und Verklärung, and we realised then that his command of an orchestra in a complicated score and the richness of their sound were vividly apparent.
His programme this time opened with Britten's Sinfonia da Requiem, written in 1940 and premiered by the New York Philharmonic under its then music director, John Barbirolli, in 1941. It's a terse and (as Britten said) explicitly anti-war piece of music, with its funeral-march style opening movement, labelled "Lacrymosa", its hell-bent central movement ("Dies Irae") and mournful finale ("Requiem aeternam"). Under Schuldt's baton, its blasting opening and long later build-up were intensely dramatic; the middle movement (which is a virtuoso piece for orchestra) a wild and scary ride, and the ending elegiac as well as sad: the horns playing an eloquent role, the last sound dying very gently into the night.
Angela Hewitt (pictured right) was the soloist in Mozart's D minor piano concerto, no. 20 (K466), taking the place of Mariam Batsashvili, who was unable to appear. Hewitt's music is never less than fascinating: at first there seemed to be a distinct contrast between the vigour Schuldt brought to the opening tutti and her smoother, more laid-back entrance on the scene, which continued as a kind of conversation between the two through into the second theme and even the fantasy. But it was a meeting of minds, not a clash of ideas, as they worked in tandem through the movement's varying by-ways. She played the lovely little leading tune of the Romance slow movement with disarming simplicity, and they whipped up quite a storm together in the finale's ritornelli, before enjoying the charm of Mozart's throwaway ending. Schuldt smiles a lot and conveys his enjoyment in music like this.
Anna Thorvaldsdottir's 2010-11 written AERIALITY (the upper-case lettering is its required title) was a breath of contemporaneity for the Hallé audience and, I would guess, a rather pleasant surprise. What seems daunting in the composer's description in words (she talks about "sound-art", "sound-mass", quarter-tones and "vast sonic textures") turns out to be remarkably easy on the ear and rather like a film score. It starts and ends clearly (the ending is a fade-out to beat all fade-outs), there are prominent unison sounds to cling on to, and a shudder around half-way through is its one obvious rhythmic element: cellos and other strings nearly get to play a tune near the end, giving it a touch of lushness – and it doesn't go on too long.
Tod und Verklärung, on the other hand, does run the risk of doing that. Schuldt didn't get too smooth a blend from the wind players of the Hallé right at the start, but with the strings on hand (Roberto Ruisi leading) rich and rounded textures soon became the order of the day. It's programme music of a kind, though in a very Romantic manner, and Schuldt built it to a peak of intensity with finely calculated balance of its inter-weaving ingredients. There's a bit of Hollywood-before-its-time in this music, and on its own I doubt it would qualify Richard Strauss for the genius league, but of course he wrote much more, and much better, elsewhere.
Anna Thorvaldsdottir's AERIALITY was a breath of contemporaneity for the Hallé audience and, I would guess, a rather pleasant surprise
rating
Share this article