Cabaret Falafel, Gaby's Deli |

reviews, news & interviews
Cabaret Falafel, Gaby's Deli
Cabaret Falafel, Gaby's Deli
Sing out for Gaby's Deli: a theatre landmark is threatened
Wednesday, 07 December 2011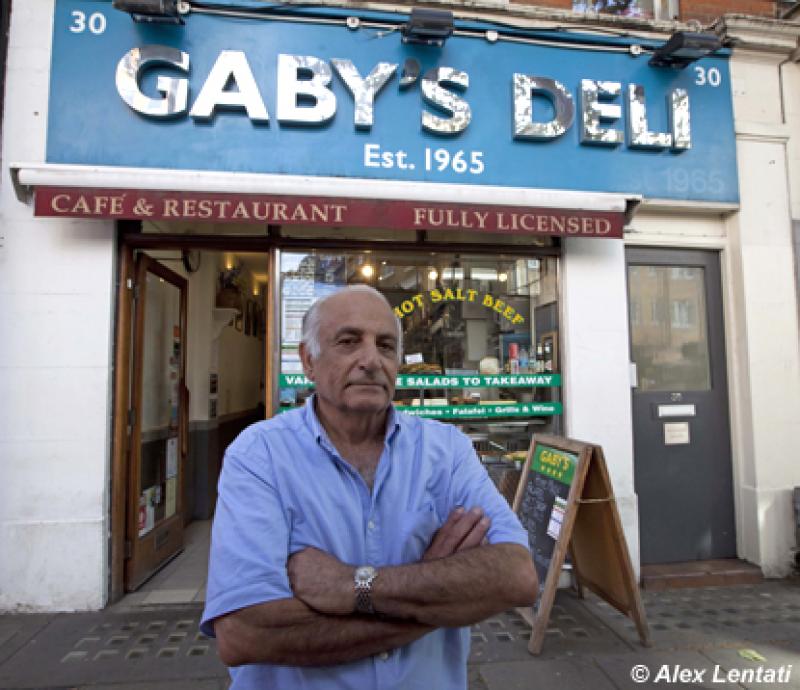 Gaby's owner, Gaby Elyahou, not quite ready to sing
Even in London's variegated show-world, something called Cabaret Falafel stands out as an exotic title. To discover that it will take place in a delicatessen, performed by the wonderful Henry Goodman, makes it both more piquant and more explicable, for Gaby's Deli, a stalwart part of Charing Cross Road and of every London theatre-goer's map of the West End, is under threat.
Charing Cross Road has already lost most of its independent bookshops; Chinatown has been trampled on by developers who want to root out the Chinese markets; now the Marquess of Salisbury, ground landlord to Gaby's, has in his wisdom decided that this wonderful independent, in rude financial health and much loved, should be removed so that, as the planning application says, a Strada-like chain restaurant can replace it. WELL, ISN'T THAT JUST WHAT WE NEED, MORE PLASTIC SPAGHETTI?
(Cough. Apologies. OK, I've recovered myself now. As you were.)
Theatre-goers, actors, singers, musicians and legions of others simply happy to eat fresh food produced by individuals not conglomerates, priced reasonably and served by staff who know their regulars, are protesting.
Now
Alistair Beaton, author of A Very Social Secretary and The Trial of Tony Blair, as well as the West End hit Feelgood, has turned his hand to lyrics, and this is where musical star and Olivier Award-winner Henry Goodman and Cabaret Falafel come in. At Gaby's tomorrow (Thursday, 8 December), at 5.45pm Goodman will perform a song written especially for Gaby's: entrance is free. So plan for a salt beef spray of song and join in.
In the new year, Gaby's supporters are also promised a reading from Simon Callow, and a short play, to be set in Gaby's, written by Costa-shortlisted novelist Roma Tearne and starring Kate Fahy.
For those who can't make it, "Save Gaby's Deli" Christmas cards are available (pictured right) to send to your nearest and dearest with a piece of baklava (OK, so I'm just suggesting for my own family here), or without the cake to Boris Johnson, who can step in and change Westminster council's plans, or to the Marquess of Salisbury himself.
There is, natch, a petition, too.
Make a stand: for Gaby's, for salt beef, and for independent traders. Not to mention a place to eat before the show.