Matthew Kneale: Pilgrims review – adventures on the road to Rome |

reviews, news & interviews
Matthew Kneale: Pilgrims review – adventures on the road to Rome
Matthew Kneale: Pilgrims review – adventures on the road to Rome
A convincing, enjoyable trip into medieval minds and worlds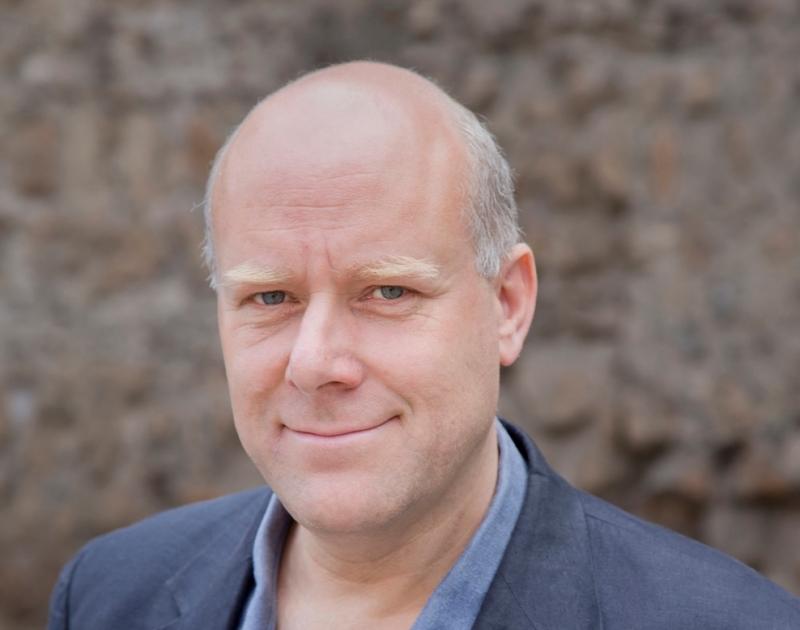 Time traveller: Matthew Kneale
Some things really never change. After a blatant cheat perpetrated by a well-connected lout, one of the humblest pilgrims in Matthew Kneale's band reminds us that "rich folks' justice is a penny to pay, poor folks' justice is dangling from a rope".
But then, as we all know, "The worst churl gets off light if he has a fine name." By this point, Kneale's pilgrim crew have reached the snowy Alps, and the final stretch beckons on the long, weary and sometimes perilous route that takes this company from their homes in the English shires towards the holy sites of Rome.
The year is 1289, although a prologue to his sixth novel drops us into a brief, savage pogrom against the Jews of London in 1264. Only as the finale nears will we learn how this spasm of violence fits in with the remainder of the narrative. Along the way, Kneale's seven pilgrims tell us why they quit the farms, shops, manors and castles of medieval England to seek remission from the pains of purgatory via a pilgrimage to Rome. For all their differences of rank, shire and calling, the travellers find safety in numbers, as a "proper party" will more easily avoid being "stabbed or robbed or cudgelled to death along the road". Pilgrims gives us not just their individual back-stories, but the alliances, friendships and rivalries they form as autumn turns to winter, then to spring, and the towers of Rome, "like the spines of a great hedgehog", grow closer by the day. (pictured below: plan of Rome from the Très Riches Heures du Duc de Berry, c.1415, Musée Condé)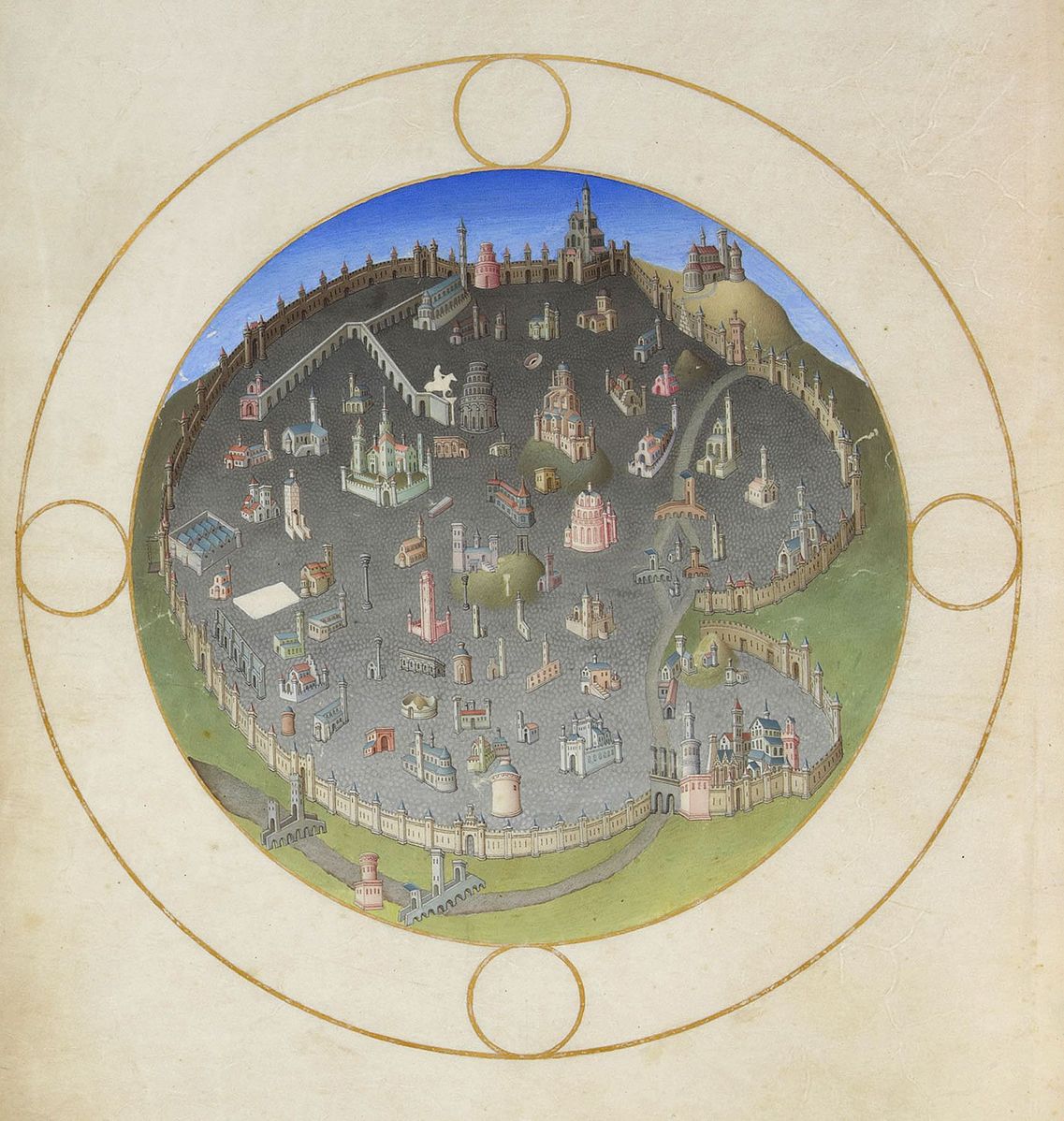 Matthew Kneale's historical fiction, which wears its deep learning lightly and finds persuasive voices for the people of the past, has spanned cultures and centuries. He won the Whitbread Award (now the Costa) in 2000 with English Passengers, which sent a disparate bunch of voyagers to the colonised Tasmania of the 1850s. Here he chooses an even tougher task: to pluck a cross-section of English men and women from 700 years ago out of a much thicker fog of time. Of course, any story of medieval pilgrims must submit in some degree to the gravitational pull of Geoffrey Chaucer's Canterbury Tales, composed a century after Kneale's wayfarers set out. Pilgrims sprinkles its braided monologues with a few Middle English terms that nod to Chaucer (characters do "swiving" in bed and one amorous woman even refers, like the Wife of Bath, to her "belle chose"). For the most part, though, it declines to be tugged into the Chaucerian orbit. Kneale fashions a language of his own that sounds plausibly modern. Yet he shuns anachronism and takes care to use the core vocabulary of the late 13th century. Though Pilgrims never attempts corny pastiche (grammar and word-order have been updated), its rugged vernacular still makes the reader understand how long the bedrock of everyday English speech has persisted.
Like any novelist who tries to revisit a distant epoch, Kneale has to hit two targets. He must prove how much we have in common with these outwardly odd ancestors (why else should readers care?) but at the same time show what sets them apart, so that alien mindsets make sense to us. For 1289, that means putting religious belief and all its medieval machinery – the priesthood, the church courts, the monasteries, the emotional architecture of heaven, hell, sin, confession, penitence, pilgrimage and indulgences – centre-stage in ways that feel true for these characters. This he does with unfussy deftness and ingenuity. Pilgrims refuses to parachute 21st-century sensibilities into the Middle Ages. Instead, it lets us see how the understanding of selfhood and society that, to us, takes psychological, political or economic forms spoke then in overwhelmingly religious accents. As they gather in London or pick up lone travellers on the trudge across France, into the mountains, and down through what we now call Italy, the pilgrims feel, remember, enjoy or suffer much as we do. But their testimonies filter timeless experiences through a medieval lens of faith.
Jocelyn the smart lawyer, for example, has messed up his life through serial adulteries and now tells his "story of wickedness regretted" on the way to Rome. The land-owning Dame Lucy de Bourne has spent years wrangling in the Lincoln courts with abusive menfolk, while falling for one charming chancer after another. Now she heads to the pope's court to secure a divorce. Two other female pilgrims have found in the public performance of holiness a release from the bonds that shackled women at this time: little Beatrix, daughter of the loudmouth Kentish tailor Warin; and the deeply saintly (and rather annoying) Matilda, who flees her bully husband and brood of kids in Norfolk. Based on the historical figure of Margery Kempe, Matilda escapes depression, with its devil's face, to find respect on the road as a visionary prophetess with a direct line to Jesus. For his part, the scholar Iowerth from Anglesey has betrayed the rebellious Prince Dafydd to the hated Saxons (King Edward I had invaded Wales in 1282) and has his own reasons for seeking penance in Rome. At the band's heart, patronised by all but keenly observant and, in the end, pivotal, walks Tom son of Tom. This innocent "witless dotard" of an Oxfordshire bonded labourer has come along in order to liberate the soul of his beloved cat Sammy out of purgatory. As for the enigmatic Mary and Helen, the widow of a rich Gloucester butcher and her daughter, they hold secrets that will bloom into the novel's big reveal.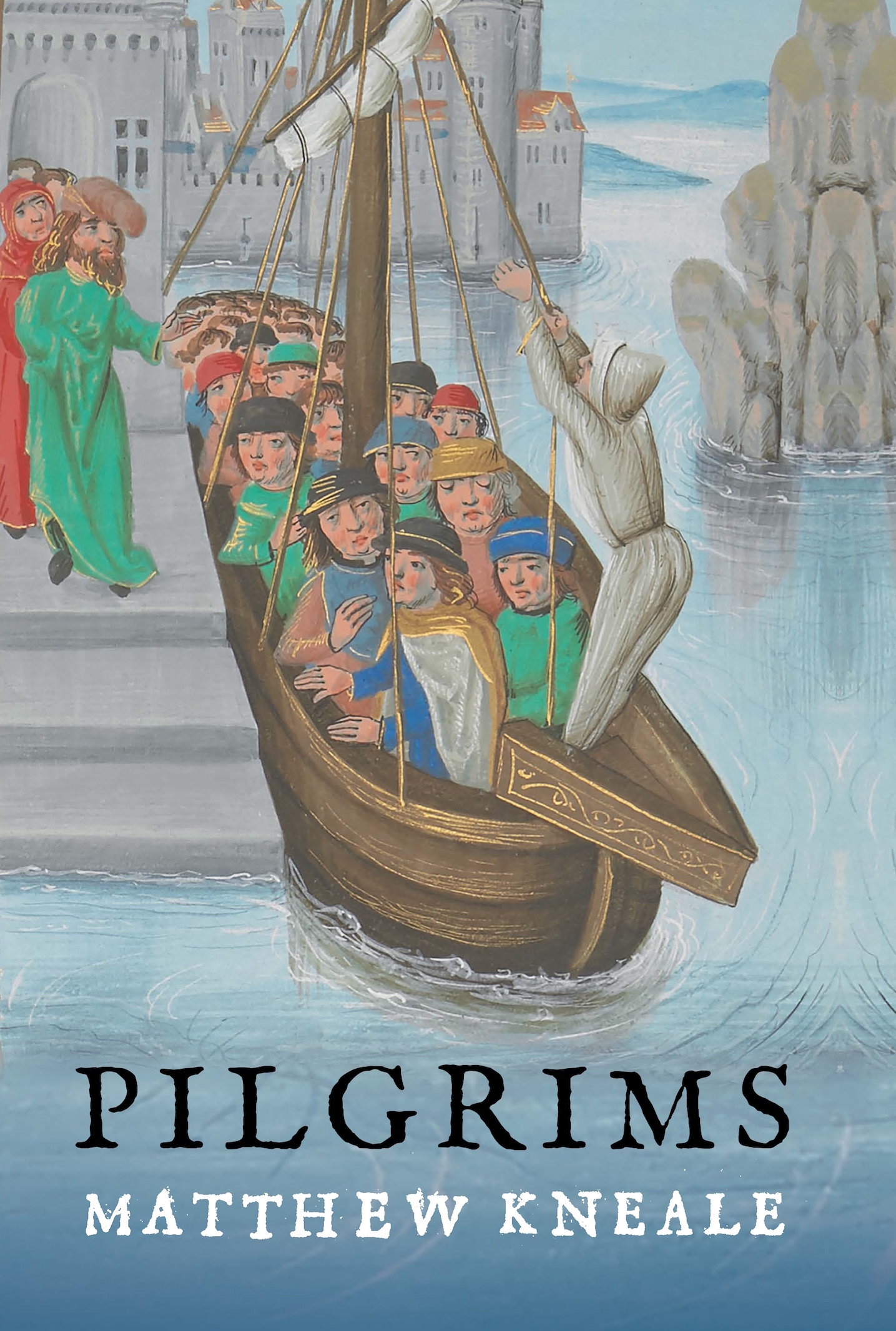 From the plucky but flighty Dame Lucy to the quarrelsome, choleric gentleman Sir John, and the tormented Cymry intellectual Iowerth, Kneale gives each traveller a credible hinterland and a well-flavoured voice. The novel's polyphony builds into a panoramic picture of late 13th-century England, divided by wealth and status but supposedly united in a common faith. Yet the prologue makes clear that a murderous anti-Semitism simmers in the background, ready for rulers to exploit whenever it suits them. "They could fleece their folk and put all their hatred onto us," we learn from a Jewish woman later, as this motif returns to bend the story's arc. (Matthew Kneale, by the way, is the son of the late children's author Judith Kerr, who fled to Britain as a child refugee from Nazi Germany.)
Kneale shows too how the pan-European pilgrimage industry worked, creating chances even for ordinary folk to see distant lands at low cost so long as they stuck to the fixed routes and stayed in the hostels dotted along the roads to every holy place. Our gang meet with less menace and mayhem than you might expect, but with plenty of ribaldry and farce along the way, from nocturnal encounters with frisky nuns to the tourist rip-offs in the "big marketplace" of St Peter's in Rome. Consistently, Kneale illuminates and entertains with a quietly skilful touch. He even grants most of his crew a happy ending, though not before the scapegoating horrors of the opening have returned to re-direct the storyline. As in previous novels, Kneale excels at watching the English abroad – and Pilgrims confirms that, even by 1289, not just their language but sense of nationhood had grown more pervasive and palpable. (Clerics everywhere still communicate in Latin but French, by this moment, has dwindled into an official jargon or an upper-crust preserve.) Not for the last time, foreign toilet habits alarm our sojourners. A Roman squatting in the street prompts one aghast pilgrim to say that "You wouldn't see that back in Thetford." And, then as now, the visitors tend to carry local obsessions and grievances with them. Warin is desperate "to tell the pope that his church was wicked and stinking, especially in Margate". Just a little harsh on Margate, maybe.
Pilgrims by Matthew Kneale (Atlantic Books, £16.99)