Guy Stagg, The Crossway review – a gripping pilgrimage through faith and doubt |

reviews, news & interviews
Guy Stagg, The Crossway review – a gripping pilgrimage through faith and doubt
Guy Stagg, The Crossway review – a gripping pilgrimage through faith and doubt
This beautifully written quest for healing and meaning offers no facile uplift
Across the desert: Guy Stagg
On new year's day in 2013, Guy Stagg set out to walk alone from Canterbury to Jerusalem. He planned this journey, which would take ten months, cross 11 countries and cover 5500km, in the wake of severe depression, a suicide attempt and the powerful urge "to leave oneself behind".
Although he trekked from shrine to shrine, monastery to monastery, cathedral to cathedral, along the ancient routes of Christian pilgrimage, Stagg did not at the start – nor at the end – share the faith of the footsore wanderers who had trudged these paths before him. Instead, he was "a nonbeliever hoping a ritual would heal him". His pilgrim's progress begins in anguish and perplexity. It finishes not in triumphant conversion but in different shades of doubt. Stagg's quest for "the emptying of self" via slogging hardship, loneliness and exhaustion, his attraction to this "substitute suicide", leads not to some blazing epiphany. At most, he gains a clearer view of the hopes and fears he packed with his rucksack in Kent. The book (his debut) that he has made from his trip offers little in the way of facile pseudo-spiritual uplift. It is much richer, deeper – and more valuable – than that.
Stagg's pedestrian itinerary takes him through France, across the Alps into Switzerland, down the length of Italy to Rome, then – after a sea crossing – through Albania, Macedonia and Greece into Turkey. Leaving Istanbul, he traverses Turkey to its southern coast, where the grim realities of civil strife in Syria mandate a hop to Cyprus, a trek through that island, a passage to and through parts of Lebanon, followed by an airborne detour (the only one) via Jordan into Israel. As for so many weary travellers before him, the spiritual supermarket of Jerusalem proves a grievous disappointment. The "Holy Land" itself feels like a messianic madhouse afflicted by "righteous blindness". Sectarian egotists each claim a monopoly on "divine endorsement". In the Levant as a whole, the bloody chronicles of Crusade and foreign invasion contaminate the pilgrim's individual struggle for rebirth. Here, inevitably, "the history of sacred travel becomes a record of conquest".
As he walks the seasons pass, from the snowbound terrors of the Great Saint Bernard pass to the baking monotony of the Anatolian interior. Across peak and plain, forest and suburb, through blizzard, hail and heatwave, Stagg strides, or staggers, onwards despite falls, wounds, sickness, fever and the bouts of hopelessness that leave him – as when struck down by chronic diarrhoea on a Lebanese mountain – "crying at the shame and crying at the pain and crying at the fear as well". A sort of pantomime penitent, he follows the Christian pilgrims' map to Rome, Constantinople and Jerusalem without the inner compass of any settled faith. In flight from panic and emptiness, Stagg craves a direction and a purpose. He longs "to print my life with a pattern of its own". A weaker, smugger book might have, unambiguously, found one. Bookshop shelves now groan with self-help tomes that deploy the logistics of traditional pilgrimage (the Camino de Santiago has become a favourite route) to tell comforting tales of fast-track regeneration. A first-rate writer, and a tough-minded one, Stagg never downplays the confused masochism that helps drive him on to the next bare cell in a run-down convent or rubbish-strewn wayside shelter.
Pilgrimage cannot by itself allay the "hunger for hurt" that fed his former despair. Rather, he grasps that this epic walk may let him channel and control "the awful thrill of surrender". After all, "when we make our own suffering, the pain is a feeling like power". Few contemporary writers dare face the dangerous lure of sacrifice in a world – and among people – presumed to run exclusively on rational self-interest and the desire for personal or collective fulfilment. Yet the fatal attraction of martial jihad shows that, in the Islamic world at least, sacrifice can still re-write the rules of contemporary history. Stagg stays close to the Christian traditions of self-denial. "Today we have to crucify ourselves," a Cypriot priest tells him. Beyond his brush with Turkish politics as President Erdogan smashes the Gezi Park protests in Istanbul, he hardly touches on the recent wars of faith that have weaponised that "hunger for hurt" around the eastern stretches of his trek. Yet with candour, and clarity, The Crossway shows that even the solitary pursuit of "inner martyrdom" can enslave as well as liberate.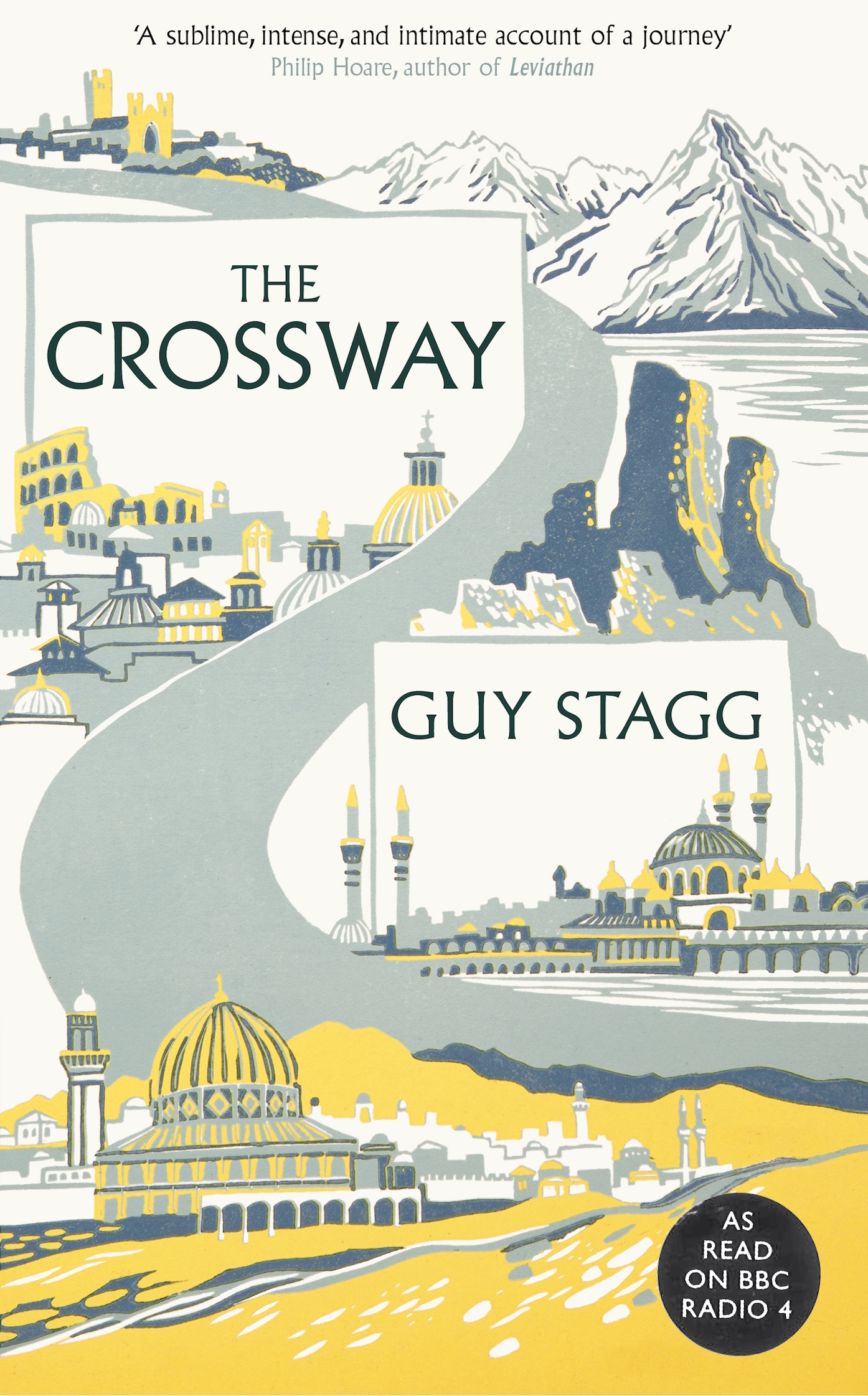 All the same, Stagg does find riches in abundance on his way. For a start, he writes with a sort of rapturous exactitude about the peoples, climates and landscapes he meets, from the rain that "lisped in the trees and applauded against the cliffs" in the Appenines to the glowing "outcity" of the Istanbul suburbs, "made strange by the night, like the endless wastes of the ocean floor". He fills in the history of Christian pilgrimage, sketches its star turns – such as Benoît-Joseph Labre, the French peasant lad who became the patron saint of pilgrims – and explains the growth of the monastic orders in whose surviving houses he finds refuge across swathes of Catholic Europe. Among these cheerful monks and nuns, but not only with them, Stagg receives the truest blessing of his trip. This is the understanding of sacrifice not as some self-abasing orgy of endurance but "the habit of kindness", or "the steady practice of patience". "The charity of so many strangers" keeps both his hope – and his body – alive. He finds those routine customs of hospitality in pretty good shape everywhere. People of all backgrounds cherish them. Among the pious country folk of rural Turkey, during the broiling, parched, hungry days of Ramadan, he discovers that "Their religion was not ritual, or prayer, but the practice of sympathy performed day after day".
Debating with the Orthodox mystics of Mount Athos, Stagg finds that "I could not reason my way across leap of faith". That leaps eludes him in Jerusalem, as it had in Canterbury. No final revelation crowns the march. As a Protestant pastor tells him in Albania, "In every country there are proud men and wicked men, injustice and sin. Everywhere the same. So why walk?"
In part, because that "habit of kindness", which the sole pilgrim stirs into action, from Picardy to Thessaly to Galilee, yields a powerful antidote to the beguiling fantasy of suicide as "a form of salvation". Readers may also draw their own lessons from Stagg's open-ended, open hearted journey. For this one, The Crossway prompted no nostalgia for a lost age of zeal and faith. It shows, rather, that pilgrimage loses its way when doubting seekers swell into a crowd, a sect or (worse) an army. Stagg states that, apart from the need "to mend myself", he wanted to explore "the major crises of Christianity", as the faith declines in Western Europe West and faces fresh persecution in the Middle East. Yet you notice that the scriptural virtues he admires appear to survive better in "secularised" societies than in states and regions where politicised religion now holds sway. Even the reflex goodness of those Anatolian peasants has nothing to do with Islamist dogma. Stagg is not the first pilgrim, nor the last, to learn that the last place to look for the Kingdom of God is in Rome or Jerusalem.
The Crossway by Guy Stagg (Picador, £16.99)
A first-rate writer, and a tough-minded one, Stagg never downplays the confused masochism that drives him on
rating
Explore topics
Share this article