Global Music: The Best of 2012 |

New music reviews, news & interviews
Global Music: The Best of 2012
From Pussy Riot to Gangnam Style via Africa Express - was this the year pop music finally went global?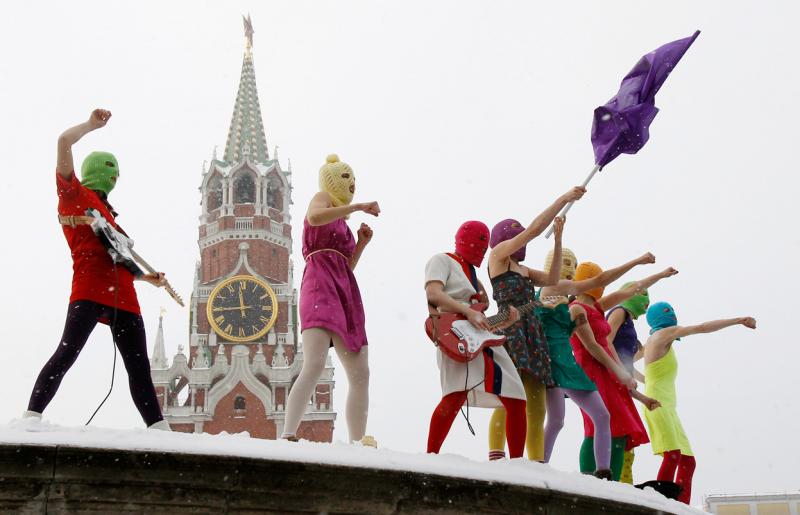 Pussy Riot: Balaclava revolution
For years there have been pundits predicting that just as our high street restaurants and football teams represent a much more globalised world, surely pop music would follow suit. Fifteen years ago my local high street had a Wimpy Bar, a curry house and a wine bar – now we have Vietnamese, Turkish, Keralan and Mexican eateries to name a few – and the street is much better for it. Pop music, though, has been clinging to its Anglo-Saxon power bases in the US and the UK (the language helps, of course).
But in 2012 you could claim that the most significant group and track were outside that US/UK axis. Anointed band of the year by The Guardian and numerous others, Pussy Riot (see video above) at least should get an award for publicity genius, with massive worldwide coverage for three minutes of noise in a Moscow Cathedral. Thirty-five years after punk's heyday, the Russian band managed to rattle the authorities and got everyone from Madonna to Peter Gabriel supporting them (although by boosting Pussy Riot, they made people realise how lacking in radicalism they are themselves). It was like Mel Tormé supporting the Sex Pistols. The court case also made it clear that their case against Putin and the Church was not an inchoate roar of dissent, but an articulate, intelligent arrow into the heart of the Church and State. Two of the band now languish in prison in the wilds of Russia.
If you want YouTube hits, don a coloured balaclava and do a horse dance and get the iPhone out
Track of the year? It would be hard to argue against Psy's "Gangnam Style", the song that ate the world and had a billion YouTube hits by the year's end. Referenced by everyone from Boris Johnson to Ban Ki Moon, this had a pudgy Korean guy taking the piss out of a chic area of Seoul. You would have had to have spent the entire year under a boulder in Outer Mongolia to avoid it. One of the reasons it was so successful was that it was easily parodied and new versions of the song appeared on a daily basis, from the earnest (the art world's solidarity with the Chinese dissident Ai Weiwei) to numerous sports teams in the U.S. customising the track. Other memes already in existence came together with it such as the Downfall version (see video below).
K-Pop from South Korea already had some traction worldwide, but nothing like Psy. The success of his track lead to weighty opinion about Korea's economic and cultural emergence in publications like Foreign Policy and the Economist. Part of the appeal was that unlike the glossy, well-scrubbed proponents of K-Pop, Psy has an anarchic sense of humour. Both Pussy Riot and "Gangnam Style" had easy ways for the audience to identify with them – if you want YouTube hits, don a coloured balaclava and do a horse dance and get the iPhone out. Preferably in the same video.
One thing that was noticeable in both was that in the olden days, a single would be a marketing teaser for the album, which was where the real money was. But has anyone heard either the Psy or Pussy Riot albums, should they even exist? (There is a Psy album, with "Gangnam Style" on it actually, but no one outside Korea seems to have heard it).
It may be possible these two were freakish events like the Macarena craze of whenever that was. But there were other examples of global music going mainstream, noticeably in the sizeable hit (and my favourite pop-dance track of the year) "Oliver Twist" by D'Banj.
Subscribe to theartsdesk.com
Thank you for continuing to read our work on theartsdesk.com. For unlimited access to every article in its entirety, including our archive of more than 10,000 pieces, we're asking for £2.95 per month or £25 per year. We feel it's a very good deal, and hope you do too.
To take an annual subscription now simply click here.
And if you're looking for that extra gift for a friend or family member, why not treat them to a theartsdesk.com gift subscription?