London Philharmonic Orchestra, Vasily Petrenko, Royal Festival Hall |

Classical music reviews, news & interviews
London Philharmonic Orchestra, Vasily Petrenko, Royal Festival Hall
The phenomenal Russian conductor goes the extra mile in Shostakovich
Thursday, 25 November 2010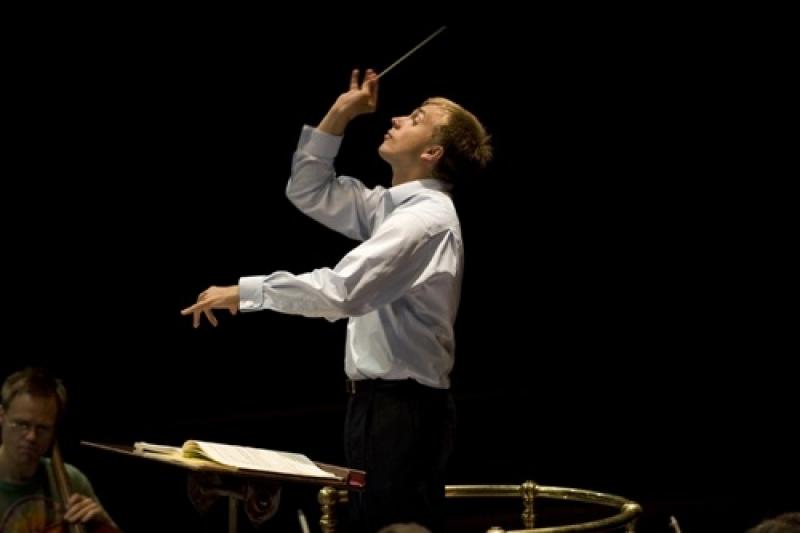 Vasily Petrenko: Combining elegant ease and the wow factor in Shostakovich
Is Shostakovich's Eleventh a great, grim epic symphony worthy both of its toughest predecessors – 4, 8 and 10 – and of the 1905 massacre it avowedly commemorates, or long-winded film music too subservient to its revolutionary-song material? I used to think the latter, but three conductors have made me change my mind: Rostropovich, taking infinite care over the conjuring of icy Palace Square wastes, Semyon Bychkov winning over the BBC Symphony Orchestra at the Proms and now Vasily Petrenko, pulling off the most profound and surprising coup in what I once found the weakest movement, the finale.
That in itself was enough to tell us that Petrenko isn't just a supremely elegant conductor, an easy stylist able to make Stravinsky's fiddly early Scherzo fantastique sound natural and to paper over the cracks of a tottering soloist, Oleg Marshev, in Prokofiev's Third Piano Concerto, but already one with the wow factor, the ability to go beyond merely brilliant music-making to something altogether deeper and more unexpected.
For the first three movements of Shostakovich's hour-long narrative, I went along with all the sonic marvels but I can't say I felt it in every bone of my body. This is master storytelling on the composer's part, but is he doing any more in terms of space and drama than Vyacheslav Vyskosky in his 1925 film The Ninth of January (pictured below)? The astonishing thing about young Petrenko's Shostakovich symphonies on disc so far, especially his recent, radically rethought account of the Tenth, is the line he conducts through long-term arguments, reclaiming these works from mere chronicles of Soviet history to towering symphonies in their own right. That isn't so easy to do with the brooding atmosphere Shostakovich conjures in the first movement of the Eleventh, more of a prelude with songs and snatches. But what songs: it was Anna Akhmatova who heard in the two flutes intoning "Listen!", a sombre prison ballad, "white birds flying against a terrible black sky". Poignant work here from the LPO woodwind, complemented by the ominous trumpet calls and a silky depth in the cellos' phrasing which I haven't heard in such a work since Rostropovich's last, shattering LSO performance of the Eighth Symphony.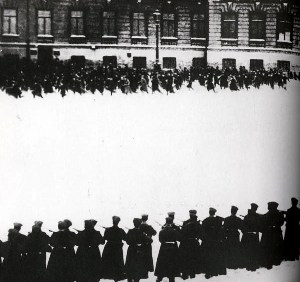 The people stir against the Tsar's troops in the second movement, starting last night with no noticeable gear change but a quite amazing susurration from within, like the inchoate cries of the rebellious sailors in Britten's Billy Budd (premiered, incidentally, in 1951, only six years before the symphony). Some performances make this sequence feel like one uprising too many, but Petrenko kept the struggle razor-sharp through to the overwhelming blitz of the massacre, percussion tattoo never overwhelming the thematic transformations which are still going on above it. He treated the lament of the slow movement - the very moving "Eternal Memory", which an old student of mine once sang to me, recalling it from her youthful days in "our red Vienna" - as the simple song it is, violas rejecting sophistication until their string brothers joined them.
But it was the finale which stunned me: Petrenko brought electrifying incisiveness to the treatment of the famous revolutionary song "Varshavianka" and convinced us that the struggle might almost, jubilantly, be won before its horrifying implosion. This time the return of the frozen Palace Square hymns and shudders, capped by Sue Bohlin's supremely eloquent cor anglais solo - every player of this instrument in London seems to be getting plaudits these days - brought tears to the eyes. And the final drive against the inexorable Musorgskyan tocsin, even if the bell could have been more apocalyptic, was simply hair-raising. No wonder Petrenko had metamorphosed from the well-groomed, smiling young man into a deathly pale wreck at the end: I'd hazard a guess that this finale took him and the orchestra to places they hadn't anticipated.
Marshev's slip could have sent the orchestra off the rails, had Petrenko not been super-alert, and most of the audience wouldn't have known that, having lost the plot, the pianist simply made the last minute up
So it was probably just as well that the first half was well ordered and vivacious, at least from the orchestral point of view. Stravinsky's early, pre-Firebird Scherzo fantastique - completed, in fact, only a couple of years after those momentous 1905 events in his home city of Petersburg - mixes Debussy with Wagner and adds fiendish touches for zinging harps and flutter-tonguing flutes and trumpets. This effervescent homage to Maeterlinck's Life of Bees sounded more delicately humoristique than luridly fantastique last night, and all the better for it.
As was the LPO's contribution to Prokofiev's Third Piano Concerto, superbly well sprung in its wonky gavottes and toccata-like charges. I've enjoyed Oleg Marshev's concerto recordings, but this was not a good night for him. Though he played the few quiet passages with a spellbinding sense of mystery, it would have taken the tonal sparkle of Kissin or Simon Trpceski to match what Petrenko's players were up to. In the finale, Marshev's slip could have sent the orchestra off the rails, had Petrenko not been super-alert, and most of the audience wouldn't have known that, having lost the plot, the pianist simply made the last minute up.
Scary stuff. Which didn't stop him coming on for a crash-bang Liszt encore. Exactly the sort of playing which reminded you why Khatia Buniatishvili's B minor Sonata the other week was truly special, though many folks hated it. With such brilliant expressiveness on the increase among the younger generation, not-so-rock-solid virtuosos like Marshev are going to have to look to their laurels. But last night belonged to Petrenko, and a standing ovation for the Shostakovich was absolutely in order.
Watch Vasily Petrenko conduct the Royal Liverpool Philharmonic Orchestra in the wacky finale of Shostakovich's Sixth Symphony:
No wonder Petrenko had metamorphosed from the well-groomed, smiling young man into a deathly pale wreck at the end'
Share this article
theartsdesk is changing
Thank you for continuing to read our work on theartsdesk.com. In September we reached our fourth birthday and feel that the time is now right, in line with other media outlets, to start asking our regular readers for a contribution to help us develop the site further. Theartsdesk has therefore moved to a partial subscription model. For unlimited access to every article in its entirety, including our archive of more than 7,000 pieces, we're asking for £2.95 per month or £25 per year. We feel it's a very good deal, and hope you do too.
Take an annual subscription now simply click here.