Walter Sickert, Tate Britain review - all the world's a stage |

reviews, news & interviews
Walter Sickert, Tate Britain review - all the world's a stage
Walter Sickert, Tate Britain review - all the world's a stage
The artist as voyeur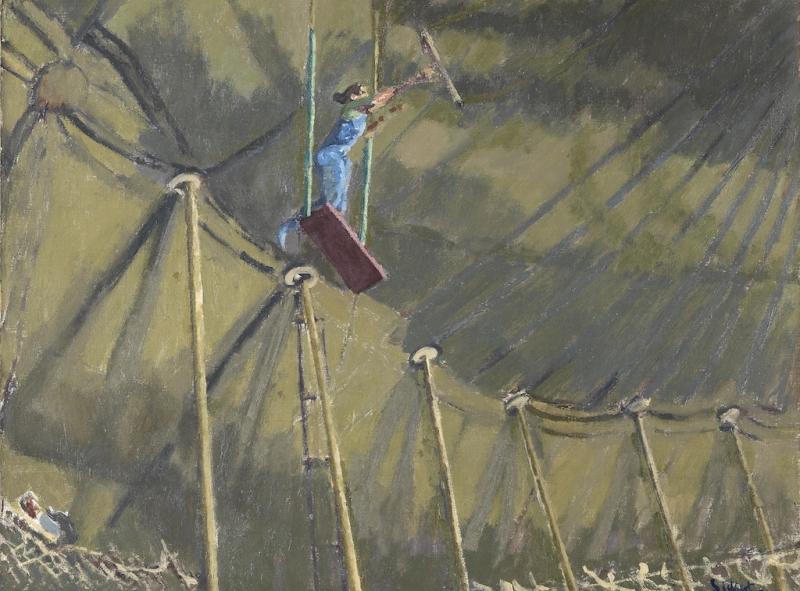 The Trapeze, 1920 by Walter Sickert
Who was Walter Sickert and what made him tick? The best way to address the question is to make a beeline for the final room of his Tate Britain retrospective. It's hung with an impressive array of his last and most colourful paintings.
Based on newspaper photographs, playbills and publicity shots scaled up for transfer onto canvas, they make a strong argument for viewing Sickert as a
modernist
– a precursor to artists like Marlene Dumas, Luc Tuymans and even Andy Warhol, who explore the alienating effects of the mass media on people in the public eye and their followers.
By contrast, the early rooms are hung with paintings so dark that your eyes can't adjust to them, especially if you've come in from bright sunshine; trying to decipher their almost black surfaces feels like peering into the void.
Before reaching that last room, I'd spent the entire exhibition trying to fathom this artist who seems as slippery as an eel. Light – its presence or absence – was clearly an ongoing preoccupation. For instance, in his 1923 portrait of the artist Cicely Hey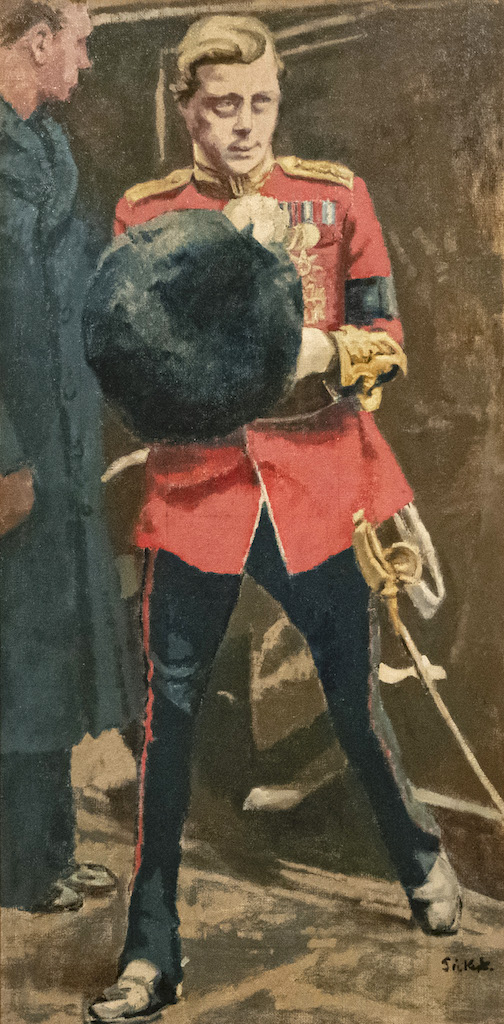 who was a close friend, he focuses on the firelight shining on her face and turning her features into a ghoulish mask. The sitter is merely one of his "studies of illumination".
Much is made of the fact that Sickert started out as an actor and remained enamoured of the stage. He went to cafés, music halls or theatres nearly every night, but his many paintings of performers – whether music hall singers, trapeze artists, Shakespearean actors or seaside clowns – lack the buzz of excitement captured by Degas, Manet and Toulouse Lautrec in their paintings of Parisian night life. Again, Sickert seems more interested in light – the glare of footlights on the performers, glinting off ornate gilding or illuminating the riff-raff in the balcony (pictured below left: Gallery of the Old Bedford 1894-5) – than in the atmosphere of the place.
His friend and mentor Edgar Degas was a key influence in his choice of subject matter and also in his habit of working from sketches or, later on, from photographs. The odd perspective of The Trapeze, 1920 (main picture) pays homage to Degas' Mlle Lala at the Cirque Fernando, 1879. In Degas' painting, you can almost hear audience members catch their breath as they watch the twirling Lala hang by her teeth, but Sickert's trapeze artist is dwarfed by the dome of the big top. Seemingly lost and lonely, she might as well be performing to an empty house.
Nuit d'Amour, 1922 shows the green exterior of Vernet's, a cafe which the artist visited every night when he lived in Dieppe. The warm glow of the chandeliers and the glimpse of a violinist entertaining the punters makes the interior extremely inviting but, as in an Edward Hopper painting, we are outside looking in. Easter, 1928 (pictured below) features another exterior, of a shopfront. The windows of Dawson Brothers, a draper's on City Road near Old Street, are filled with Easter bonnets suggestive of happy gatherings and Easter Parades. But it's late, the shop is closed and the loan figure on the pavement outside peers longingly in the window.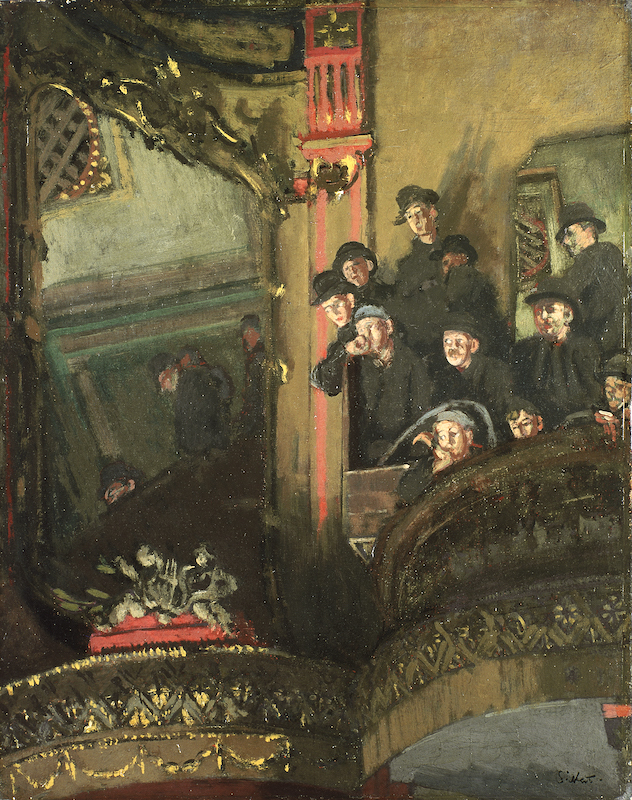 An image is forming in my mind of Sickert as an observer – a voyeur who prefers to watch rather than engage and who often feels like an outsider. The idea is confirmed by the glorious paintings in the final room in which he grabs an image from a newspaper, blows it up, transfers it onto canvas with the help of a camera lucida and thus transforms a split second of time into a snapshot of an era. Edward VIII (pictured above right) is shown nervously stepping into the public eye, hopelessly unprepared for royal office (he would abdicate a few months later). Jack and Jill, 1938 features Edward G. Robinson and Joan Blondell, stars of the gangster movie Bullets and Ballots. Sickert has drained all the warmth from the original publicity shot to make the pair look as terrified as rabbits caught in the headlights – trapped in the glare of publicity. Seeing and being seen – whether on the world stage, in the theatre, or on screen – is the main subject of paintings which anticipate Warhol's explorations of celebrity by nearly 30 years.
Retracing my steps I become aware, though, that things are more complicated. With eyes now attuned to the light, I can see the earlier pictures more clearly. Painted in the sombre browns and ochres that Sickert preferred for most of his career, Ennui, 1913 shows a couple stuck in a relationship of mutual indifference. The man gazes into the distance, smoking, while leaning on a chest of drawers, the woman stares at the walls of the dreary room as though in surrender to abject despair. The atmosphere is as lifeless as the dead birds trapped under a bell jar beside her elbow.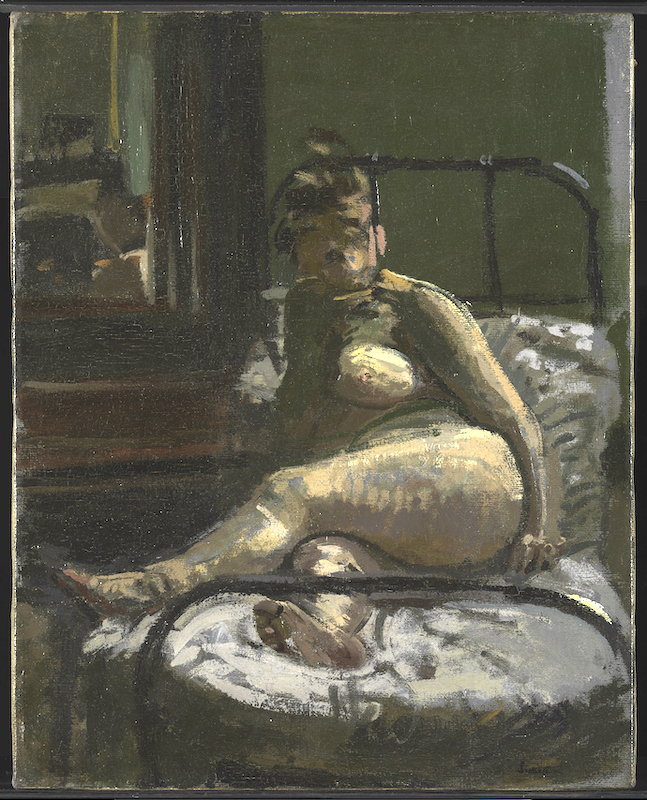 A similar mood of dejection permeates the Camden Town Murder series, which feature a naked woman lying on an iron bedstead in a dingy room (pictured right: La Hollandaise c.1906). In What Shall We Do For the Rent? 1908 a man sits beside her, head bowed as though agonising over the question. The implied answer to the problem is prostitution, but the title of the series refers to the recent murder of prostitute Emily Dimmock, which amply demonstrated the risks involved in such a choice. In L'Affaire de Camden Town 1909, a client looms over a naked woman as if contemplating what to do next, while an associated drawing shows him strangling her.
Sickert's attitude to these sorry scenes remains ambiguous. While apparently sympathising with the plight of the women, he makes them as unappealing as possible. Their heavy bodies and ungainly poses (they often lie with legs splayed) and the addition of details such as a chamber pot under the bed emphasise the sordid reality of the encounters he portrays. Far from being seductive, his nudes represent sex as a squalid transaction without a scintilla of romance.
But there's an even more sinister dimension to the series. Sickert's fascination with Jack the Ripper and the murders he committed in Whitechapel in 1888 is well known, but recent research reveals that he actually wrote to the police claiming to be the killer and even decorated his letters with sketches of men brandishing knives over naked women.
Yet this would-be murderer would later liken himself to an Old Testament patriarch. In The Servant of Abraham, 1921, he stares at us as though in judgement. Sketchily painted in browns and ochres, his head appears to belong to a figure of enormous stature, both physically and metaphorically – a veritable giant among men.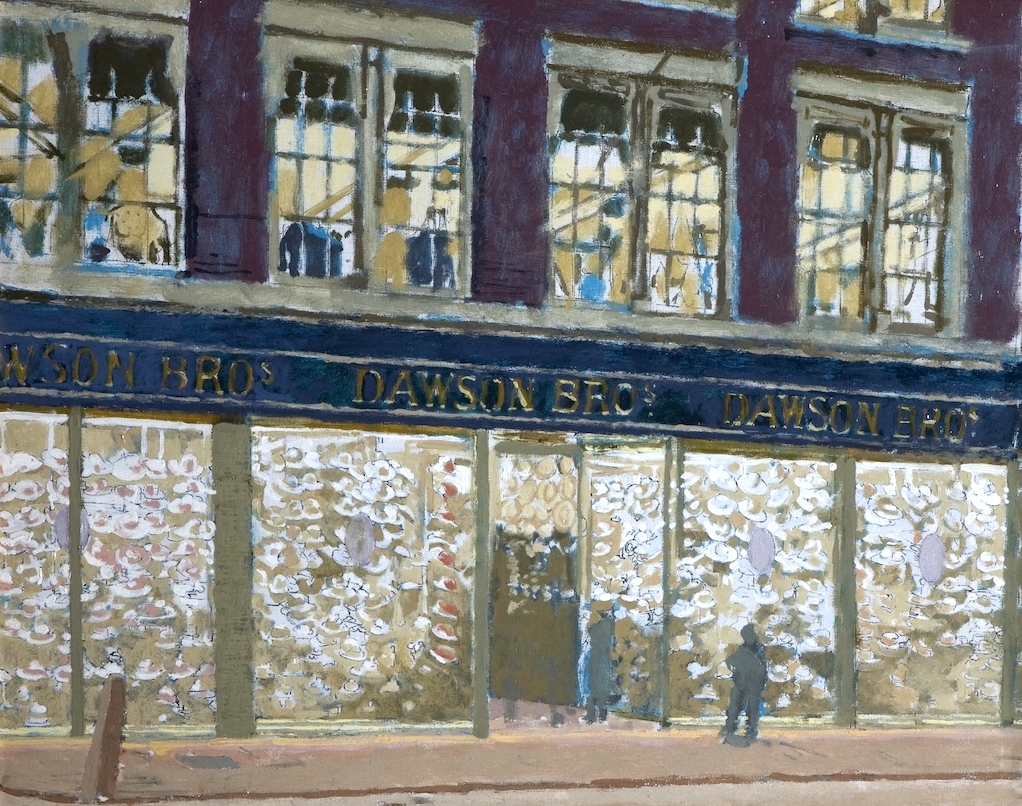 For Sickert it seems that painting was mainly a form of story telling – a platform for the performance of various scenarios – or an opportunity to witness real performers and their audiences. Having given up acting, he became the archetypal voyeur, fascinated by watching and being watched and also by light, the element that makes looking possible.
I'd spent the entire exhibition trying to fathom this artist who seems as slippery as an eel
rating
Explore topics
Share this article