Saul Leiter, Photographers' Gallery |

reviews, news & interviews
Saul Leiter, Photographers' Gallery
Saul Leiter, Photographers' Gallery
The pioneer of colour photography you have yet to hear of
Leiter's 'Taxi', 1957
One of the great joys of being a critic is discovering someone remarkable you've never heard of before. By the time he died in 2013 aged 90, the American photographer Saul Leiter had gained a degree of recognition, but it had been slow in coming and only now is his work gaining an international reputation.
His contemporary, Robert Frank, became internationally famous – mainly as the result of his seminal book The Americans, 1958; but while he was given a solo exhibition at the Museum of Modern Art (MoMA), New York in 1962, Leiter had to make do with inclusion in group shows. Both specialised in street photography, but whereas Frank shot his desolate pictures in black and white, the only form of documentary photography taken seriously at the time, Leiter revelled in the beauty of colour, which was dismissed by most practitioners as frivolous, gaudy and fit only for amateurs.
I remember, in the mid-1970s, having violent rows with a photojournalist at the London College of Printing (now the London College of Communication) where I taught in the photography department. He argued that only black and white film could capture "the truth": all else was heresy. When I remarked that his position was hard to justify since we see in colour, he nearly died of a heart attack, such was the vehemence of his belief.
And such was the prejudice that Leiter was up against. Thankfully, though, it didn't deter him. He saw himself, first and foremost, as an artist working in film and paint and, although the paintings on show are rather slight and whimsical, his painterly eye produced photographs of rare beauty and subtlety. While Frank's pictures of urban alienation have immediate, hard-hitting impact, Leiter's images are so complex they often take a while to decipher – perhaps another reason for his slow rise to fame.
Take Harlem, 1960 (pictured above right) for instance. A black man in a panama hat and beige jacket smokes a cigarette as he walks under the black awning outside a bar. There's nothing to this chance encounter with a passer-by, except for an amazing synchronicity of colour. The man's beige jacket matches the lettering on the awning announcing HOUSE, while his tie matches the red cab of the lorry parked behind him and the lettering on the vehicle advertising Walker's Gin. A man in a black coat walking the other way frames the left side of the picture while a black dustbin frames the right side. The coup de grâce is the beige and red sign overhead that reads BAR and completes the colour composition.
If this were a painting by Whistler, the image might be called Harmony in Beige, White, Red and Black and it would have been artfully contrived. Leiter's photograph, on the other hand, was completely unplanned. "I've never had a system or a project," he insisted. "I don't go out looking for things. I wander around with my camera, like a flâneur." The paradox is that he responded to "unimportant things" spotted en passant, yet the viewer often has to spend time unravelling this split second of information.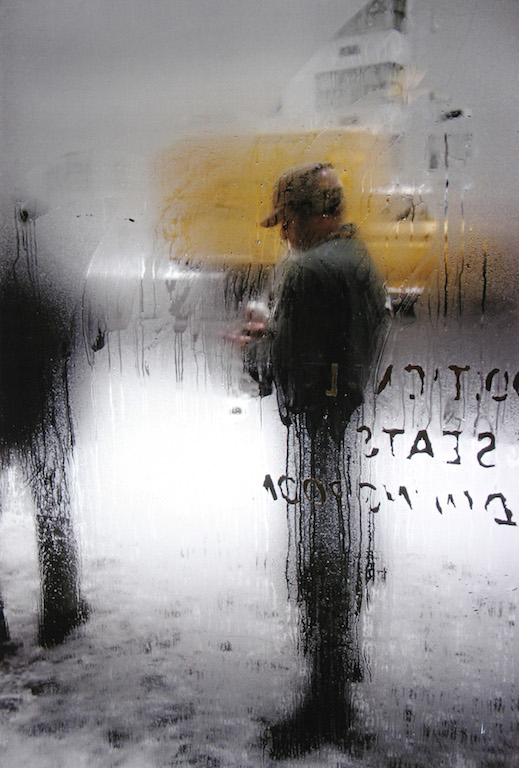 Leiter loved reflections, odd perspectives and things framed by or seen through windows, such as the passenger glimpsed through the window of a passing taxi (main picture). He was especially drawn to the visual effects created by inclement weather, such as rain or snow, describing his endeavour as "a search for beauty... Photography teaches you to look." And looking is often the main topic. "I like it when one is uncertain what one sees. When we do not know why the photographer has taken a picture and when we do do not know why we are looking at it, all of a sudden we discover something..."
Green Light Against Grey, from the1950s, shows a green traffic signal feebly glimmering through a thick blanket of snow. Shot through a snow-sodden window, Snow, 1960, (pictured above left) features a woman whose upper body is an out of focus blur, while her legs appear to be dissolving into rivulets of damp. The only elements in focus are some words scrawled in the wet of the shop window. Writing is similarly important in Postmen, 1952, (pictured below right). Festooning the wall behind two postmen braving a snowstorm are Coca Cola, Pepsi and 7 Up signs that seem to offer the promise of warmer times ahead.
Leiter was friends with abstract expressionist painters such as Willem de Kooning and some of his photographs are as abstract as their canvases. Purple Umbrella, dating from the 1950s, is a blurry view of a wet road framed by the curves of a brightly coloured umbrella. A black shape covers two-thirds of Canopy, 1957; beneath the blind, one glimpses the huddled silhouettes of people battling their way through a blizzard on the street outside. In Kutztown, 1948, a cluster of feet is all that's visible of the crowd standing the other side of a barrier among discarded rubbish and deflated balloons.
William Eggleston is usually given credit for discovering the full potential of colour photography. A generation younger than Leiter, he was accorded a MoMA retrospective as early as 1965. It must have been galling for Leiter who had begun exploring colour in 1948, often using out of date film stock for the subtlety and unpredictability of the results; but he suffered the fate of many pioneers, who are ahead of their time – to be denigrated or overlooked. Far from being bitter, though, he remained modest and good-natured until the end, by which time he had been honoured with a retrospective at the Fondation Henri Cartier-Bresson in Paris. Now his influence is growing apace; film director Todd Haynes, for example, cites Leiter as the inspiration behind recent films such as Carol, which won unanimous applause for the beauty of its camerawork.
He saw himself as an artist working in film and paint and his painterly eye produced photographs of rare beauty and subtlety
rating
Explore topics
Share this article