Picasso Portraits, National Portrait Gallery |

reviews, news & interviews
Picasso Portraits, National Portrait Gallery
Picasso Portraits, National Portrait Gallery
Experimental and incisive, portraits that reveal a man as vicious as he was affectionate
Thursday, 06 October 2016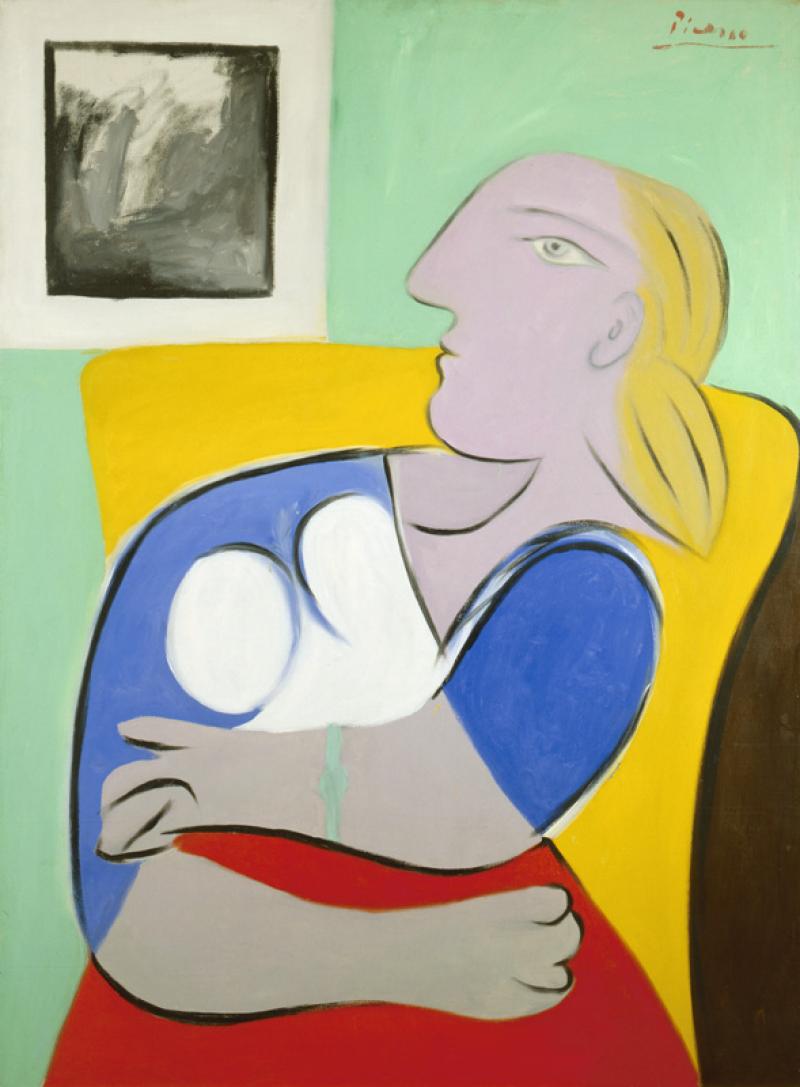 Pablo Picasso, 'Woman in a yellow armchair', 1932
There's something familiar about those dark, piercing eyes, but the impenetrable, mask-like countenance of Picasso's Self-Portrait with Palette, 1906, is ultimately unknowable. In fact, the painting serves as something of a rebuke: we think we know Picasso so well, but we don't.
It's a theme emphasised by the hang of this exhibition, and the bewildering range of styles and formats from Picasso's early years results in a visual discord that underlines his chameleon-like tendencies.
There are tiny, pen and ink portraits of his cronies at Els Quatre Gats, the legendary watering hole of Barcelona's artists and writers, and larger, meditative self-portraits that flit between styles and moods: a dark, introspective piece in the manner of Velasquez is paired with his self-portrait in an 18th-century wig, the loose brushstrokes in keeping with the louche persona he has adopted.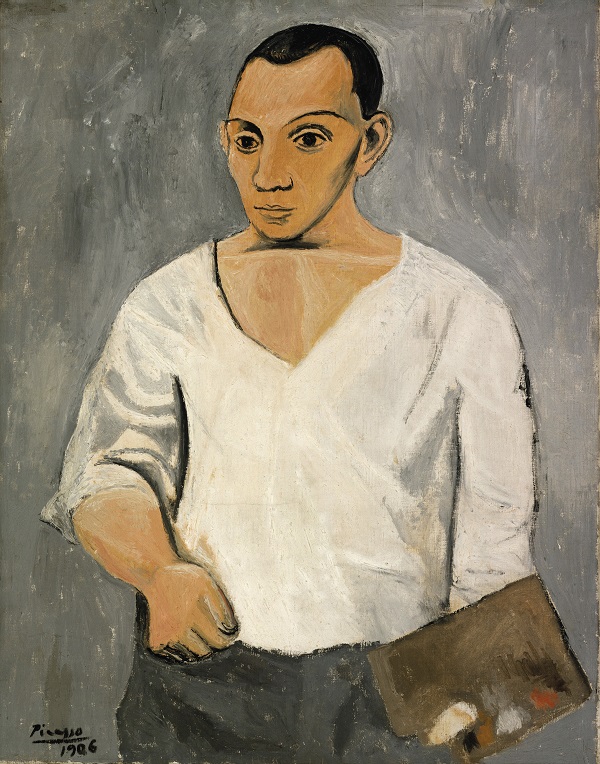 Picasso wasn't doing anything particularly outlandish of course, the study of the Old Masters was standard practice for students learning their craft, and it is usual for artists to go through phases, imitating others as they find a voice of their own. Picasso did all of these things. And yet you get the sense that for him this was less a process of developing artistic maturity and more an early declaration of a multi-faceted artistic persona.
A frank homage to Cézanne's own portrait with a palette, Picasso's painting (pictured right) serves as a sort of manifesto, setting out the interests and preoccupations that would recur throughout his career. His dialogues with his artist ancestors, from pioneers of modernism like Cézanne to the Old Masters, deepened with age, culminating in the complex interrogations of works by Velasquez and Rembrandt that form the culmination of this exhibition.
For some artists, portraiture forms a discrete strand of endeavour not always easy to reconcile with the rest of their work, but for Picasso, portraits of friends and family provided an opportunity to experiment with ideas that relate directly to his wider practice. The mask-like face of his self-portrait, inspired by his interest in African art, would become a familiar motif, with African masks appearing most famously in Les Demoiselles d'Avignon, 1907, where they introduce a note of menace and savagery, while in the Portrait of Gertrude Stein, 1906, the same device stands for classicising solidity and permanence.
Here though, the mask subverts the usual power relationships of portraiture, and combined with a physical presence more suited to a boxer than a painter, it returns our gaze with force. Pared down to simple, clean lines, the painting alludes to the classicising tendencies that would recur in Picasso's work, while simultaneously casting him as a worker, an artisan, a man of purpose.
In light of this self-portrait, Picasso's use of different styles seems to parallel his fondness for experimenting with different personas, fitting style and technique to each subject much as he might select costumes and props. Nusch Éluard, 1937, is a feast of vivid colour, the simplified, abstract treatment of the face exaggerating her eyes, mouth and teeth, to create an overwhelming impression of laughter and gaiety. In contrast, his studies of Marie-Thérèse Walter have the quality of Old Master drawings, emphasising his imagining of her as a Renaissance Madonna.
Picasso's portraits often include elements of caricature, allowing him to enhance aspects of his subjects' personalities and appearance. But he was just as inclined to employ caricature in undiluted form to poke fun at people, and his friend Jaume Sabartés, later his biographer and secretary, was a frequent target for brutal ridicule (pictured above left: Humorous Composition: Jaumes Sabartes and Esther Williams, 1957). While it is said that he reserved this sort of treatment for his nearest and dearest, Picasso's mockery of his adoring friend betrays a hefty measure of contempt mixed in with affection.
If Picasso's treatment of Sabartés sometimes looks a lot like bullying, the room devoted to Picasso's first wife Olga catalogues the death of a love affair in heartbreaking and sometimes sadistic detail. From the elegant, Ingres-inspired beauty of 1918, Olga becomes gradually more distant, her slight ballerina's body cruelly transformed into a great mountain of flesh in a drawing of her and their infant son from 1921.
Picasso's skills as a caricaturist come to the fore in his famous Woman in a Hat (Olga), of 1935, the abstract style allowing the mocking emphasis of Olga's taste in hats, the downward slant of the mouth and sickly complexion an unforgiving treatment of a woman in the pit of despair. The extent of their estrangement is bitterly expressed by the comparison with the portrait of Dora Maar (main picture), whose voluptuous and inviting body is rendered in sweeping curves and joyful colours.
Picasso's mockery of his adoring friend betrays a hefty measure of contempt mixed in with affection
rating
Share this article