Monochrome, National Gallery review - colourless but not dreary |

reviews, news & interviews
Monochrome, National Gallery review - colourless but not dreary
Monochrome, National Gallery review - colourless but not dreary
An arcane subject brought to life in an ambitious survey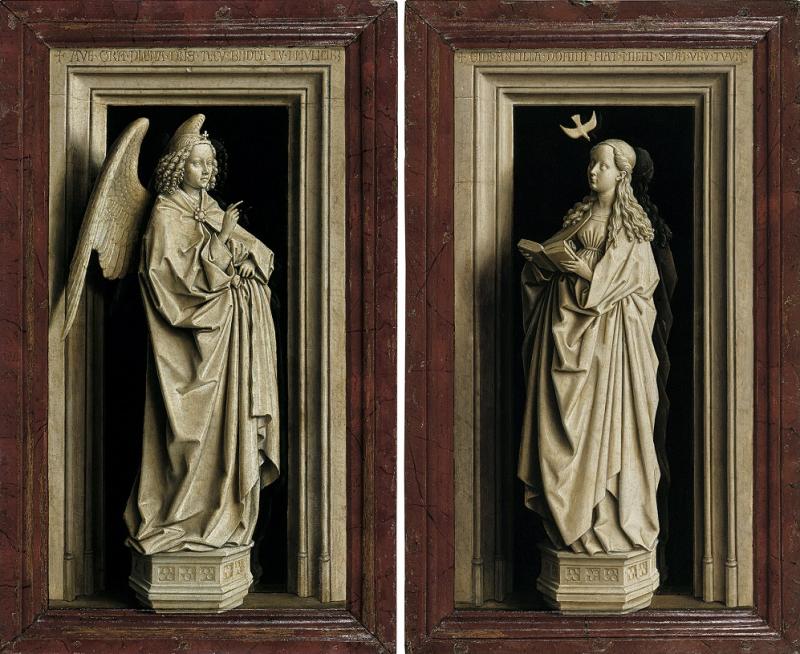 Jan van Eyck, about 1433–5, 'The Annunciation Diptych' (The Archangel Gabriel; The Virgin Mary)
Might a painting ever achieve the veracity of a sculpture, a "real" object in space that we can walk around and view from every angle? Could the documentary quality of an engraving ever be equalled by a painting? And how could painting respond to photography – drawing with light – an invention that in the 19th century prompted a thorough reconsideration of painting's purpose.
From the paragone debate of the Renaissance, in which the relative merits of painting and sculpture were considered in a spirit of fierce competition, to more recent challenges presented by new and changing technologies, the overwhelming point made in the National Gallery's new exhibition, subtitled "Painting in Black and White", is that over the centuries, the art of painting has weathered many storms. And as curators Lelia Packer and Jennifer Sliwka put it, "Painters have often, it seems, restricted their use of colour when they have wanted to demonstrate the superiority of painting over other art."
And so while artists had been using grisaille – painting in greyscale – since the 15th century to map out tonal values in preliminary studies for paintings, the most thrilling examples of the technique tend to be those that mimic carved stonework in virtuosic displays of painterly skill. Van Eyck's exquisite little diptych – it's worth visiting just to see this – presents the Annunciation as fictive sculpture, with the figures of Mary and Gabriel occupying individual niches, set against a background that imitates highly polished black marble (main picture). In this mirror-like surface, the backs of the "sculptures" are reflected – not just a breathtaking flight of painterly trickery, but a neat riposte to those sculptors critical of painting's inability to represent an object in the round. The fictive stone dove is one in the eye for sculpture, too: fluttering overhead it defies its supposed materiality in a way that could only be achieved in paint.
In its unusual position on the inside of the diptych, Van Eyck's exemplary grisaille draws attention to the religious function of monochromatic painting, an association that predates the paragone and continued to resonate in much later devotional objects. In the early 15th century, it was increasingly common for grisaille-work to appear on the outside of large winged altarpieces in northern Europe: the doors would be shut during Lent, opening again at Easter to reveal a richly coloured central image in an act that achieved theatrical impact through the contrast of monochrome with vivid colour.
A more nuanced use of the technique to indicate a change of mood or pace is seen in Frans Francken II's The Parable of the Prodigal Son, 1633, and here grisaille reinforces narrative hierarchy by evoking the passage of time, ensuring that the central, polychrome image is understood as the culmination of a series of events. The absence of colour acts as a visual mute in a magnificent indigo cloth from Genoa, one of a set of wallhangings that would have decorated a temporary chapel during Holy Week in a display of pious ostentation.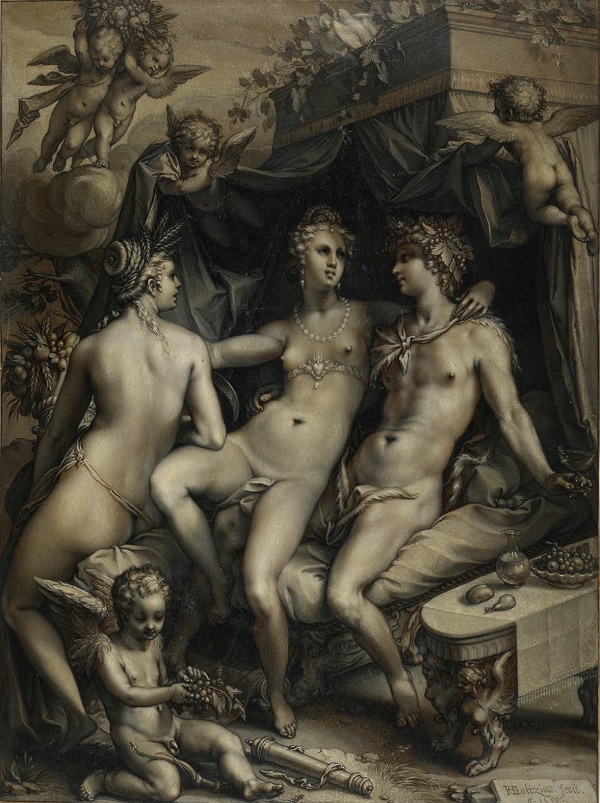 The allure of monochrome takes a different character in the work of Dutch painter Adriaen van de Venne (1589-1662), the first artist to devote himself exclusively to monochrome paintings. The technique allowed him to work relatively fast, producing paintings of varying quality for a broad clientele, but also lends a suitably impoverished timbre to lowlife subjects such as Arme Weeld, A Procession of Revelling Cripples and Beggars, 1635.
Quite the opposite effect is achieved in Ingres' grisaille copy of his 1814 painting, Grande Odalisque (pictured above), made, one assumes, with the primary intention of producing a record of his work. Reduced to its bare essentials the painting dispenses with the orientalising details of the original, focusing attention on the modelling of the body, and so imparting an intensity quite independent of the original.
Grisaille brings luxurious sensuality to a bewitching oil on paper depicting the Roman proverb Without Ceres and Bacchus, Venus Would Freeze, 1599 (pictured above right). Made by the master printmaker Hendrik Goltzius, the modelling of the figures is so lustrous as to appear almost sculptural, and the painting demonstrates not only the visual possibilities afforded by a limited palette, but the extent to which monochrome paintings could be prestigious, luxury objects, here responding directly to the aesthetic of the print.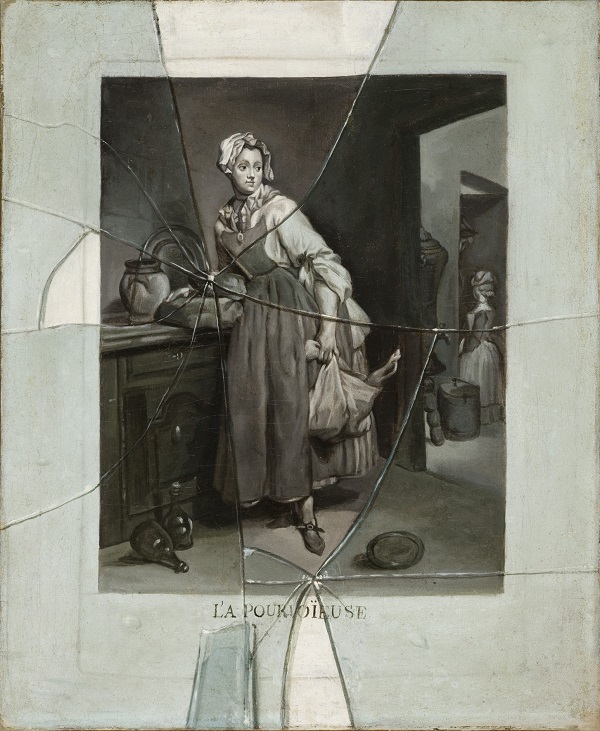 By the late 16th century, prints were a considerable rival to painting, but they also featured heavily in artists' practice, often made to record paintings before they left the workshop, their circulation an important aid to the exchange of ideas. This immersion in the visual language of printmaking must have made emulating prints an activity all the more to relish, resulting in works like Etienne Moulinneuf's playful painting after a print after Chardin, complete with trompe l'oeil broken glass (Pictured left: Etienne Moulinneuf after Jean-Siméon Chardin, Back from the Market (La Pourvoyeuse), about 1770). Responding to the rise in printed maps and documents, Goltzius invented the new technique of pen painting, in which he mimicked with remarkable accuracy the lines produced by a burin.
Early photography took its lead from the aesthetics of painting, but as painters themselves experimented with the new medium the two forms established a dialogue that continues today. The abandonment of colour has been central to the radical rethinks that have characterised modernist experimentation, from the muted palette of Analytical Cubism to Malevich's Black Square. Monochrome has been central to the perceptual questions and manipulations that have so fascinated artists in the 20th century, represented here by Olafur Eliasson's headache-inducing light installation, Room for One Colour, 1997. At times a bewildering collection of ideas and art, this is an important and ambitious survey of a surprisingly big theme.

Grisaille brings luxurious sensuality to a bewitching oil on paper by Henrik Goltzius
rating
Explore topics
Share this article
Subscribe to theartsdesk.com
Thank you for continuing to read our work on theartsdesk.com. For unlimited access to every article in its entirety, including our archive of more than 10,000 pieces, we're asking for £3.95 per month or £30 per year. We feel it's a very good deal, and hope you do too.
To take an annual subscription now simply click here.
And if you're looking for that extra gift for a friend or family member, why not treat them to a theartsdesk.com gift subscription?