Hilma Af Klint, Serpentine Gallery |

reviews, news & interviews
Hilma Af Klint, Serpentine Gallery
Hilma Af Klint, Serpentine Gallery
A pioneer of abstraction rescued from obscurity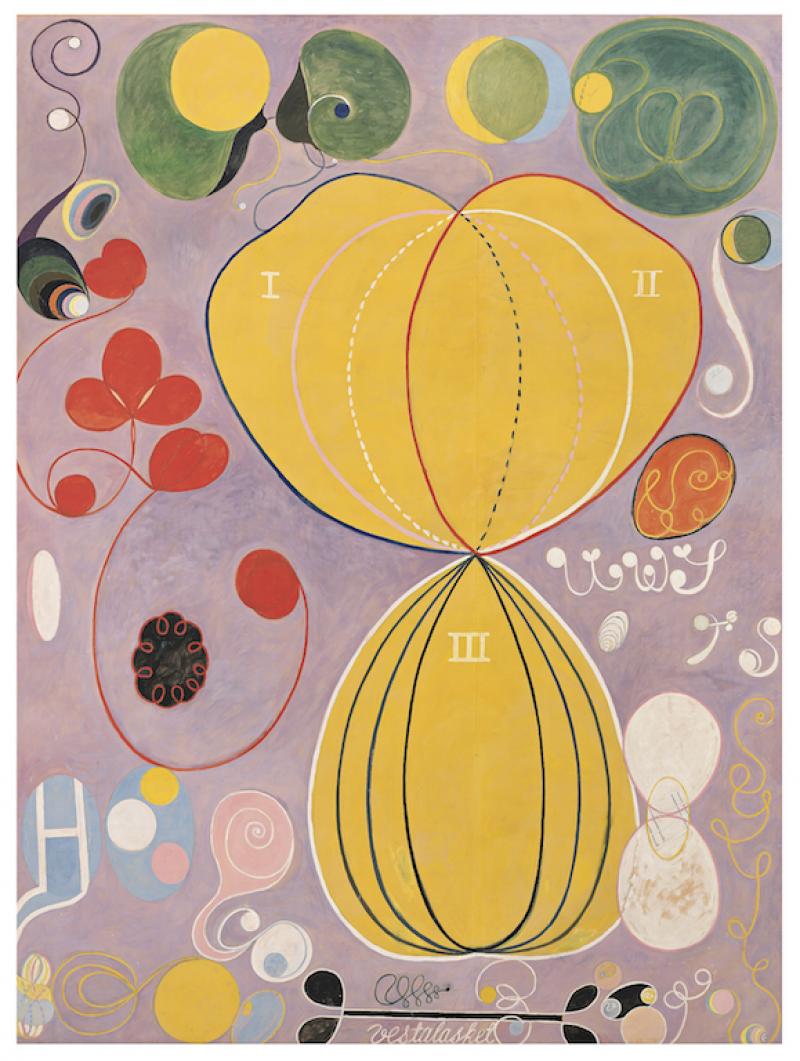 Hilma Af Klint, 'Group IV, No 7. The Ten Largest, Adulthood', 1907
Celebrating the four ages of man, eight huge, semi-abstract paintings create a carnival atmosphere in the Serpentine's central gallery. The freshness of Childhood is characterised by flowers, petals and stamens floating on a blue ground. The passions of Youth warrant a ground of hot orange crammed with circles and spirals jostling for space like amoeba in a petrie dish.
Adulthood
is dominated by a large, yellow gourd-like shape on a lavender ground; dancing in attendance are looping letters and clover-leaf swirls.
Old Age
is no less euphoric, but the colours are subtler and the loops and swirls have slowed into ovals and arabesques anchored, in one picture, by grids that suggest stability.
Reminiscent of Matisse's cut-outs, these joyous paintings by Swedish artist Hilma Af Klint were made in 1907, some 40 years before Matisse picked up the scissors. 1910 is the official date given by Alfred Barr, founding director of New York's Museum of Modern Art, for the creation of the first abstract paintings, but Af Klint made her forays into abstraction four years earlier – in 1906.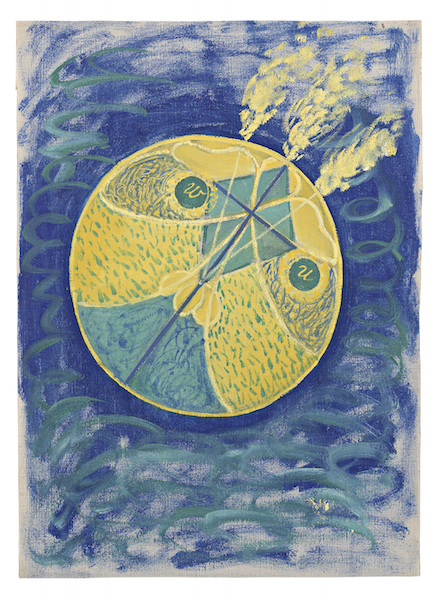 Primordial Chaos, 1906 (pictured right: No 7), is a series of 25 small paintings in blue (symbolic of the feminine), yellow (the masculine) and green (their union). Spirals, circles, loops and rapid undulations create the impression of energy pulsing through the ether, sparking the formation of life from the union of spirit (U) and matter (W); both letters appear on these cosmic evocations of the beginning of life.
Is anyone rewriting the history books, then? No, that would require too much rethinking! It's far easier to dismiss Af Klint as an outsider who can be disregarded. In 1970, her estate of over 1,200 paintings was offered to the Moderna Museet in Stockholm for free, but the director, Pontus Hultén, refused it on the grounds that she was a spiritualist, not an artist.
His extraordinary response ignored the fact that all the artists edging their way towards abstraction at the beginning of the 20th century – Kandinsky, Mondrian, Malevich, Kupka and Delaunay – were influenced, to a greater or lesser degree, by the teachings of the Theosophical Society and could similarly be dismissed as spiritualists.
Their search for abstraction was inspired by the Theosophical belief that, beyond surface appearances, other levels of reality can be perceived by the enlightened. The idea was reinforced by discoveries such as electromagnetism, the invention of X-rays and the findings of scientists exploring the geometric structures commonly found in plants, shells, bones and other natural forms.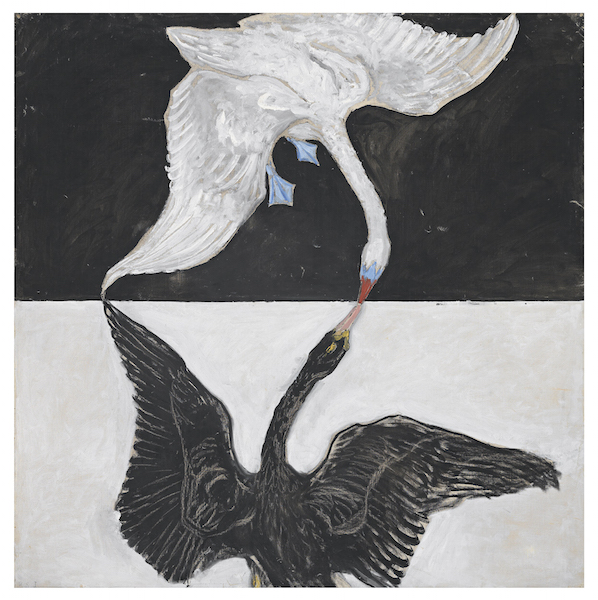 As well as being a portrait and landscape painter, Af Klint was a draughtswoman at the Veterinary Institute in Stockholm and a skilled botanical artist, but her professional studies of the real world were accompanied by a keen interest in what lies behind the visible. In the 1880s she and a group of four other women artists began to hold séances where, in a trance-like state, they experimented with automatic writing and collective drawing. This was decades before the surrealists tried similar experiments and named their efforts "exquisite corpses".
During one such gathering, Af Klint received "a commission" from a spirit master called Amaliel to create The Paintings for the Temple,1906-15, a group of pictures that were to be housed in a spiral shaped building. Over the next nine years she produced 193 pictures divided into series. "The pictures were painted directly through me," she wrote, "without preliminary drawings and with great power. I had no idea what the pictures would depict and still I worked quickly and surely without changing a single brushstroke."
Evolution, 1908, begins figuratively with Adam and Eve and the depiction of various dualities – male and female, dark and light, good and evil, spirit and matter. Gradually the images become more abstract and more harmonious until the final, diagrammatic picture features images of unity, such as circles inscribed in squares, and incorporates the letters U (spirit) and W (matter), as well as A (alpha) and O (omega), the beginning and the end. After a long process, unity has finally been attained.
The Swan, 1914-15 (pictured above left: No 1), similarly embraces figuration and abstraction. In Theosophy the swan embodies "the mystery of mysteries" and "the majesty of the spirit". Af Klint creates a dramatic evocation of duality with a white and black swan touching beaks, as though to acknowledge their differences. At the other extreme, she pays tribute to the influence of Goethe's colour theories in nests of coloured circles that predate Josef Albers' famous nests of squares by over 30 years.
The Temple cycle culminates in a trio of large, abstract Altarpieces (pictured below right: No 1) featuring discs of gold leaf (representing enlightenment), triangles and circles symbolic of unity, and spirals indicating movement towards the desired state of harmony and oneness.
Rudolph Steiner, general secretary of the German branch of the Theosophical Society and founder of the Anthroposophical Society, was a key influence on Kandinsky. He was also Af Klint's mentor and, in 1908, he visited her studio and encouraged her to work in watercolour. In 1922, she painted an exquisite series of watercolours reminiscent of cross-sections that, under a microscope, reveal the cellular structure of flowers and trees; it's as though her botanical knowledge (science) and her desire to locate the essence of things (spiritualism) have merged to produce an all-seeing eye.
Steiner warned her that her work would not be understood for at least 50 years; perhaps that's why, when she died in 1944 (the same year as Kandinsky, Mondrian and Munch), she specified that her abstract work should be kept secret for 20 years. So, unlike her male counterparts whose work is included in the canon and has been studied, archived, exhibited and applauded, Af Klint still remains largely invisible.
In 1986 she was included alongside the men in The Spiritual in Art: Abstract Painting 1890-1985, at the Los Angeles County Museum. Then she disappeared for another 20 years – until in 2005/6 a touring exhibition came to the Camden Arts Centre.
Now, though, the momentum is growing. In 2013, Stockholm's Moderna Museet finally acknowledged her importance with a retrospective. All it needs now is for a researcher to plough through her 125 notebooks in order to unearth the meanings of these extraordinary images which she channelled from the spirit world, and then analysed meticulously.
1910 is the official date of the first abstract paintings, but Af Klint made her forays into abstraction four years earlier
rating
Share this article