Drawn in Colour: Degas from the Burrell Collection review - guilty pleasures at the National Gallery
Drawn in Colour: Degas from the Burrell Collection review - guilty pleasures at the National Gallery
How pastel became a truly modern medium
Monday, 18 September 2017
Dancers on a Bench', about 1898, Pastel on tracing paper
If only a modest fuss is being made about the rare and prestigious loan currently residing in Trafalgar Square, it could be that the National Gallery is keen to forget the role of its former director, Dr Nicholas Penny, in a row about art transportation that centred on the very collection to which these objects belong.
Of the 13
Degas
pastels that form the core of this small but wondrous exhibition, most have never been seen outside Glasgow, where they are among the highlights of the magnificent art
collection
bequeathed to the city in 1944 by the shipping magnate Sir William Burrell.
In an age where art is habitually flown around the world, with one temporary exhibition following hot on the heels of another, the very real risks of art transportation are glossed over by general consent. And so when in 2013, Glasgow City Council applied successfully to the Scottish Parliament to overturn the terms of the Burrell bequest, we caught a rare glimpse of a topic usually kept well and truly behind the scenes. Burrell stipulated that the collection, which includes art, ceramics, furniture and textiles, must never be loaned overseas, and considered especially fragile items like pastel drawings too delicate to travel even within the UK. Feathers were ruffled when none other than Nicholas Penny gave evidence in defence of the travel ban, arguing unfashionably that it should be upheld, and that in his 27 years of museum work, he knew of "10 major accidents in transported art".
That the pastels are here in London (with a couple having only recently returned from trips to Australia and the USA) is, according to the Gallery, thanks to improved methods of transporting works on paper, a particular challenge, you might imagine, in the case of the Degas pastels. Degas was a tireless innovator, and as the show's curator points out, experimental techniques usually equate to unstable artworks. Not in this case apparently: Degas developed his own technique, applying layer upon layer, his special fixative applied between each one to secure pastel to slippery tracing paper. Into these thick accretions of chalk and pigment, he scratched lines that appear as striations or hatching, marks that somehow translate into the play of light across the floor, in Dancers on a Bench, about 1898 (main picture), and elsewhere to the semi-darkness that veils a theatre audience.
And yet despite the sheer density of pigment on support, whole areas are left bare. The tutus in Three Dancers, about 1900-05 (pictured above right), are transformed by little more than the power of suggestion from brown paper to fluorescent orange and green, applied in economical but sharp hits of colour, made by wetting the pastel stick to produce a solid slash of pigment.
Beautifully displayed in the National Gallery's new, and surprisingly acceptable subterranean exhibition space, a really perceptive hang makes the most of this opportunity to see so many of these pastels together. Interspersed with a small but instructive selection of oil paintings, you can start to understand what it was that Degas loved particularly about pastel, a medium that, for him, allowed colour and line to achieve a rare parity. Sometimes it is the medium itself that seems to be the subject of the picture, and in one canvas, the effects of pastel are explored in oil paint.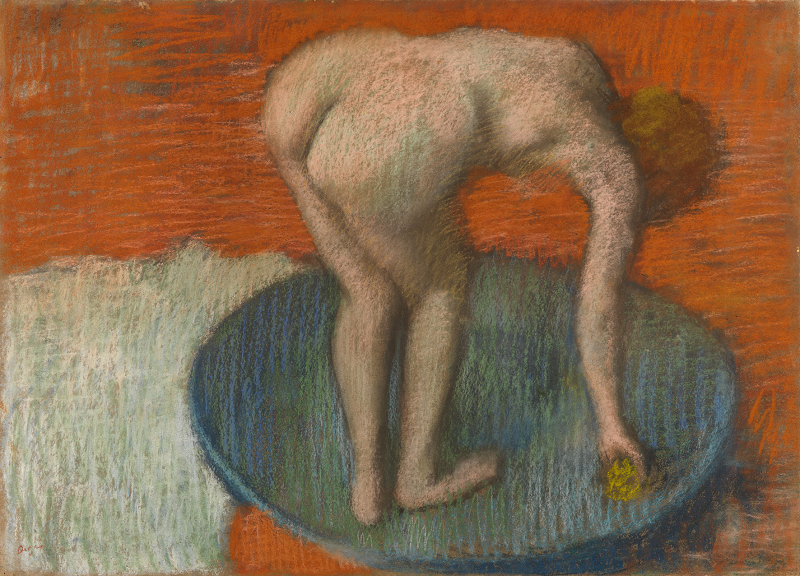 While pastel would become Degas's medium of choice, oil paint, photography, monotype and sculpture all feature in his oeuvre, the different approaches informing each other in a way that stands out as notably modern. Degas's modernity is perhaps highlighted most interestingly here in terms of his approach to materials, and yet the subject matter itself poses its own, in some ways more nuanced questions. His depictions of skilled, physically strong, working women, from laundresses to ballet dancers are locked into tension with his bathers, which draw out the ambiguities and darker aspects of his treatment of women.
We will never know who these women are – bourgeois wives and daughters, or prostitutes – and yet of all Degas's depictions of women they are simultaneously the most frank and the most mysterious, and probably the most troubling. Seen from behind as she bends over to reach her feet, one woman is forever constrained by the dimensions of the canvas (pictured above: Woman in a Tub, about 1896-1901), while the reclining figure in After the Bath, about 1896, is forced into a surely painful, and unnatural posture. Often faceless, their bodies displayed, apparently unknowingly, in the most undignified ways, the pleasure of looking at the bathers is an uncomfortable one, made more so by the knowledge that Burrell may well be spinning in his grave.
Tutus are transformed by little more than the power of suggestion from brown paper to fluorescent orange and green
rating
Explore topics
Share this article