DIY taxidermist is live and armed |

reviews, news & interviews
DIY taxidermist is live and armed
DIY taxidermist is live and armed
Thursday, 24 February 2011
Taxidermy – the rather morbid art of stuffing and mounting dead animals – has witnessed a rise in popularity not seen since its Victorian heyday in the last few years. Vintage dead artefacts are being given an afterlife in trendy lounge bars all over east London, while taxidermist Polly Morgan has enjoyed further fame after her first major exhibition last summer. However, few have attempted to bring the scalpel to the stage as well as Charlie Tuesday Gates.
Gates, a Camberwell graduate, branched into her own D.I.Y taxidermy thanks to a countryside upbringing and easy access to found (dead) materials. The Future Gallery, an exhibition space hidden among the cinemas and tourist attractions of Leicester Square, hosted an exhibition of her work and the third of her live shows last night.
A noticeable trend in contemporary taxidermy is the addition of non-natural objects. One of Morgan's first commercial works, for example, featured a white rat inside a champagne glass, while Gates made the cover of Design Week with Keep Away From Idiots (main picture) which features a bespectacled fox. These incongruous objects once again took centre stage last night, as a tiny crab was placed scuttling out of a cracked statue of a cherub and antlers propped alongside mannequins.(Every Time I Look into Your Eyes I See the Future, pictured below.)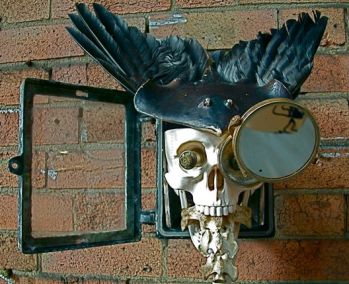 The showcased work illustrated Gates' exploration of taxidermy since first discovering it last year when she stuffed a chick: from a decomposing fox abandoned in a battered suitcase to a lamb skin draped on a clothes horse. The show brings her work right up to the present day, the present moment even, when she reveals what she will be taking the scalpel to that evening.
Gates got her get-out clauses in early: "I am not a taxidermist. I am an artist and I believe that if you want to do something you should give it a go." Emphasis is heavily on DIY as audience members are encouraged to come up on stage and take part in every aspect of stuffing a lamb.
Purists would certainly be shocked, as would those who went expecting an instructive lesson in the art. Gates did not have any Blue Peter-esque lambskins kicking around which she had made earlier. Rather than offering a clear explanation of her actions as she effortlessly went to work on the animal, Gates chaotically rattled off her life story as a DIY taxidermist. In the same breath as she proclaimed herself a vegetarian nature-lover, Gates also announced that she chose her blade because "it was £4". She took relish in regaling her audience with stories of unconventional body storage methods.
While the squeamish may want to stay away, Gates' show remains illuminating for the inquisitive – if only because her own inquisitiveness is fiercely infectious.
Explore topics
Share this article