Differently Various, The Curve, Barbican review - a step in a shared direction |

reviews, news & interviews
Differently Various, The Curve, Barbican review - a step in a shared direction
Differently Various, The Curve, Barbican review - a step in a shared direction
Richly engaging exhibition by artists who have experienced brain injuries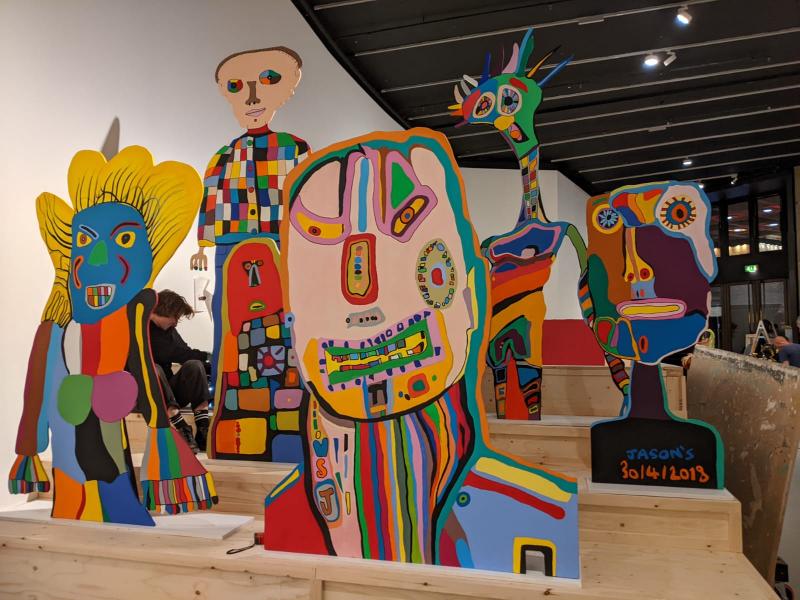 Jason Ferry's 'I all screwed up' - plywood and acrylic sculpture
The Barbican's effort to open up the art centre to a wider audience than just City workers and wealthy local residents makes a leap forward with a new exhibition in the Curve. The free gallery space that wraps around the back of the main concert hall, has become home to Differently Various, a lively show and series of workshops co-curated by a group of artists from Headway East London, a charity for people who have experienced brain injury.
A sign informs us that strokes, head injuries and conditions that damage the brain account for the leading causes of death and disability in people under 40 in the UK. Headway is a national charity that provides advice, workshops and activities for anyone who has experienced a life-changing brain injury. One of their busiest branches is in Hackney where members can pursue activities like making art, music, dancing, singing or cooking – it's famed for its excellent supper club and friendly atmosphere.
Differently Various is a mixed media show of paintings, drawings, embroidered images, sculptures and short films that describe the experience of having a brain injury but also capture the joyous, collaborative activities available at Headway East London. Walking in to the 90 metre space, the first thing that strikes a visitor is the installation of a wide, well-designed ramp so people who use wheelchairs can get themselves into the gallery without having to deal with the fiddly controls of the vertical platform lift. It would be great if the ramp could be made permanent as it makes accessing the Curve seamless for everyone.
The next striking element is how colourful, quirky and varied the art works are – there are some really impressive pieces by people who never tried to make art before they experienced brain injury. Dave Mercer's Waking up to my Destiny (pictured above) is a sculpture of the brain's two hemispheres, created from plaster, bandages and images from comics, intricately collaged together. Before his brain injury, Mercer had been a professional driver and lifeguard. He describes an epiphany three years after his injury when he decided to become an artist: "It felt like someone had opened up a filing cabinet at the back of my head and let out creativity. I was waking up to my destiny."
Another Headway artist, Yokabet Mekuria has mixed embroidery and patchwork to create a beautiful image of a woman grinning as she drives her mobility scooter (pictured below) – it's reminiscent of the tapestry work of Grayson Perry. Jason Ferry, whose brain injury led to seizures, has created a series of strikingly expressionist figures with the title I all screwed up (main picture) – their contorted faces convey his experience of how his perception of the world has been permanently altered.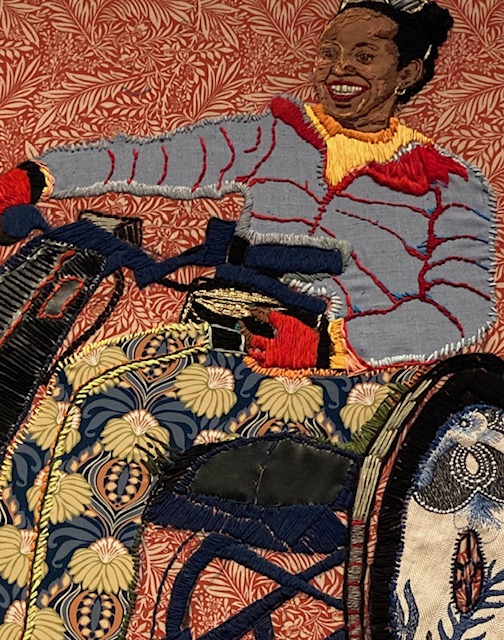 Ever since Jean Dubuffet coined the term art brut back in 1945 to describe the artistic creations he found in the asylums and institutions that housed intellectually disabled people, there's been a fascination with "outsider art", the work of untrained artists who see the world differently. But there's often been an element of patronising, an "othering" about how such works are displayed and presented. Here the artists themselves have collaborated with the Barbican's curators and decided how their work is on show. Throughout the gallery there are opportunities for visitors to take part in the kind of artmaking that happens at Headway with workshop tables laid out with materials for anyone to use. It's another way of putting us all in the same frame, and another step, like that ramp, to take us all in a shared direction.
It felt like someone had opened up a filing cabinet at the back of my head and let out creativity
rating
Explore topics
Share this article