Vicious/The Job Lot, ITV |

reviews, news & interviews
Vicious/The Job Lot, ITV
Vicious/The Job Lot, ITV
Two passable but very different sitcoms make their debuts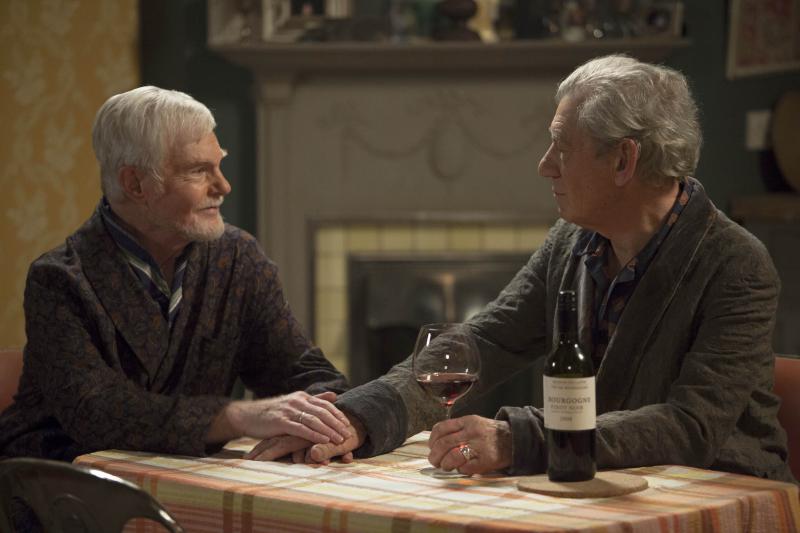 Derek Jacobi and Ian McKellen play a bickering couple who have been together for 48 years
What a line-up for a sitcom; three of our most accomplished actors - Ian McKellen, Derek Jacobi and Frances de la Tour – star, and the writers are the super-talented playwright Mark Ravenhill and Gary Janetti, who used to work on Will & Grace, one of the classiest comedies on American television in decades. And what do you get?
Well, not quite the laugh fest that it might have been (or may yet become), but an opener that had a reasonable hit rate.
Vicious is another back-to-the-future comedy, a one-room sitcom with two of the queeniest gay men to grace our screens since the dear departed Larry Grayson and John Inman. If Dick Emery's Clarence had made an appearance he wouldn't have looked out of place and, with De la Tour's presence, it could be called Rising Camp (sadly not my line - I nicked it).
Freddie (McKellen) and Stuart (Jacobi) are a bickering, gossipy gay couple who live in crepuscular gloom in their Covent Garden flat. Freddie is a never-has-been actor ("You may have seen me in a scene in Doctor Who") who has long since lost his Wigan accent; Stuart is a one-time barman who is still not out to his mother. He's waiting for the right time - "It's been 48 years!" cries Freddie.
Into the flat upstairs moves the attractive youngster Ash (Iwan Rheon), who attracts appreciative looks both from the men and their faghag friend Violet (De la Tour, pictured right with Rheon); most of last night's episode concerned their convoluted attempts to find out if he was gay or straight. Don't people just ask if they're interested to know?
The cast are clearly having fun with the bitchy lines, but Jacobi is overdoing the flounce and Ash is as yet underwritten. Too much of Vicious relies on tired comedy tropes; older people are gagging to have sex with people young enough to be their grandchildren, they don't know anything about youth culture ("Is Zac Efron a person or a place?" Violet asks); or they're deaf, dotty and fall asleep easily. Oh please. As for the double rape "joke": everyone involved should be ashamed of themselves, including director Ed Bye.
On the evidence of last night's first episode Ravenhill and Janetti can't decide if Vicious is lazy retro fun for all the family, or an edgy post-watershed show that's taking us to places never previously negotiated on British TV. Let's hope it's the latter over its seven-week run.
Following immediately on the same channel was The Job Lot, another new sitcom, this one bang-up-to-date, being set in a West Midlands job centre. It's written by Claire Downes, Ian Jarvis and Stuart Lane, and directed by Martin Dennis.
Sarah Hadland is Trish, the neurotic and passive-aggressive office manager, and Russell Tovey (pictured above with Hadland) is her shy assistant Karl - like her, unlucky in love. Trish, a great fan of both the clipboard and the white board, tries to gee up her staff with feelgood workshops ("Turn the unemployed into the funemployed," she writes on the latter) and has to deal with the recalcitrant Angela - "I'll contact the union" - whom she once sacked but has been reinstated after a tribunal. Karl is bored out of his mind, dealing with clients such as Bryony (Sophie McShera from Downton Abbey doing a nice turn) who last night "caught" MS in her determination never to find work.
The quiet first episode of The Job Lot was overpopulated by misfits - a clean-freak, a moonlighting security guard, a dimwit jobseeker - but both the sit and the com have promise.