Poldark, Series 3, BBC One review - tempestuous passions and pantomime villains ride again |

reviews, news & interviews
Poldark, Series 3, BBC One review - tempestuous passions and pantomime villains ride again
Poldark, Series 3, BBC One review - tempestuous passions and pantomime villains ride again
Screenwriter Debbie Horsfield has got the formula down to a tee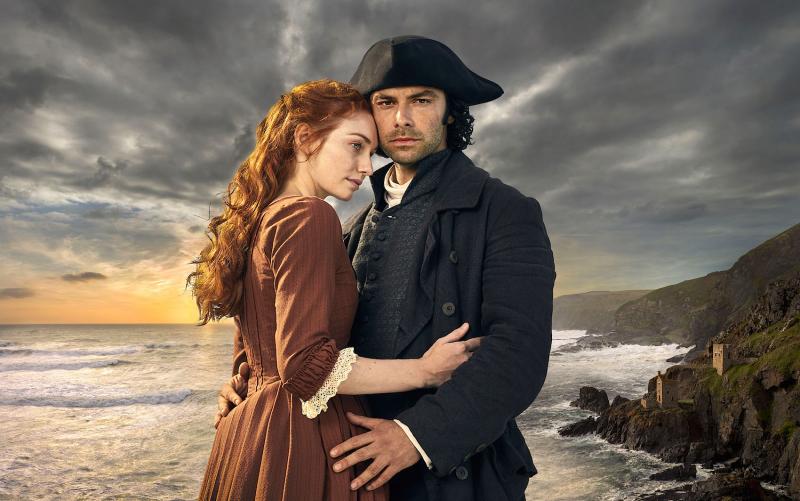 Mills & Boon revisited: Demelza (Eleanor Tomlinson) and Ross (Aidan Turner)
Is it always the same bit of Cornish clifftop they gallop along in Poldark? Anyway here it was again, raising the curtain on the third series.
As the camera flew in over a gaggle of squawking seagulls spiralling above the foaming surf crashing on the rocks, we could discern a lone horseperson charging across the skyline. But it wasn't Ross Poldark. It was his former (or is she?) inamorata, Elizabeth Warleggan.
From the quasi-orgasmic wailing sounds Elizabeth (Heida Reed) was making as she bounced atop her thundering steed, it was difficult to tell whether this equine excursion was business or pleasure, though the minor-key chords of Anne Dudley's background music eventually left little doubt that a crisis was afoot. Was Liz about to plunge hundreds of feet into the sea? Was she going to fall off and … lose her baby?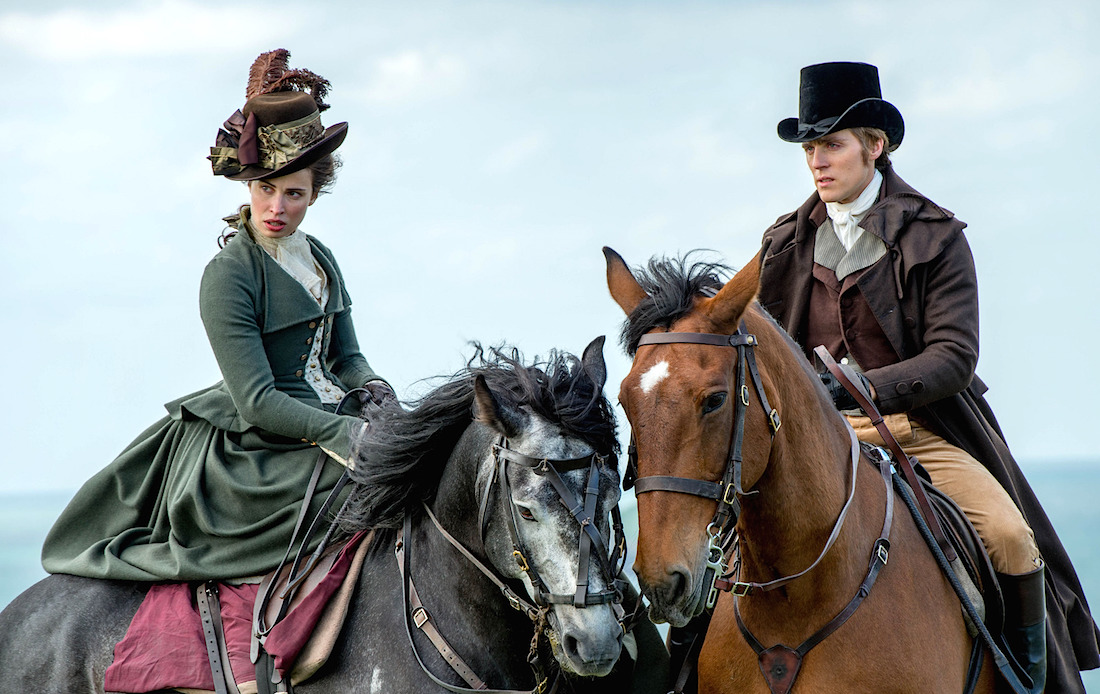 By an extraordinary coincidence, another rider was on the cliff path. It was Ross! As he discerned the out-of-control Elizabeth hurtling towards the cliff edge, a look of concern and alarm crossed his dark, manly features. Features that have seen sorrow and passion, war, jealousy and hardship, though as yet no invitation to appear on Strictly Come Dancing (which, Aidan Turner has made clear, he would refuse). It was quickly replaced by steely-eyed determination, and he spurred his nag into action, travelling in seconds across what must have been at least half a mile. Just as it looked as if Elizabeth was going to be tipped off her rearing, whinnying mount, heroic Ross was there to calm the beast and rescue the distressed damsel.
Mind you, she wasn't very grateful. Rather hostile, if anything. Luckily for Ross, their awkward exchange was cut short by the arrival of Liz's husband, the sneering and condescending George Warleggan (Jack Farthing, pictured above with Heida Reed). So there we were – Act One, Scene One, and the Warleggan-Poldark feud was immediately centre-stage, personified in the smouldering love-hate force field that will seemingly always entrap Ross and Elizabeth. Cut to an off-the-peg credits sequence of the usual tumultuous ocean, horses, clifftops and sunsets.
Quite why this absurd Mills & Boon-esque farrago is one of the Beeb's flagship events every time it comes back around is a mystery, though I suppose it's solid proof of the value of giving the viewers what they want, especially if it looks exactly the same as it did before. Screenwriter Debbie Horsfield has got the formula down to a tee, with its dynastic struggles, star-crossed lovers, comedy yokels and landscapes by turns menacing or soothing, while echoes of the Napoleonic wars rumble in ominously from across the horizon.
Here, for instance, we had the decent but rather wet Doctor Dwight Enys (Luke Norris) hurrying to Cornwall from his Naval ship at Falmouth to marry Caroline (Gabriella Wilde), one of the show's impressive gallery of deliriously glamorous women. Ross and his passionate, flame-haired wife Demelza (Eleanor Tomlinson) were the witnesses to the happy event… but that happiness was brutally cut short when Dwight was summoned to give emergency help at the premature birth of Elizabeth's baby, Liz having precipitated the crisis by flinging herself down the stairs (clue: she's not happy in her marriage).
For a while, we were invited to believe that it was touch and go whether Elizabeth or the baby (or neither) would survive. The cynical Cary Warleggen (Pip Torrens, unloading several lifetimes' worth of old ham in a few brief screen moments) growled villainously that in case of doubt, the baby must of course outlive the mother (a gaggle of Warleggans, above).
In fact assorted fatalities were clamouring for attention. Even as Caroline hastened through her emergency marriage ceremony, her poor old uncle Ray (a bedraggled John Nettles) was prostrate on his death-bed. Demelza's brother Drake (Harry Richardson) suddenly arrived to tell her that her not-much-loved father was also at death's door, and indeed the distance to the closing credits proved too much for him. Elizabeth's baby son was born under a very bad sign, not just because they're calling him Valentine, but because a dark cloud had blotted out the moon, as Aunt Agatha (Caroline Blakiston) pointed out. "Cursed he be! Born under a black moon!" she quavered. I was reminded of Lord Blackadder, irritably chastising an ancient crone: "'Yes it is', not 'that it be'."
Eight more episodes of this stuff to come. Rejoice!