The Plot Against America, Sky Atlantic review - fascism comes to 1940s USA |

reviews, news & interviews
The Plot Against America, Sky Atlantic review - fascism comes to 1940s USA
The Plot Against America, Sky Atlantic review - fascism comes to 1940s USA
Fascinating adaptation of Philip Roth's alternative-history novel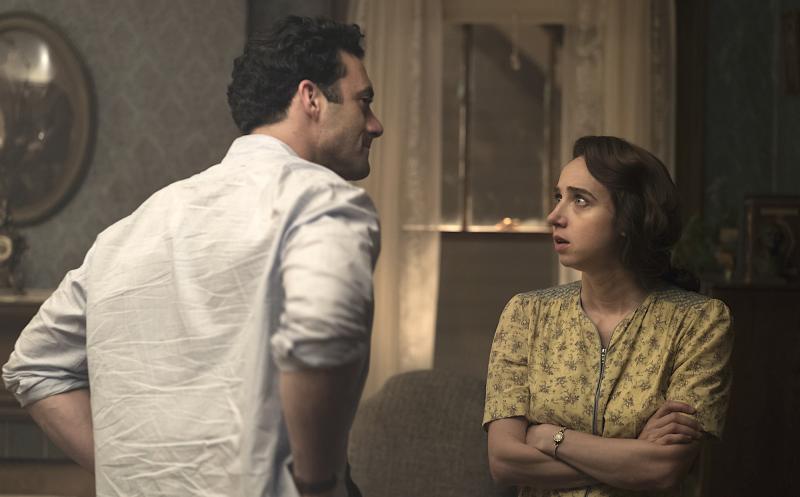 Nightmare in Newark: Herman and Bess Levin (Morgan Spector and Zoe Kazan)
Based on Philip Roth's 2004 novel of the same name, The Plot Against America flashes back to the global turbulence of the 1940s to depict a counterfactual America that turns to the dark side.
Instead of the re-election of Franklin D Roosevelt for a third term in 1940, the aviation pioneer and wildly popular celebrity Charles Lindbergh is elected President, on a platform of keeping America out of the new war in Europe.
The real Lindbergh had lived in Europe during the 1930s and was suspected of Nazi sympathies – he was awarded the Order of Merit of the German Eagle, which the Hitler regime gave to favoured foreigners – and his fictional presidency triggers a violent eruption of anti-semitism as he promotes his America First doctrine. He makes friendly overtures to Germany and Japan, and America's Jews have their rights curtailed and find themselves being forcibly relocated.
This HBO version (on Sky Atlantic) has been masterminded by Ed Burns and David Simon (creators of The Wire), with the late Roth getting a name-check in the writing credits. With its roots in Roth's own family background in New Jersey, it derives much of its plausibility from its meticulous recreation of pre-war Newark, with its period clothes, buses and automobiles, Jewish delis and local bakeries. It's here where the chief protagonists, the Levins, live.
Insurance salesmen Herman Levin (Morgan Spector) is getting a promotion, and aims to buy a new house and move his family out of their rented apartment. His sons Phillip and Sandy are delighted at the prospect of having a back yard to play in and not having to share a bedroom any longer, but his wife Bess (Zoe Kazan, pictured above with Winona Ryder) is hesitant about leaving their mostly-Jewish neighbourhood, having experienced anti-Jewish sentiment when she was growing up. When Herman is jeered at by Lindbergh-supporting Germans at a beer-garden near the new house, in disgust he resolves not to buy it after all.
As the local movie-house shows horrifying newsreel film of Nazi outrages in Poland and air-raids on London, the story subtly charts the shifting popular and political sentiments surrounding Lindbergh's run for the presidency. Latent hostility to Jews is legitimised, while the Jewish community exhibits a range of responses, from anger and disbelief to a desire to fit in and not rock the boat. While Herman is the proud patriarch who'll always square up against taunts and intimidation, Bess is terrified of what's to come.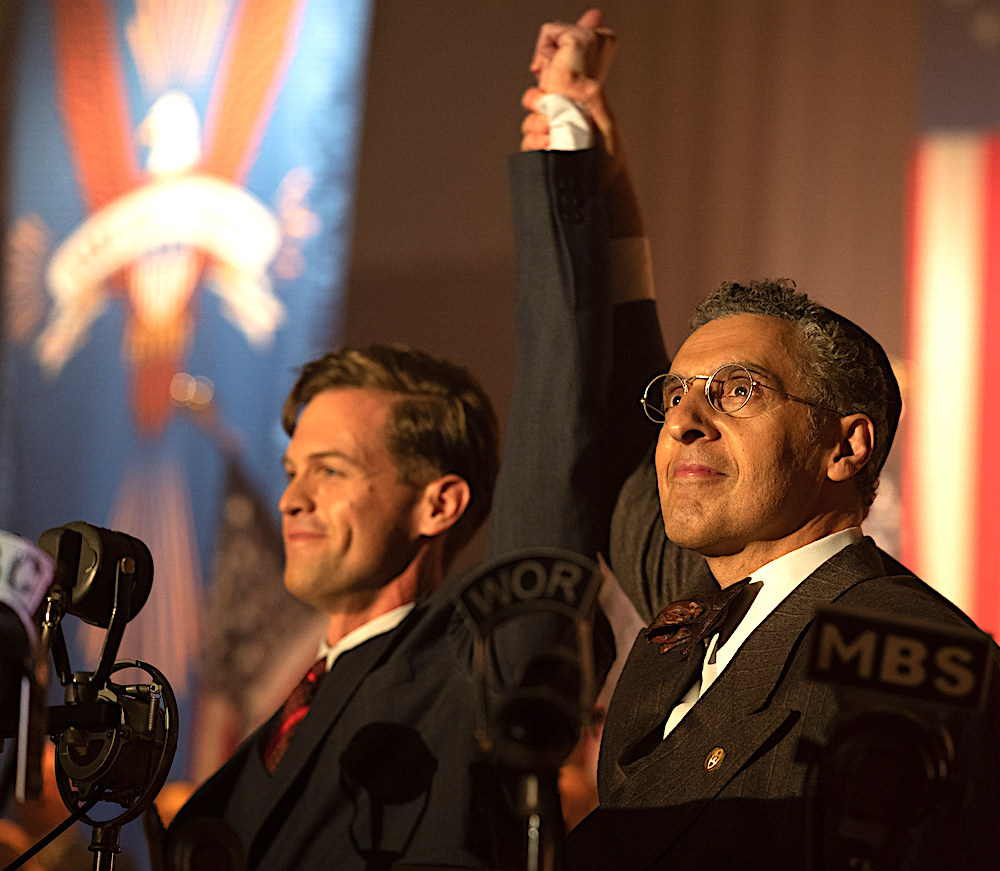 The family are dragged closer to the centre of the storm when Bess's sister Evelyn (Winona Ryder) begins an affair with the influential Rabbi Lionel Bengelsdorf (John Turturro). Bengelsdorf is a Lindbergh supporter who agrees to appear at a big America First rally to proclaim his enthusiasm for the superstar-pilot, insisting that Lindbergh only went to Germany as an American agent. He's proud to be an American Jew, the rabbi insists, and he wants Lindbergh as his president (pictured above, Turturro with Ben Cole as Lindbergh).
It's a depressing echo of real events in Europe, where Nazi conquests would always bring their share of collaborators and fellow-travellers in their wake. The answer to the question "could it happen here?" is, mortifyingly, yes. Some observers even think they can detect allusions to Trump-era America in this show.
Anyhow, Herman isn't prepared to lie down and nor is his nephew Alvin (Anthony Boyle). Alvin is the black sheep of the family, with a penchant for petty crime, but he knows how to spot a bad guy. Bengelsdorf is "koshering Lindbergh," he snorts, wiping away the stain of anti-semitism so white Christian America can vote for Lindbergh with a clear conscience.
Alvin has had enough, and jumps on a train to Canada to join the army and kill Nazis. As the radio announces news of Lindbergh's election victory, Frank Sinatra, the bobbysoxers' heart-throb, croons dreamily on the soundtrack. It's a disturbing evocation of an America that superficially looks the same, but is being horribly transformed. This is a fascinating dramatisation of a complex, chilling novel.